Over the years Peacock Pond has served many purposes—from being a living lab for science students to being a swimming pool for seniors checking it off their bucket list. Last week, it became a temporary gallery for students in Professor Kelly Goff's "Public Art" course.
Students were asked to create public art for the pond. All were given a foam noodle to float their projects and encouraged to focus on the use of natural materials, which they could gather from the woods on campus. Discussions of the history of Peacock Pond by College Archivist Zephorene Stickney Helmreich and the pond's ecosystem by Instructor of Biology Deb Cato were part of the process leading up to the production of the work.
The results varied and sparked great conversation on Thursday, September 28, as the 12 students walked the shore of the pond together with Goff and guest artist Ellen Driscoll, who is a professor and director of Studio Arts at Bard College. Driscoll, whose sculptures, drawings and installations explore resource consumption and material lineage, was invited to class to critique the students' pieces and she also presented a lecture that evening in Watson Fine Arts, in which she focused on her public art projects.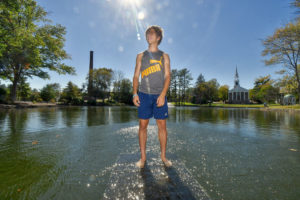 See the gallery below.
Maia Hay '20 created a colorful patch of flowers from discarded plastic containers. Sarah Dababneh '20 built a village of birdhouses. Nathan Domingos '20 made a submerged platform that one could stand on to appear to be walking on water.
"I decided to sink my project into the water rather than make it visible, which caused it to become both a tactile and visual experience (you have to stand on it in order to fully experience the piece, because there is no visible structure)," said Domingos. "It makes the impossible proposition of walking on water possible. In doing this, I am trying to symbolically convey that the idea of the impossible is a matter of perspective."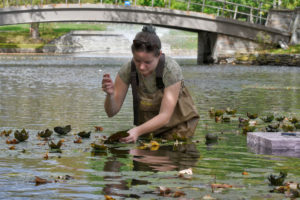 Charlotte Middleton '18 worked on her piece for days, standing waist deep in the water (her first time in the pond, which was on her list of things to do before graduating) in waterproof chest waders. She collected leaves from campus, dipped them in melted wax, shaped them into 96 water blossoms and painstakingly sewed each one (using string she dyed with red lipstick) to individual lily pads already floating in the pond.
All the hard work of students appeared to be well worth it, judging by the feedback and the reactions from the steady stream of passersby who paused to snapped photos with their smartphones throughout the day.
"The critique yesterday was one of the best in my Wheaton career," said Middleton, whose work was deeply personal and heartfelt about the passing of a loved one. "Having Ellen Driscoll there was truly an unforgettable experience. She is a profoundly successful artist and professor. Having the opportunity for her to view all of our work and critique it was an honor. The discussions we had were informative and constructive and sometimes even mind blowing. As an artist sometimes it can be terrifying to put yourself on the line and expose parts of yourself that are personal, but in this scenario the work had to speak for itself."