First-year student wins Projects for Peace award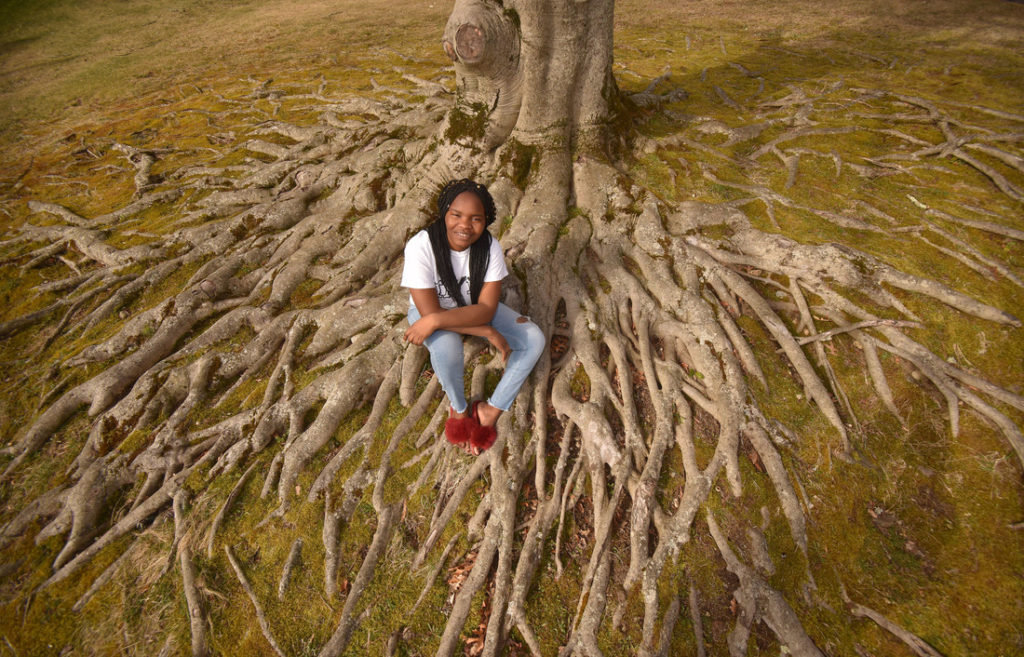 Agathe Mwehu hopes to ease despair for children in refugee camp in Africa
At age 11, Agathe Mwehu '23, who is originally from Bukavu in the Democratic Republic of the Congo, experienced the traumatic impact of a tribal war and its aftermath. Because of that and the journey that eventually brought her to Wheaton, she has developed a proposal for a project to help other youths.
Her proposal, titled "They Can't Take My Future," has won Mwehu a 2020 Projects for Peace prize. She plans to use the $10,000 grant to establish an information and recreation center for children in the Tongogara Refugee Camp, which is located near Chipinge, Zimbabwe. [Due to the impact of COVID-19, the start date of the project has been postponed and will be determined at a later time.]
The camp, to which she and her family fled during the tribal war, is home to about 13,000 migrants who face many challenges daily. "Living in the camp is not easy for anyone," she wrote in her Projects for Peace essay. "I want them all to have hope that everything will be OK one day."
The Projects for Peace program invites undergraduates to design grassroots projects that they will implement during the summer. The objective is to encourage and support today's motivated youth to create and try out their own ideas for building peace.
For Mwehu that means addressing despair. "Children and young adults have limited access to education and no form of entertainment, which leads to a sense of hopelessness and negative behavior," she said.
The multipurpose center she plans to create will have a computer lab, access to math and English lessons, and a room for indoor games able to accommodate more than 1,000 children, according to her proposal.
"This project will benefit everyone in Tongogara because those in and out of school will have a place to study and explore online," she said. "As most students do not have access to books, this will be a place for them to access information online in their school subjects and do more research on assignments. People will be able to obtain online degrees and learn the language and culture of other countries, which they can still use whenever they return to their countries or immigrate to another country."
Mwehu already has established connections with camp officers through her participation in and volunteering with many groups over the years, including working with organizations that help run the camp and provide support to the refugees.
While in Zimbabwe she plans to put into place practices and training that will keep her information and recreation center sustainable even after she returns to Norton to continue her studies at Wheaton.
"I have always wanted to do something that can give refugees in the camp the zeal to not give up and keep carrying on," she said. "With Projects for Peace, this is my chance to be able to give back to my community, doing something that will impact generations to come."
The Projects for Peace grant is possible thanks to funding from the late Kathryn Wasserman Davis, who chose to celebrate her 100th birthday by committing $1 million toward projects that promote peace around the world. She was the mother of alumna Diana Davis Spencer '60 and received an honorary degree from Wheaton in 2008. The program is open to undergraduate students who are enrolled at a Davis United World College Scholars Program partner school, such as Wheaton, as well as a few other participating institutions.
Steve Viveiros, Wheaton Dean for Advising and Academic Success, said that Mwehu presented a very compelling and compassionate narrative in support of her project.
"Her commitment to this effort is genuine and the strength of her project demonstrates her devotion to making a difference in the fundamental development of youth of Tongogara," he said.
Mwehu hasn't declared a major yet but plans to double major in business and management and political science.
"I want to go to law school after graduation. That will help me be an advocate for women, children and refugees," she said.
"I was excited and overwhelmed to hear that I won the Projects for Peace award because it is of great importance to me," Mwehu said. "Finally, I will be able to do something for my community. I am thankful to Wheaton and the late Kathryn Wasserman Davis for giving me this opportunity to do something that will positively change the lives of so many people."