First internship, lasting lessons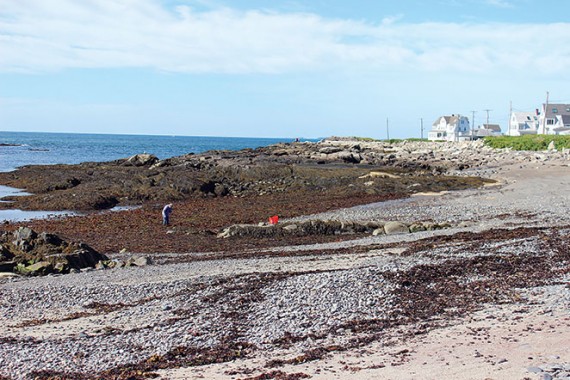 This summer, Brandon Williams '16 had his first internship. Not only did he gain valuable experience, he also learned lessons about what it means to be a researcher.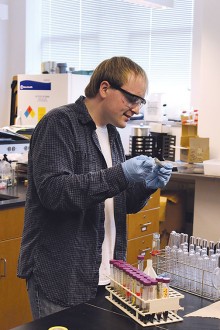 Williams, a biochemistry major and Community Merit Scholar, spent three months working as a research assistant at the University of New England in Biddeford, Maine, under the direction of Amy Deveau, an associate professor of chemistry at the university, and Kristin Burkholder, an assistant professor of biology.
The team's research is centered on two types of sea lettuce that are common along the Maine coast. The primary focus of the research involves looking into the antimicrobial effects of sea lettuce extracts upon several clinically relevant pathogens; many types of seaweeds have been shown to exhibit antimicrobial activity.
"The significance of this is that with further research, the extracts from various types of seaweeds may potentially serve an important role in disease prevention and treatment in the future," said Williams, who plans to go to medical school after graduating from Wheaton.
Looking back over the summer, he notes that the most enjoyable part of the internship was also the most challenging.
"There was an expectation of independence. I was often left to make decisions on my own, or with my collaborators," he said. "This was extremely rewarding, because I was allowed to utilize leadership and decision-making skills that have been such a crucial part of my education. It also was really satisfying to have such a marked level of trust instilled in me, especially considering the fact that this research will likely be published within the next couple of years."
His coursework and labs at Wheaton have helped him build trust in his abilities as a researcher and helped him realize that failure is part of the process of learning. Both aspects were critical to his success during his internship.
"I felt as though there was a lot at stake. The last thing I wanted to do was to make the wrong decision and have it affect my colleagues," he said. "I will be the first to admit that I'm a perfectionist, and although failure is an inherent part of science, it was difficult to grasp the fact that everything might not go smoothly. There was a lot of troubleshooting involved in the research, and this benefited me by forcing me to both accept that and to adjust my expectations of myself.
"My coursework prepared me for this opportunity by providing me with sufficient biological and chemical knowledge to understand a number of the underlying concepts and mechanisms involved in the procedures that we carried out."
When Williams began at Wheaton, he had not yet decided upon a specific major, but he knew that he wanted something science related. His coursework helped him pinpoint his interest in biochemistry, and the internship has contributed to his skill set.
"The research that I did this summer involved a great deal of collaboration between individuals with diverse personalities. Working in such an environment involved adjustments and compromise for everyone at times," said Williams. "As a whole, I feel that this experience has strengthened my ability to work well with others, which is a crucial and necessary aspect of medicine."
He credits the Filene Center for supporting him with information and resources, and plans to return to Maine during his winter and summer breaks to finish the research and to collaborate on writing a manuscript about the work.