Finkelstein '15 joins list of soccer pros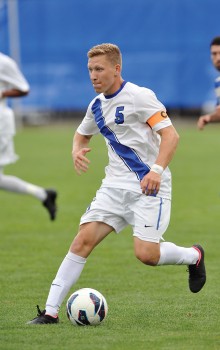 Former Wheaton two-time All-American Luke Finkelstein '15 has signed a professional soccer contract to play for Hakoah Amidar Ramat Gan FC of Israel. Ramat Gan FC plays in the Liga Alef South Division of the Israeli soccer league system.
"Dreams do not come true, you make them happen. I am excited and proud to say I have signed my first professional contract with Hakoah Amidar Ramat Gan FC of Israel," said Finkelstein, a Peabody, Mass., native. "This dream has become a reality through my work ethic, a positive attitude, and perseverance through many obstacles. I am extremely grateful to the club for allowing me the opportunity to start my professional career and continue to put all of my life, love and dedication into what I love to do."
Wheaton head coach Matt Cushing, who is in his 22nd year of coaching at Wheaton, said that he is very proud of Finkelstein. "Luke has worked so hard on his game, and now to make a living from the game he loves is so rewarding for him."
Finkelstein, who majored in psychology, is the sixth Wheaton student-athlete in program history to play professionally, joining Oscar Medina '97, Jim Manganello '99, Jeremy Long '99, Dan Antoniuk '03 and James Greenslit '06.
Greenslit played for the reserve squad of Major League Soccer's New England Revolution and in the United Soccer Leagues, while Antoniuk was recently with the San Diego Sockers of the North American Soccer League after spending a number of seasons in the second tier of American professional soccer. Antoniuk played for the Portland Timbers and the Montreal Impact, among other A-League teams during his career. Medina and Manganello spent time with the Cape Cod Crusaders of the U.S. Interregional Soccer League, while Long played for the A-League's Boston Bulldogs.
Manganello was the only student-athlete drafted out of college, as he was selected by the New York/New Jersey MetroStars in the 1999 Major League Soccer college draft.
During Finkelstein's time with Wheaton, he led the program to a 52–25–8 record, four postseason berths, two NCAA tournament appearances, one New England Women's and Men's Athletic Conference (NEWMAC) tournament championship title and one NEWMAC regular-season crown.
Individually, Finkelstein garnered All-America honors from the National Soccer Coaches Association of America (NSCAA) and D3soccer.com during his senior season, three NSCAA All-Region accolades, two Eastern College Athletic Conference All-New England honors, and four NEWMAC All-Conference selections, including NEWMAC Rookie of the Year laurels in 2011.
Finkelstein also ranks tied for seventh in program history all-time in games played (83), and fourth all-time in assists with 28. Overall in his career, he finished with nine goals and 28 assists for 46 points.
In 2014, Finkelstein's play and leadership at the midfield position also aided Wheaton to a 0.72 goals against average (GAA), 13 shutouts and a 0.54 GAA in conference-only games.
Wheaton advanced to the second round of the NCAA tournament for the second-straight season and made its 10th appearance overall in the NCAA tournament in 2014. The Lyons produced a 17–4–2 overall record and a 6–0–1 mark in league play to claim the team's eighth regular-season championship.