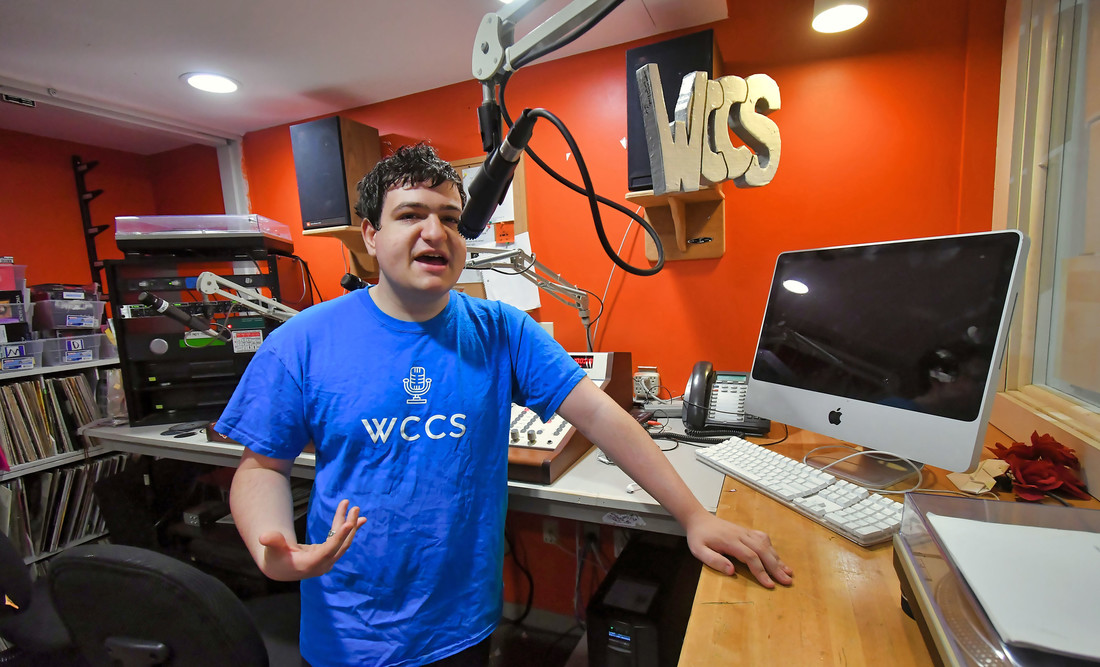 Wheaton Radio expands its reach with new shows, plans for the future
There are more Wheaton voices than ever on the radio waves, as Wheaton College Radio works to expand its reach. With about two dozen student deejays, playing everything from Broadway musicals and classic rock to celebrity gossip and politics, WCCS 96.5FM has a little something for everyone—including its staff, who are gaining professional skills (and new musical tastes) along the way.
Founded by students in 1978, the station is seeing a resurgence under the leadership of general manager Adam Bass '21.
"I really wanted to push WCCS beyond its boundaries, promote it, make it come to life at events, and basically not be shoved away into a corner," said Bass, a history major, who started deejaying as a freshman and took the helm this fall.
As general manager/president of the student club, he has helped bring on more deejays, each with their own approach to airtime, and encouraged them to promote their shows around campus to draw in more listeners. He's also working to make WCCS known more widely by having the staff deejaying at events around campus.
Among their plans for the future: covering sporting events and elections, doing more on-air interviews, and getting the station broadcast on the sound system at Balfour-Hood Campus Center.
"Wheaton Radio gives students another avenue to get their voices heard, to express themselves and to fill the campus in on what's happening, as well as get some release around just playing music," says Donnie Tavares, assistant director for student engagement and leadership development in the Office of Student Activities, Involvement and Leadership. "For a while, the station had been a little dormant. I think Adam along with the new board have brought a new energy."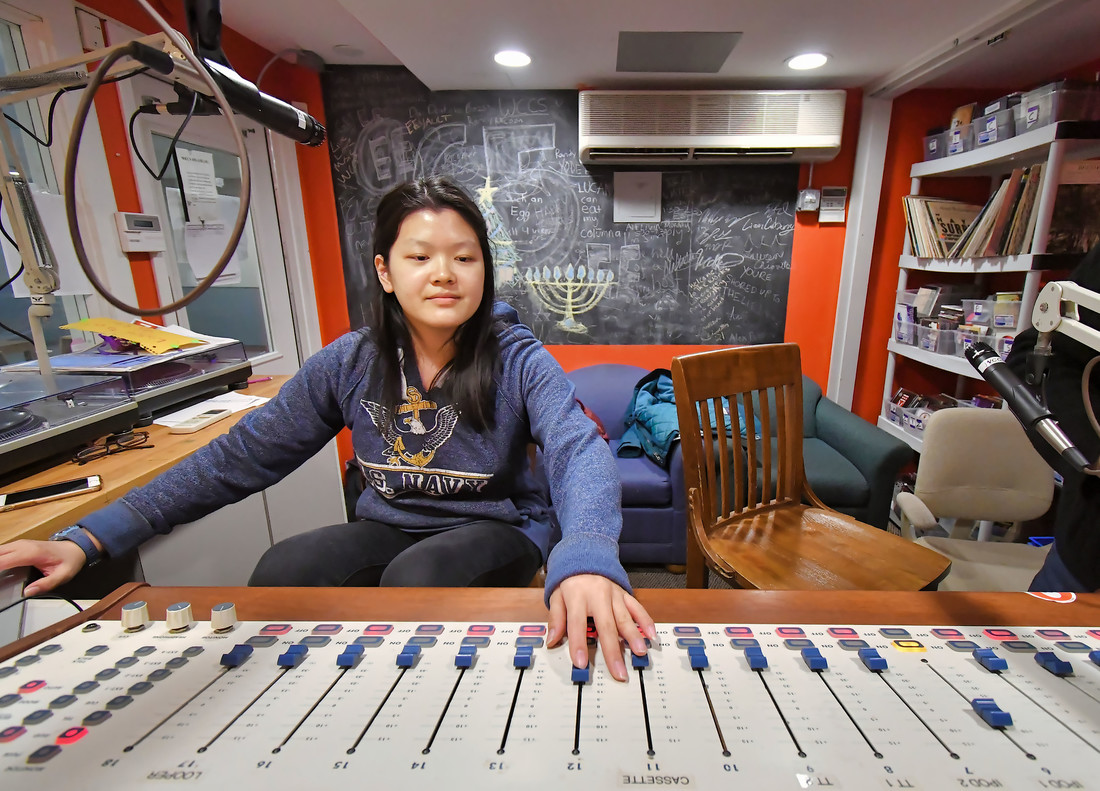 Among these changes is an effort to make WCCS easier to listen to—the students developed apps for both Android and iPhone and created an easy-to-share link to listen to the station on a desktop computer (wccs.tk).
Peter Q. George has worked on contract as the station engineer for WCCS since 1986, when it was broadcast on AM radio, and has seen the station undergo many changes over the years, including the construction of its main studio in the basement of Balfour-Hood, in 2000.
"Currently, we are working to upgrade our production studio (Studio B) [also located on the lower floor of Balfour] for production use and as an alternate studio location. We are working to upgrade both our studios to better serve the needs of the college and students," Quentin said.
In addition to managing the station, Bass runs the show "Rock Block" on Saturday afternoons, playing classic rock from the 1950s up through the '80s. He says working at Wheaton Radio has taught him adaptability above all else.
"I'm a personal believer that life is just one big improv game, and radio gives you the chance to really figure that out," Bass said. "My second show on the air, something got messed up, and I had to keep talking, keep the listeners engaged, until I figured it out. The show must go on."
Lauren Chiovetta '21 runs a music variety show on Thursdays titled "The Works" (tagline: "Everything you've ever or never heard.") The political science major says she just has fun with the hour, picking songs to play around a different theme each week, sharing memories related to the songs and dedicating certain ones to her family.
"Since I do my own show, I get to control everything, from when I broadcast, to the songs, and even the public service announcements I make. It's a lot of responsibility, but also a lot of freedom," she says. "For someone who is very academically inclined, being able to escape into the freedom and creativity of the radio station is incredible. I can just take a step back from my worries and live in the music, which I love."
As the station's community liaison, Chiovetta has been able to work on her networking and communication skills, as well as build a strong work ethic. She hopes to continue working in broadcasting, ideally as a media coordinator for a museum, school or other nonprofit.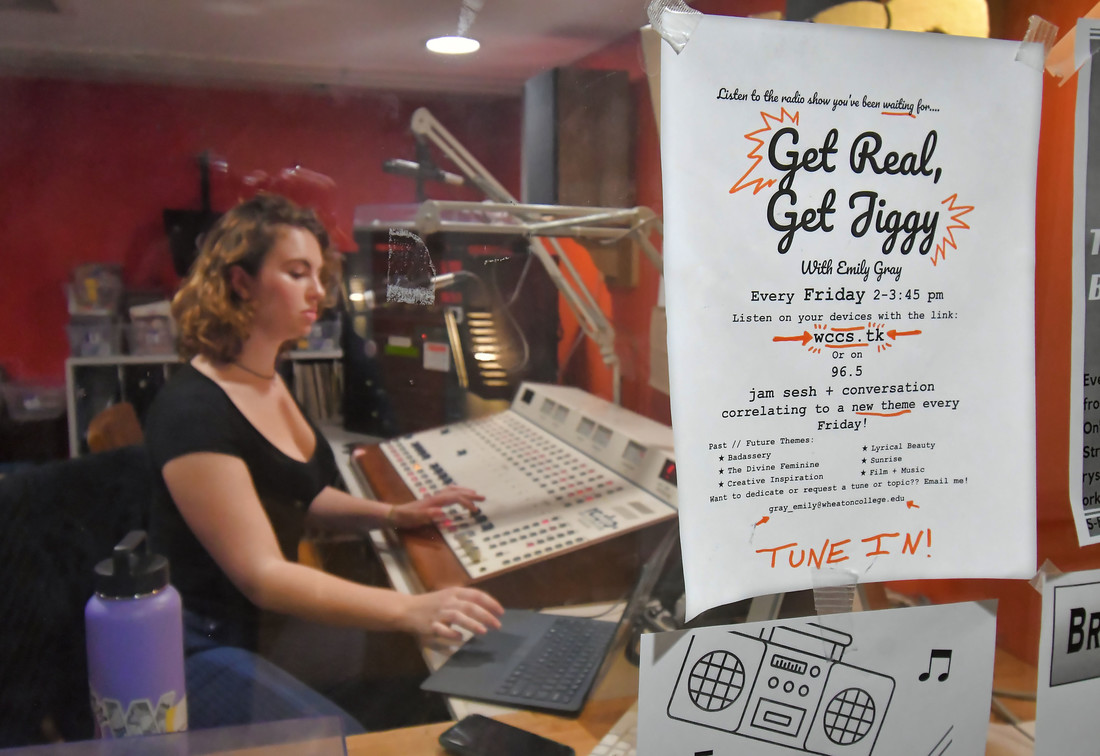 Emily Gray '22 combines her love of music with her love of deep discourse in her weekly show, "Get Real, Get Jiggy," airing on Friday afternoons. Currently leaning toward a double major in English and art history, Gray says she enjoys learning about a variety of subjects—a passion she brings to her show.
"Every week I choose a new, broad theme (previous themes have been the Divine Feminine, Home, Bravery, Existential Crisis, Dawn, Twilight, Inspiration Information) and create a playlist of varying genres of music that I think correlate to the theme of the week," she says. "I discuss why I have chosen that theme for that particular week and how the songs correlate to that theme, as well as other topics that all fit under the theme. Occasionally I will have guests on the show to generate greater discussion and to introduce a variety of perspectives."
In addition to running the Wednesday music/talk show "Just Two Dudes," with co-host Harrison Zeiberg '22, Jacob Libby '22 is the station's business manager and interim events manager. He's a computer science major interested in using technology to help people and says says he has found his voice through WCCS.
"I was quite shy before radio (and still am very quiet), however I feel I am able to speak up and take charge in social situations if the need arises," he says.
Currently considering a studio art major, Whitney O'Reardon '22 has found the station booth to be a great practice ground for both public speaking and creativity. Her show, "Broadway Beats," airs on Thursday afternoons, and features songs from musical theater and film.
"I chose this theme because I really like musicals, especially how they can be used as a storytelling medium. This is something that I try to highlight in my show—how a soundtrack, or even just one song, can convey so much about a character's journey," she says.
For environmental science major Nadia Ostreicher '21, being a deejay with WCCS is mostly a fun way to spend time between classes. Her show, "The Kitchen Sink," airs late Monday nights and features an eclectic mix of tunes, usually centered on a theme.
As a student of geophysics, interested in polar research, she views the benefits of deejaying through a scientist's lens.
"It's an exercise in sticking to a schedule and following the rules of the space," she says.