Finding his voice in the podcast industry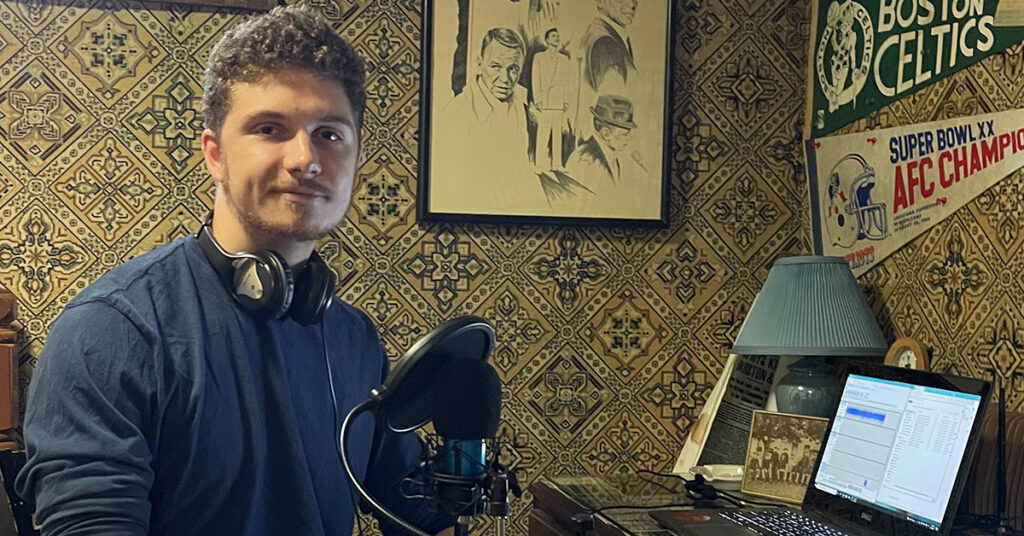 Senior hosts show that explores cinema
James Sena '22, who aspires to work in the entertainment industry, found an ideal hands-on summer internship as a podcast host.
For 16 weeks he participated in a virtual internship at GSMC Podcast Network, a Folsom, Calif.-based broadcast media company that hosts podcasts covering news, sports, books, entertainment, cooking and more. Twice per week, Sena wrote and hosted a one-hour podcast offering insight and light-hearted commentary about all things cinema.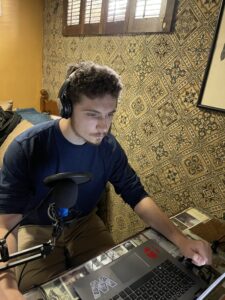 "For every show, I researched different movies and outlined my main talking points in advance. This allowed me to not only stay organized, but helped me keep track of when I should take breaks and drink some water," said Sena, who is double majoring in film and new media studies and theatre studies.
Sena, who is focusing on acting in the theatre studies major, said he tried out various tones and narrative choices to see which felt most natural and what people might enjoy the most.
"Whether it's a more educational route or perhaps leaning more into comedy, it took a bit of trial and error before I figured out what was best suited for me. My favorite moment on the job was when I was recording a segment about the film 'Mr. Magorium's Wonder Emporium', and certain symbolism about the characters clicked in my head, which caused me to very audibly geek out and put two and two together," he said.
The internship complemented Wheaton courses, he said, including a podcast production course he took with Associate Professor of Filmmaking Patrick Johnson.
"That course actually gave me the inspiration to seek opportunities in that medium. When it came time to start recording for the GSMC Podcast Network, I would go back and review some of the critiques that I was given during that class in order to create content that I'm genuinely proud of. Throughout many of the classes I've taken at Wheaton, I feel as though I've picked up so many tips and tricks that I've been incorporating into my work, which, if all goes as hoped, will be a part of the entertainment industry," Sena said.
James Sena '22 has participated in the 10-Minute Plays Festival and mainstage productions. He is a member of the Dimple Divers and lives in MADHouse (Media Arts Discourse House).