Fighting fires, blazing trails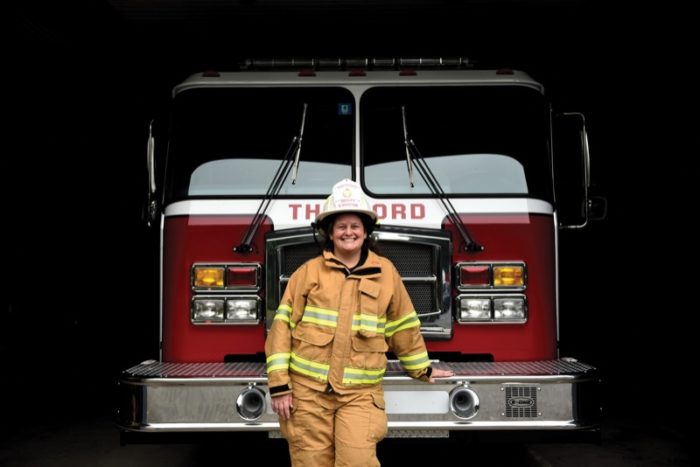 (Photograph Jennifer Hauck)
Vermont deputy chief saves lives, leads with passion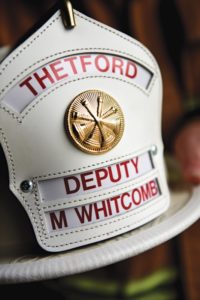 As deputy chief of the Thetford (Vt.) Volunteer Fire Department, Mariah Capurso Whitcomb '95 always is at the ready.
Her department—one of the busiest in its region of Vermont—receives about 380 calls per year. More than half of the calls are for medical emergencies, while the remainder involve motor vehicle crashes, incidents with hazardous materials, domestic situations, structural fires and others.
This past summer, Whitcomb—who balances her firefighting and emergency medical services (EMS) work with a full-time job—was particularly busy.
On July 1, a storm pummeled the town, resulting in damage to 75 percent of area roads.
"On the day of the storm, I handled all of the coordination for the fire response, police response and town government response as the emergency management director [EMD] for our town. It was very clear that when we saw the damage and amount of work that needed to be done, that we needed a FEMA designation to receive disaster assistance," she said.
Whitcomb used five vacation days from her job as instructional design manager at the Dartmouth Institute for Health Policy and Clinical Practice to stay in Thetford for a week and coordinate the recovery response.
Thanks in part to her leadership, the town received the FEMA disaster declaration and the federal funding necessary to rebuild the roads and other structures. Also, due to her hard work during the storm, in September she was named EMD of the Year for the state of Vermont by the Vermont Emergency Management Agency.
"Her efforts before, during and after the storm illustrate how an emergency management director can impact the people she serves," Vermont EMD Erica Bornemann said. "Mariah is worthy of this award for her high standards and the example she sets for how an EMD should function."
Rising to the top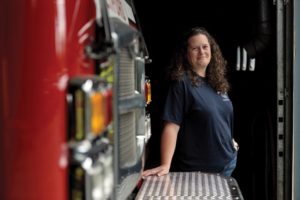 Whitcomb's leadership in the face of a natural disaster is just one small example of the range of work she's involved with at the department.
Since joining the fire department 20 years ago, she has thrived in the field of emergency medical services and has served as a care provider, student, instructor and officer. She heads up the First Aid Squad of Thetford, or FAST squad—a department within Thetford Volunteer Fire Department that handles emergency medical services.
When she first began her volunteer work at the department, there were very few female firefighters. However, the fire chief who recruited her focused more on ability than gender, she said, with the mantra: I don't care who you are, as long as you do the work.
"In gear, you can't tell I have long curly hair and that I'm a woman. When I used to take off my breathing mask, it was a big deal. Now it is more commonplace to see women who are firefighters," she said, adding that her department now has a female captain (Robin Pettingell).
During the past two decades, Whitcomb has worked her way up to deputy chief—the highest rank a woman has ever held in the department. She now has 10 years in this role. She has made a name for herself, receiving awards for her work as an EMS educator and administrator. And on a more personal note, she found love: she met her future husband, a fellow firefighter, during her early days at the department.
A life-changing discovery
Whitcomb, who comes from a family of health care administrators and nurses, originally considered a career in medicine. She enrolled at Wheaton with the goal to pursue pre-med studies.
But during her junior year at Wheaton, she changed her major to psychology, with a minor in early childhood education, after discovering an interest in child development, nurtured by the late professor Grace Baron, and a love of teaching.
After a four-year stint as a teacher post-graduation, Whitcomb cultivated her skills as an administrator. Her passion for medicine led to positions as a residency coordinator and an administrative director at the Dartmouth-Hitchcock Medical Center in New Hampshire (just over the state line from her hometown, Thetford).
Around that time, a chance encounter at a fundraising event changed the trajectory of her life. While Whitcomb was painting the faces of children at the event (a skill she acquired at Wheaton, she notes), the fire chief approached her about joining the fire department. He offered to pay for her courses, and, if she passed, a spot on the department.
Whitcomb decided to take him up on it.
"I took the firefighting classes and fell in love with it," she said. She quickly pursued her certifications to become an emergency medical technician (EMT), and over time received accreditation as an advanced EMT, as well as becoming a state-level EMS instructor and regional training coordinator.
On the job
The Thetford Volunteer Fire Department oversees emergency services in a region covering 46 square miles, with a population of 2,600. Currently 20 volunteers serve in the department.
Shortly after Whitcomb completed her training in 1997, a large structural fire swept through a residence.
"One of the floors had already collapsed. I knew the building was compromised, but I needed to go in and do a search with a more senior firefighter. It was definitely nerve-wracking, but it was great to make sure that people were safe. It was a great way to learn," she said, noting that there were no injuries.
While there are dangers involved in firefighting, safety is paramount. "The department promotes a culture of safety, and that is what we emphasize above everything," she said. There have been no fatalities at her department during the past two decades, although a neighboring department did lose someone in 2016, she said.
As a volunteer, Whitcomb has seen both extremes of the good and the bad.
"You are in situations that can be really happy or really sad," she said.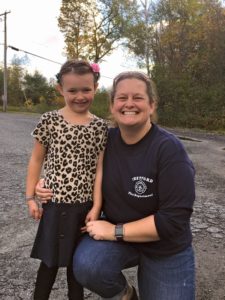 She noted two of her most proud moments, which occurred thanks to her expertise in advanced obstetrics. "I got to assist in two baby deliveries as an EMT. One was in the back of an ambulance, and the other was in a woman's bedroom. Those are the happy moments," she said.
On the other end of the spectrum are heart-wrenching scenes. "I've answered a call for a 12-year-old who committed suicide. It's the kids' calls that are the hardest."
She said her courses in child development at Wheaton have proven particularly useful in understanding the mental health struggles children and teens face, especially when working with families.
Capt. Pettingell said that Whitcomb demonstrates a high level of compassion and care during every call she answers.
"Mariah has been involved in the field of EMS for many years, but her passion and compassion continue to be important to her character," she said.
Whitcomb also maintains a calm demeanor when dealing with family members in the midst of an emergency, said Pettingell, citing two examples.
In one case, someone at a local campground called 911 when a man suffered severe burns after dumping gasoline on a campfire. "The man, his wife and four children were from another country and did not speak English. The mother did not drive and the husband was on his way to the hospital in the ambulance. Mariah reassured the children and wife during this scary situation, then arranged to have the family transported to the hospital to join the father," Pettingell said.
Another example of Whitcomb's compassion and going beyond expectations involved a motor vehicle accident during the winter.
"A young mother had crashed her vehicle on the interstate. Fortunately, the young driver was fine but the vehicle was totaled. The woman was 60 miles from home and unable to contact anyone to come and pick her up. Mariah and her husband, Chad, drove the woman to her home after the call was cleared," Pettingell said.
A passionate educator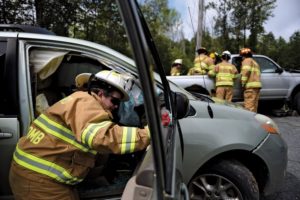 As head of the FAST squad at the Thetford Volunteer Fire Department, Whitcomb has put her knowledge of education to practice. These same skills she applies to her work as an instructional design manager at Dartmouth Institute for Health Policy and Clinical Practice.
Within the Thetford Volunteer Fire Department, she provides EMS training sessions to volunteers.
In addition to teaching these classes, she brings in guest presenters to give expert advice, including psychologists, physicians and nurses.
Many of the towns near Thetford—including Strafford, Vershire, West Fairlee and Norwich—are geographically isolated and small, with limited EMS personnel. Whitcomb regularly invites staff from these departments to her monthly trainings. Also, she teaches seminars at Vermont's EMS conference as well as a higher-level CPR class to high school students at Thetford Academy.
"If you take any class from Mariah, the first thing you will notice is she loves EMS. She consistently tries to share her passion for EMS with every one of her students. She has a wonderful sense of humor and enjoys back and forth dialogue with her classes," Pettingell said.
"Mariah truly cares about the EMS profession and works hard to develop and improve students in her care. Countless hours are spent producing lessons and PowerPoint presentations, mentoring new EMTs, collaborating with colleagues, researching best practices and the numerous other components needed to be a great educator," she added.
Whitcomb also is at the forefront of establishing firefighter rehabilitation, which helps firefighters cope with the physiologic stress after fire incidents. Thetford has offered this service to many towns in the area during an incident, and Whitcomb has been teaching EMS personnel from other departments how to establish this practice within their own departments.
Professionally, Whitcomb also excels as an educator.
Whitcomb joined the Dartmouth Institute for Health Policy and Clinical Practice as an instructional design manager in April 2013, moving away from coordinator and administrator roles she had held since graduation. In addition to her Wheaton degree, she had earned an M.B.A. in organizational leadership from Franklin Pierce University. She received a certificate of advanced graduate study in instructional design from the University of Wisconsin-Stout in 2015.
As an instructional design manager, she works with content experts to design and develop online curriculum for a master's degree in public health program and uses strategies to present information in a way that students can retain it. She uses her knowledge on how adults learn, and develops methods to assess their accumulation and active comprehension of information.
"I was looking for a change, and to get back to my education roots, and this position just popped up. It fit the skills I was already using," she said.
Accolades
Whitcomb's commitment to EMS and firefighting has not gone unnoticed. The state has recognized both her and the Thetford Volunteer Fire Department for their outstanding work.
In 2017, Vermont named the FAST squad its First Response Service of the Year during EMS Week, which took place May 21–27. The FAST squad was chosen out of the state's 175 EMS departments.
At the same ceremony, Whitcomb received recognition as EMS Educator of the Year for her work providing innovative, quality education throughout Vermont.
At the event, Vermont EMS Chief Dan Batsie said it's difficult to underestimate the contribution EMS providers make to their communities.
"They work 24/7 to promote and protect public health in ways ranging from conducting infant and child car seat safety checks to working with older Vermonters about fall prevention, to responding to individual and community emergency situations," he said. "There are many people with us today who know firsthand the life-and-death difference EMS responders make."