Fellowship prepares senior for future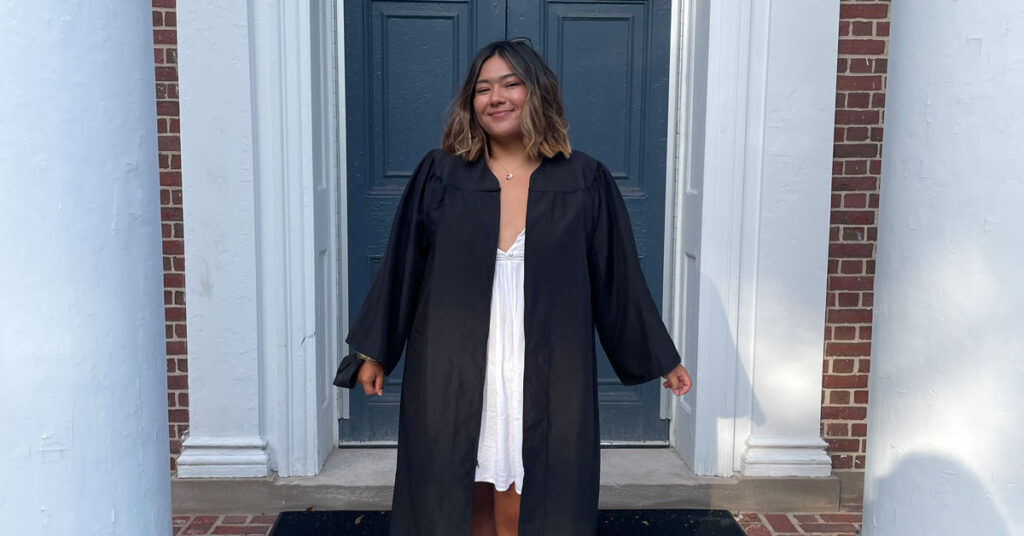 Tatianna Staszkow '22 hones skills in public policy analysis, writing
Tatianna Staszkow '22 was selected to participate in the Public Policy and International Affairs (PPIA) Junior Summer Institute Fellowship Program at the Goldman School of Public Policy at the University of California, Berkeley.
The fellowship is a rigorous academic graduate-level preparation program for undergraduate juniors committed to public service careers. It aims to address the lack of diversity across the spectrum of professional public service, including government, nonprofits, public policy institutions and international organizations, according to the PPIA website.
She spent six weeks taking virtual courses—"Quantitative Analysis," "Policy Analysis and Communications," and "Academic and Career Pathways"—to learn about various aspects of public policy.
Outside of classes that took place from 6 a.m. to noon, participants attended law and policy lectures by guest speakers from across the country as well as community meetings, mixers and bonding activities with their cohort.
"In every course, we were challenged to put what we learned into action by writing policy memorandums based on our interests as well as conducting our own quantitative research and creating a solid, well-thought-out plan for the next five years of our lives," said Staszkow, an anthropology major.
Staszkow fell in love with anthropology after taking one course in the subject at Wheaton, she said.
"Being born and raised in Hawaii has instilled within me a unique perspective and appreciation for cultural practices. After failing to find a passion for my original major plan of astronomy and physics, I took a step back and decided to take a course that would reflect my love for my own Native Hawaiian culture," she said. "On a whim, I took 'Introduction to Cultural Anthropology' with [Visiting Instructor of Anthropology] Professor [Joshua] MacLeod, and that same semester I declared my major in anthropology so that I could further explore the studies of people and culture around the world."
"At Wheaton, I've done anthropological work with Professor [M. Gabriela] Torres in her pro bono work as an expert witness for asylum seekers coming from the northern triangle of Central America. Throughout my time conducting research and writing with her, I've learned a lot about the ins and outs of the law and how it is applied in the case of immigration law," Staszkow said. "Studying policy analysis and how to conduct policy research allowed me to go beyond the understanding of how law is interpreted and dive deeper into the legislative processes that take place for policy and law to happen."
One of her proudest moments during the fellowship was writing her own policy memorandum for the "Policy Analysis" course.
"I chose to write alternatives and solutions for the problem that Native Hawaiians and Pacific Islanders disproportionately make up a majority of the homeless population in Hawaii. When I turned in my finished product, it just felt great to have an amazing and relevant writing sample for when it finally comes time for me to apply to graduate schools," she said.
"My goal is to attend graduate school and obtain a master's degree in public policy and a J.D./Ph.D. in anthropology so that I can take my knowledge back home," said Staszkow.
"I want to participate in my own state's systems so that I can work in indigenous justice to maintain and obtain stronger rights for Native Hawaiians and Pacific Islanders. Having a background in public policy and law will give me the tools to be a voice in my community."
On campus, Tatianna Staszkow '22 is a senior intern with the Office of Admission, senior advisor of Renaissance House, a volunteer with the Center for Social Justice and Community Impact and a member of Voices United to Jam.