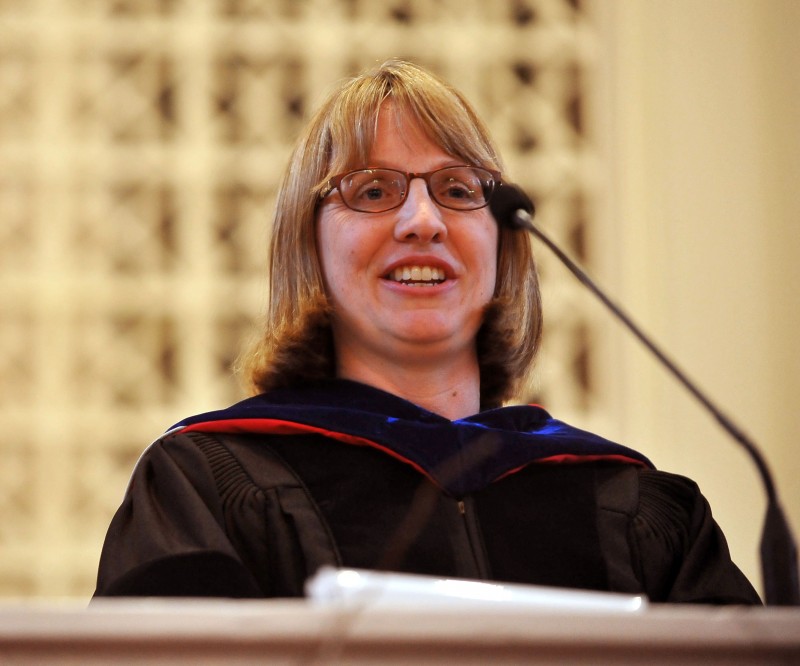 The Class of 2015 selected biology professor Jennifer Lanni to receive this year's Faculty Appreciation Award in recognition of her special contributions to the Wheaton College community.
The award was announced during the Honors Convocation ceremony held in Cole Memorial Chapel on Thursday, April 30.
Senior Class President Richard Jenkins '15 announced the award to applause from the students, faculty and staff assembled for the event.
In presenting the plaque, Jenkins read from one of the student nominations for the award:
"She truly understands what it means to be a liberal arts professor. As she said numerous times she is an unabashed geek, which translates into contagious enthusiasm in the classroom. It is through her passion for scientific pursuit that she inspires students every day and has made Wheaton a better place."
After receiving the award, Lanni said, "This [honor] means a tremendous amount to me, and I wanted to let you know that the privilege has been all mine to be part of your transformation from students to scientists. Thank you very much.
An assistant professor and co-coordinator of the biochemistry program, Professor Lanni studies how size is regulated in appendages such as limbs or fins. Her research uses zebrafish, a "model" species that shares genes and proteins with human beings and offers insight into human development.
During the past year, Professor Lanni, her research students, and Amanda Bettle, the director of the college's Animal Care Facility, have established a new aquaculture facility in which different strains of normal and genetically modified zebrafish can be raised and studied.