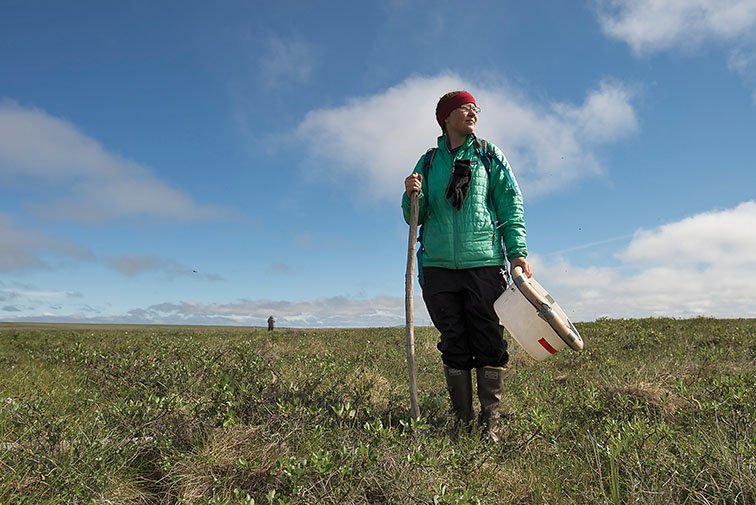 Senior McKenzie "Kenzie" Kuhn '15, an environmental science major, jumps at opportunities to learn outside the classroom. This summer doing so landed her in Siberia, Russia, where she participated in the Polaris Project as a student researcher, exploring the effects of methane gas, an essential greenhouse gas that is contributing to our globe's warming climate.
"Wheaton's environmental science program has done a great job of introducing me to multiple scientific disciplines from field geology in Death Valley to instrumental chemistry in the Wheaton laboratories," said Kuhn, a point guard on the women's basketball team. "After spending a month in Siberia, I came away from the experience with a new appreciation for the Arctic landscape and a passion for the environmental fieldwork that accompanies it."
Funded by the National Science Foundation and Woods Hole Research Center, the Polaris Project is an initiative to study global climate change. It began in 2007 after a conversation between founder and director Max Holmes and John Schade, the project's education coordinator. It has evolved into a collaboration of scientists and students from around the world who are trying to understand more about our changing climate by conducting research in the Siberian Arctic.
"What makes the Polaris Project interesting is that it feeds off the students' curiosity and self-motivation," said Associate Professor of Chemistry and Geology Matthew Evans. "The Polaris Project came to mind when Kenzie [who has been his lab intern] asked me about fieldwork and research for the summer."
With Evans's assistance, Kuhn completed her application and was accepted before the end of her junior year. She also received a summer stipend through the Davis International Fellowship, which covered her flights through 19 different time zones. When she arrived in Siberia, Kuhn researched possible topics to study through readings and field observation, along with various conversations with Schade, her internship advisor. The two considered different ideas, but it was Kuhn who decided to pursue a study on dissolved methane concentrations in small ponds.
Her research included observing different ponds that weren't connected above the surface but were linked through underground channels. One of her biggest takeaways from the research was discovering how certain types of moss may host bacteria that consume methane.
"Understanding how methane is produced is important to be able to predict future temperatures, but I mainly wanted to know if methane concentrations changed in a series of ponds from the top to the bottom," said Kuhn, who lived on a barge during the internship.
"Preliminary data suggest that there is a difference in dissolved methane concentrations depending on the type of moss at the bottom of the ponds. Ponds with brown moss had significantly less methane. A possible explanation for this is that the brown moss contains small organisms that use up available methane for energy."
After her time in the field concluded, Kuhn presented her findings to the other students and researchers through a seminar. She also submitted an abstract for the American Geophysical Union meeting, which is scheduled to take place in mid-December in San Francisco.
"Kenzie played a big role in maturing her project but also in developing and carrying out the approach to answering her questions," said Schade. "She was very enthusiastic, curious and observant throughout the entire process."
The Polaris Project not only provided Kuhn with an opportunity to study outside the classroom, but also allowed her time to consider what she'd like to pursue after graduation. Regardless of what she decides to do after she receives her diploma, Kuhn hopes to return to the Arctic one day for additional research.
As Evans said, "Kenzie has gained access to a pretty broad and talented network of faculty, researchers and students through her different internships and research experiences, which will serve her well in the future should she continue in this vein of research, which I hope she will. I hope to soon call her a colleague after graduation."