Exploring Chinese culture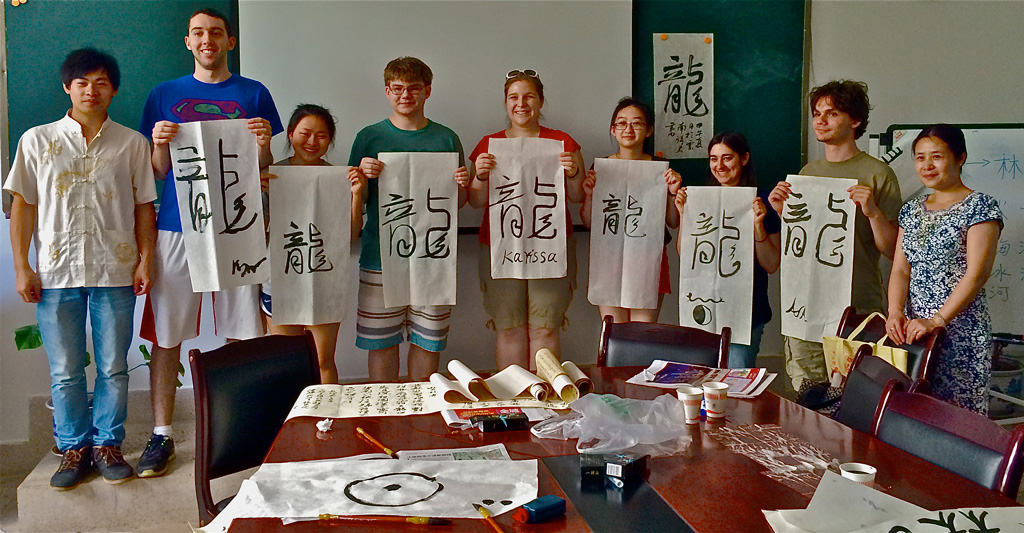 From ancient paintings at a mountaintop Tibetan temple to the rich red earth of terraced farmlands in Lexiaguo, eight Wheaton students explored Chinese arts and culture during a three-week course abroad this summer.
Titled "Appreciation of Chinese Culture Through the Arts," the class was Professor Emeritus of Biology Edmund Tong's fourth summer course in China and the first to focus on the arts. Previous courses centered on traditional Chinese medicine.
Tong, who came to the United States from Hong Kong after high school, has always had a strong interest in Chinese culture and the arts. Though he studied biology, he has audited several studio art classes at Wheaton over the years, dabbles in oil painting and poetry and teaches a tai chi class on campus.
"I started setting up this [arts] course three years ago, but the first time we did not get enough students," Tong said. "So I packed the course with more activities by taking advantage of the uniqueness of Kunming and Yunnan and special personal connections."
The resulting course, offered May 19 through June 11, 2014, featured art and dance demonstrations, museum tours, sightseeing trips, theatrical performances and lectures on subjects such as Chinese language, music, photography, painting, architecture and religion.
The group participated in daily tai chi sessions, practiced their skills on traditional Chinese instruments at the Yunnan Arts Institute, tried on costumes and face paint at the Beijing Opera and had a private showing of paintings and calligraphy by one of China's most famous painting masters of the 20th century.
Tiffany Sze '16, a film and new media studies major from Boston, signed up for the course as an opportunity to learn more about her Chinese heritage. "Having the chance to see things I've only seen in pictures and read about in books was amazing," she said.
Meghan Dorian '16, of Fairhaven, Mass., a double major in computer science and theatre and dance studies, said she most enjoyed seeing "Dynamic Yunnan," a showcase of song and dances from the various ethnic minority groups living in Yunnan Province, and visiting Daoist and Buddhist temples built into the mountainsides.
"I was extremely drawn to the opportunity to study China's performance arts, music and language," she said. "I have been exposed to many stereotypes and perceptions of what Chinese culture entailed, so I really wanted to see what life was like in China for myself."
Appreciation of Chinese Culture Through the Arts—Course Highlights
May 20. Arrive in Kunming
May 23. Visit to Yunnan Provincial Museum
May 24. Trip to Stone Forest
May 25. Trip to Lexiaguo
May 27. Trip to Western Hills, Buddhist temple and Taoist shrine
May 28. Workshop at Li Ping Young Dance Company workshop; viewing of dance performance "Dynamic Yunnan"
May 29. Lecture and workshop at Beijing Opera
May 30. Visit to Yunnan Nationalities Museum
May 31. Trip to Weibaoshan Taoist Mountain and exploration of Taoist temple
June 1. Traditional Chinese painting demonstration; visit to ancient city of Dali
June 2. Visit to the Three Pagodas
June 3. Introduction to Shaxi rehabilitation project
June 4. Trip to Lijiang; Naxi ancient music concert
June 5. Viewing of live outdoor performance "Impression Lijiang"
June 6. Trip to Zhongdian and introduction to Tibetan Buddhism and culture
June 7. Visit to Songzanlin Tibetan Buddhist Monastery
June 11. Depart