Exhibition celebrates Wheaton College, Bhutan partnership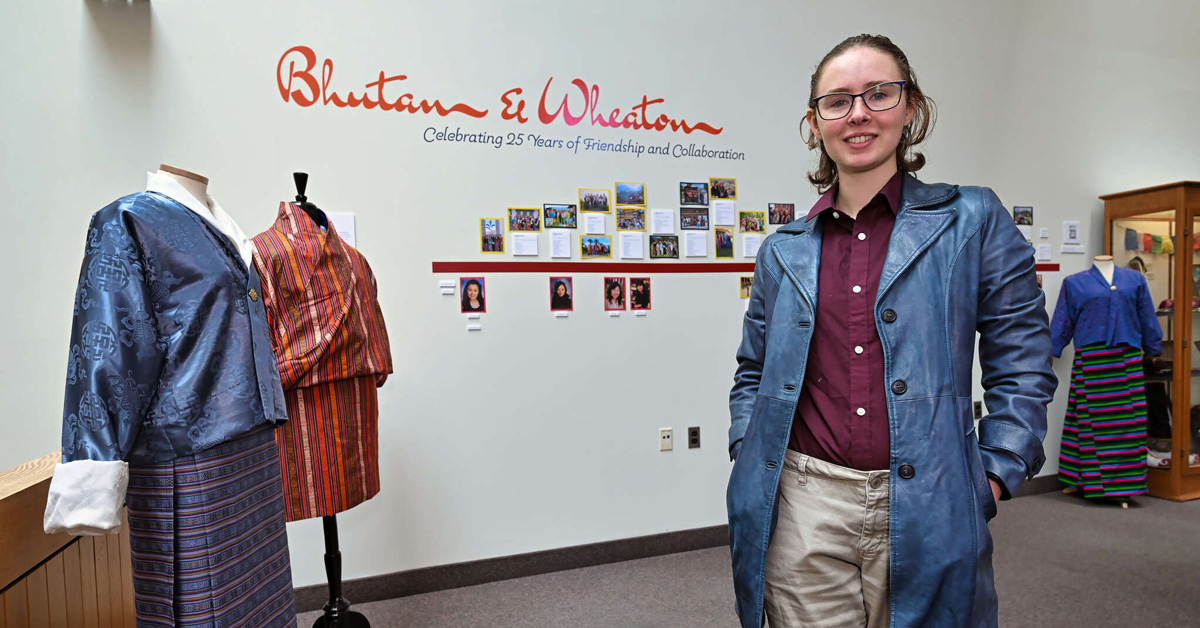 Study Abroad program has created cultural connection, learning opportunities for 25 years
Bhutan, a remote, landlocked nation in the Himalayas in South Asia, is 7,490 miles and a 15-hour, 26-minute flight from Boston. However, Wheaton College has managed to close the distance and build a bridge of friendship with the Kingdom of Bhutan that for decades has taken students, faculty as well as alumni there to engage in unique opportunities to explore and learn.
This summer, the Madeleine Clark Wallace Library has hosted an exhibition that highlights that mutually beneficial relationship. "Bhutan and Wheaton: Celebrating 25 Years of Friendship and Collaboration," on display from May 1 through September 8, 2023, showcases the study abroad program and the professors, students and alumni who have taken part. See gallery below.
The study abroad program is a partnership between Wheaton and Royal Thimphu College (the first private institution of higher learning there) that provides a rare opportunity for learning and cultural exchange in a country to which few have access.
President Michaele Whelan initiated the library exhibition in collaboration with Center for Global Education Dean Gretchen Young, Library Services Dean Megan Brooks, and Beard and Weil Galleries Director Elizabeth Hoy. Isabel Mayers '24, Shuchang Gu '23, Emmanual Leal '23 and Chogyal Norbu '23 also worked on the project.
"Besides the important topic covered in the exhibition—celebrating the relationship and exchange of people, ideas and cultures of Wheaton and Bhutan—this exhibition allowed Wheaton students to apply their coursework to a real-life situation," said Brooks.
Norbu, a native of Bhutan and a 2022 recipient of a Projects for Peace grant, provided advice to ensure the display of materials was culturally appropriate. Leal designed the promotional materials and wall text.
Also, "Isabel and Shuchang, who recently completed Art History 335: Exhibition Design, made major decisions about all aspects of the exhibition, including process, timing, placement, handling, mounting and descriptions. Gretchen and I were lucky to learn from them," Brooks said. "Wheaton is privileged to have this unique relationship with the Kingdom of Bhutan. I'm delighted Wallace library can serve as the backdrop for the exhibition."
The exhibition includes a timeline that traces the relationship with information and photos of the students, alums and faculty members who have gone to Bhutan over the years. Objects, tapestries, prayer flags and traditional clothing from Bhutan are also featured.
Wheaton has a longtime relationship with Bhutan initially dating back to the 1990s and continuing through a study abroad program first launched in 2010. Wheaton's connection with Bhutan has existed since the nation's current king, His Majesty Jigme Khesar Namgyel Wangchuck, was a Wheaton student (from fall 1999 to summer 2001). In a recent cultural exchange on campus, Wangchuk Rinzin taught at Wheaton as a visiting Fulbright Scholar from Bhutan during the 2021–22 academic year.
Teamwork was key to planning and installing the exhibition, the students noted.
"Working collaboratively, sharing ideas and listening to different perspectives made the entire process an inspiring and creatively enriching experience. This collective effort ensured that the exhibition unfolded with a cohesive narrative and offered a deeper appreciation of represented culture," said Gu, who views art as a way to embrace cultures and perspectives different from one's own.
"Working on this exhibition was important for me for several reasons. It aligns perfectly with my Wheaton education and future career plans," Gu said. "As a history of art major, my goal is to pursue a career in the museum field. Being involved in this exhibition provided me with valuable hands-on experience in preparing, designing and installing an exhibition for the Wheaton community. I am excited to contribute to this initiative that strengthens the community's understanding of the Bhutanese culture and our friendship with Bhutan. This experience also deepened my understanding of how to present things beyond their original context while respecting the cultural significance of the exhibited objects."
Mayers expressed similar sentiments.
"After Wheaton I plan on continuing on a path in which I will have other  opportunities to participate in the curation and design of exhibitions. Collaborating in the design of the Bhutan exhibition was a unique experience that provided me with real world work experience," said Mayers, a visual arts and history of art double major.
"The big lesson I learned during this opportunity was how to work with a variety of people with different skill sets and prior knowledge in order to create a public exhibition that proudly and respectfully shows Wheaton's initiative to provide unique and diverse learning experiences," Mayers said.