Exhibiting views on color-ism

New exhibition explores issues of color and identity
The college's art galleries kicked off the spring semester with an opening lecture by the duo Work/Play (also known as Danielle and Kevin McCoy), whose artwork is featured in the solo show Color-ism, now on display in the Weil Gallery.
The couple, who run a graphic design and art studio in St. Louis, Missouri, talked about their life and their artistic practice in which work and play, art and everyday life are entwined.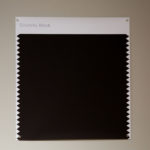 The couple began making the art in the Weil Gallery exhibition following the police shooting of Michael Brown in Ferguson, Missouri, near their home city, and the protests and tension that followed.
"That incident changed our practice," Danielle McCoy told the audience of students, faculty, staff and local residents attending the event.
"It really set us with some deep questions, and the question for us is 'Why art?'," Kevin McCoy said. "Why are you making art? What is the art saying?
"We are not in a comfortable situation," he said. "We don't live in a comfortable environment; therefore, we can no longer make comfortable art. We have to talk about these things."
The show will be on display in the Weil Gallery through Friday, Feb. 23. At the same time, the Beard Gallery is hosting the exhibition On & On: Art without end. Both galleries are open 12:30 to 4:30 p.m. Monday through Saturday.
Photos by Nicki Pardo