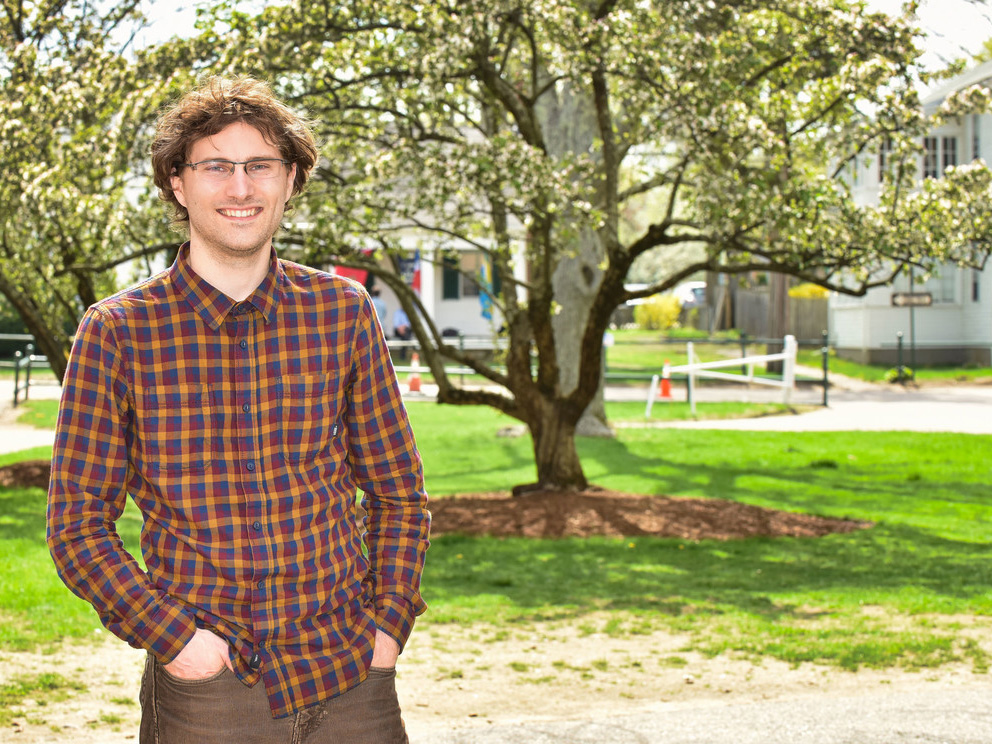 Joshua Dufour '12 wins Fulbright Scholarship to teach in Kazakhstan
Joshua Dufour '12 will cultivate his passion for cultural immersion, languages and education this fall as a Fulbright English Teaching Assistant in Kazakhstan.
The scholarship is a natural progression for Dufour, who double majored in Russian studies and classics at Wheaton and received his master's degree in Russian and Eurasian studies from the University of Wisconsin.
Dufour has both taught and learned several languages, including Arabic, English, Latin, Russian and Spanish. Since graduation, he has taught English to immigrants and contributed to running programs that serve refugees in the U.S.
"I find it exhilarating and deeply fulfilling teaching others and helping them grow both intellectually and personally," Dufour said. "Education is not just a privilege but a way to see and experience the world in untold ways. Each and every individual perceives the world differently, and I find that truly fascinating. It's all like a giant mosaic, where each culture, each person, adds one tiny, yet beautiful, peace to the overall picture that is humanity."
Dufour is familiar with Kazakh, as he immersed himself in the language at the Central Eurasian Summer Studies Institute at the University of Wisconsin.
"Going to Kazakhstan as a Fulbright Scholar gives me the opportunity to finally take part in a society and culture that I have only experienced superficially," he said.  "Ultimately a Fulbright experience would be a cornerstone piece in my career, as it would best unite my passion for languages and cultures with my desire to educate."
In addition to teaching in Kazakh schools, Dufour plans to volunteer as a youth soccer coach. This would serve as an extension to his volunteer work at Soccer Without Borders (SWB), a Boston-based nonprofit where he both plays soccer with youth and tutors them in all subjects.
"My time mentoring at SWB has shown me that soccer is a powerful form of communication that transcends race, creed and nationality. Through a shared love of the sport, I hope to connect with Kazakh youth and open up cross-cultural discussions," he said.
Dufour credits Wheaton professors Francoise Rosset, associate professor of Russian, and Thomas Dolack, visiting assistant professor of Russian, for fueling his love of languages.
"It was their intoxicating passion, engaging teaching style and dynamic personalities, along with their curriculum, that got me so fascinated with Russian language and studies," he said, adding that it influenced his decision to study abroad in Vladimir, Russia, during his junior year.
Professor Rosset describes Dufour as an "exceptionally curious, inquisitive and fearless student." His senior year presentation on Uzbekistan for Wheaton's Academic Festival is still used in classes today, Rosset said.
Dufour's long-term goal is to obtain his Ph.D. His work at Refugees Welcome! convinced him that he wants to commit his life and career to helping others, he said.
"I have my eyes set on working for the United Nations or working in some form of diplomacy. My love for culture and languages, coupled with my desire to make positive changes in Central Asia and Russia, would make this line of work a perfect fit for me," he said.