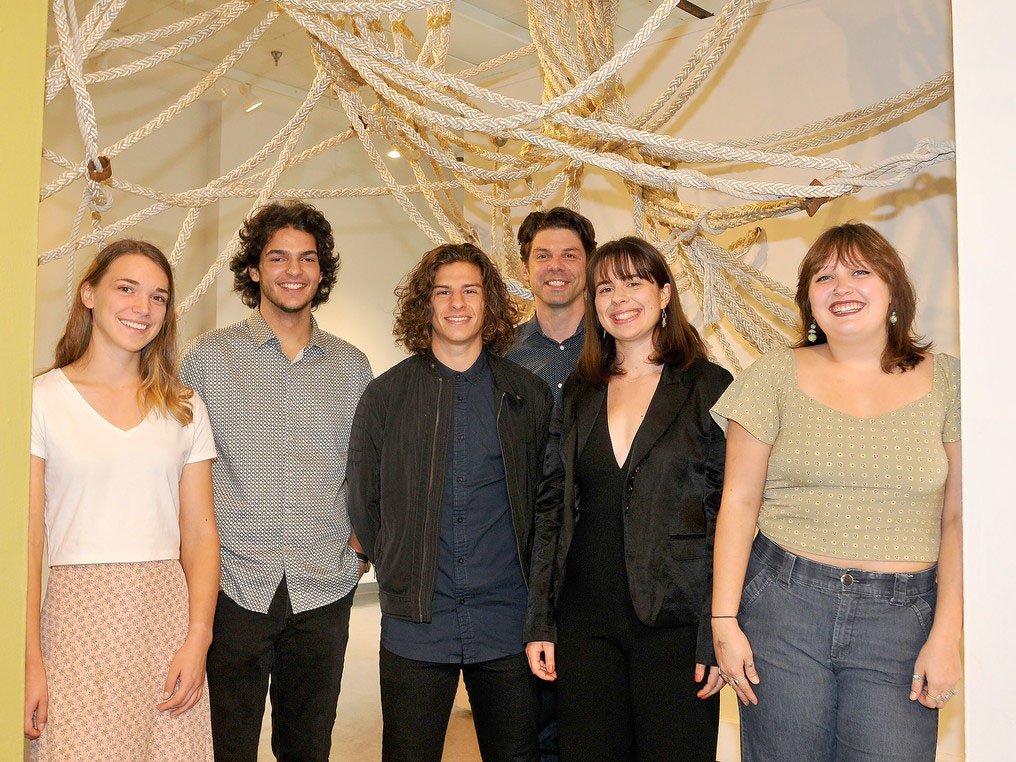 Student sculptures, based on whale tale, featured in Attleboro exhibition
This fall, six Wheaton students and three recent graduates are seeing their big ideas come to life in an exhibition at the Attleboro Arts Museum titled "Enormity," based on a book about the sinking of the whaling ship Essex.
The collaboration got its start last December, when Associate Professor of Art Kelly Goff reached out to Executive Director and Chief Curator Mim Fawcett about opportunities for students in his spring "Sculpture II' class to share their work with the greater community.
[View photos of the exhibition]
"Mim offered the idea of tying the show to the National Endowment for the Arts (NEA) Big Read, which was a perfect fit with my pedagogical goals for the course, as I had as a goal for my students to explore modes of research in the context of artistic practice," Goff said.
NEA Big Read provides funding for communities to plan activities and events around one book, which the entire community is encouraged to read together. Attleboro's 2019 NEA Big Read book, "In the Heart of the Sea," by Nathaniel Philbrick, tells the story of how the Essex, sailing out of Nantucket, Mass., was attacked by a sperm whale and sank in the Pacific Ocean, in November 1820.
Goff's students read the book individually, coming together for discussions throughout their spring course.
"Mim had given us the wonderful prompt of 'Enormity' to consider as we read. Our discussions focused on the ways that enormity is represented in the book and how it manifests literally in terms of scale and figuratively, as we learned of the extremes of peril described in the book," Goff said.
The resulting three-dimensional student artwork consists of a variety of materials, including wood, rope, thread, metal, plaster and found objects.
Artists whose work is featured in the exhibition include: Madi Cook-Comey '19, Kelley Montoya '19, Blaithin Haddad '19, Nathan Domingos '20, Sophia Hatzikos '20, Sasha Kasem-Beg '20, Josephine Coppinger '20, Martin Hanley '21 and Lilly Etlinger '21.
For one of her pieces, art history graduate Cook-Comey explored the connections between the Essex's sailors and their children, whom they didn't see during long periods at sea. Titled "Devoted Daughter," the piece blends a common life jacket with sampler embroidery, an activity typical among young girls in the 19th century.
"Since the nature of whaling meant repetitive, lengthy time away from home, these men were often absent in the lives of their children," Cook-Comey wrote in her artist's statement. "This piece references one such child, Adelaide Joy, daughter of Essex Second Mate Mathew Joy.  While her age at the time of the Essex's departure was undocumented, in this piece, she stands as a metaphor for the many children of whalers who grew up, unsure if their fathers would return."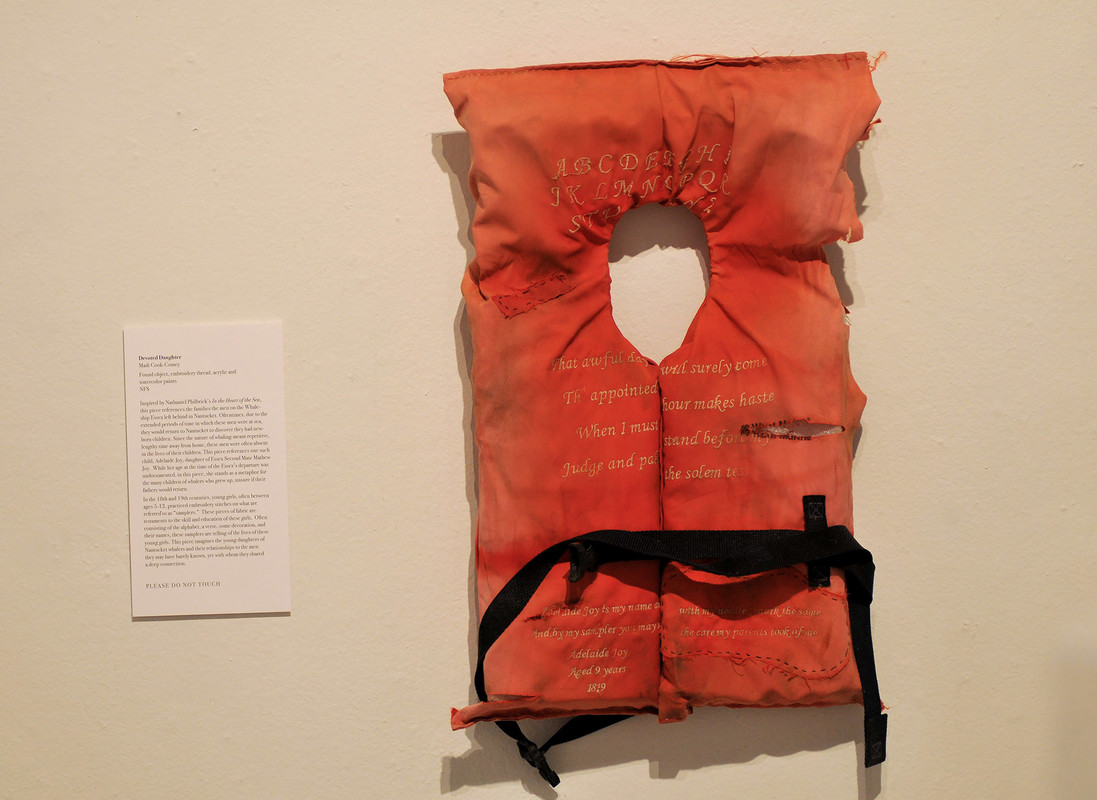 For her piece, "2,800km," visual art and sociology double major Kasem-Beg said she focused on the Essex's journey, about what it took to prepare for and complete their mission, and the hope required.
"What was the most unbelievable to me was the great lengths that these men went through in the pursuit of oil," she wrote in her artist's statement. "An act so violent and treacherous, ultimately leading to an extreme depletion of one of the world's most gentle creatures, was something I had difficulty grasping. But to them it was everything; prosperity, profit, family. It was their fuel in more than just one sense of the word."
Hanley, a double major in visual art and philosophy, crafted his "Plastic Water Bottle" out of marble, "as a metaphor for the significance of water in 'In the Heart of the Sea.'"
"As the whalers begin to die and everyone is questioning who is next, it made me wonder who may have lived longer if they simply had a standard water bottle and also how long they would live," he wrote. "It is bizarre to think of how lucky we are to have easy access to water bottles when they are all around."
Goff said this project of creating and installing unique artwork in a public museum, is just one example of how "Wheaton prioritizes opportunities for students to do real work in professional contexts."
The exhibition, which Wheaton students helped to install, opened September 14 and runs through September 21.