Enhancing the STEM experience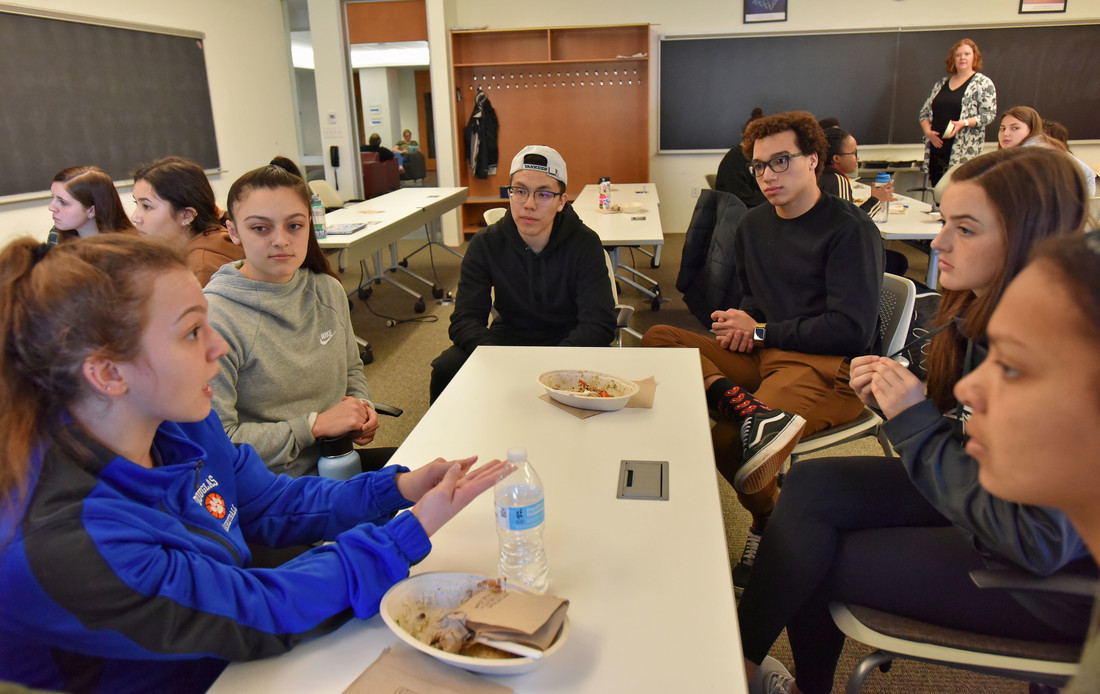 New leadership course encourages students to identify opportunities, create solutions
As a biology major on the pre-med track, Will Gan '21 knows the value of a good support system. In his first year at Wheaton, Gan participated in pre-orientation programs that helped him form friendships that have helped him throughout college.
Now, through "STEM Leadership"—a new course that encourages students to explore their leadership styles and develop projects that enhance the campus community—Gan is working to help first-year students form early connections, particularly among peers studying STEM subjects (science, technology, engineering and mathematics), and stay on track.
The interdisciplinary half-credit course, offered for the first time in spring 2019 and again this spring, is part of a series of initiatives supported by a $1 million grant Wheaton received in 2018 from the Howard Hughes Medical Institute (HHMI), to improve institutional capacity for student success in STEM for all students. Wheaton is one of just a few private liberal arts colleges to receive the grant.
"The idea [behind the grant] is to implement strategies that we know foster success for students who may typically face barriers to success in STEM fields," said Associate Provost and Associate Professor of Psychology Meg Kirkpatrick, who taught the course in 2019.
The first "STEM Leadership" class included eight students, many of whom were the first in their families to attend college—commonly referred to as "first-gen" students. Coursework included study of leadership models, theories of leadership and personality inventories, among other topics.
"It was an opportunity for the students to think about who they are as leaders. We talked a lot about their 'why'—what inspires them to be leaders," Kirkpatrick said.
The class discussed the many challenges that students face, particularly in STEM, but also other aspects of college life. They were asked to develop inclusive excellence projects they could conduct with campus partners that would enable all Wheaton students to succeed.
Members of the class presented their proposals to the Wheaton Inclusive STEM Excellence (WISE) leadership team, a group of faculty and staff helping to implement programs through the HHMI grant. With that feedback, the students were invited to become STEM Scholars and received a $1,500 stipend to support their projects, Kirkpatrick said.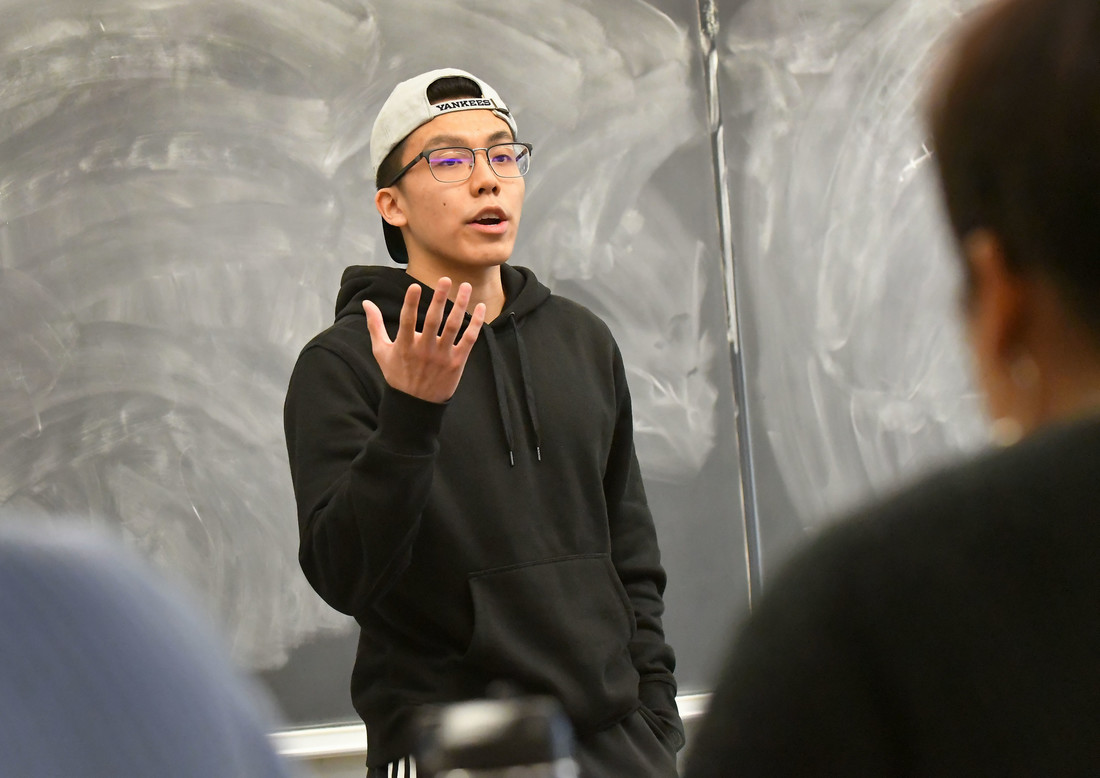 For his STEM Scholar project, Gan is focusing on early arrival programs, a week of programming held before first-year student orientation in August.
"To me, pre-orientation was a very insightful experience," said Gan, who took "STEM Leadership" last spring. "You begin your first year at Wheaton knowing that you have a cohort of students and peers, and you learn about the campus and about the many support systems that you can utilize. Pre-orientation really allowed me to meet my first set of friends and to see that there were some faculty and staff members that I could talk to if things came up."
Currently, Wheaton offers early arrival programs for first-generation college students, students with registered disabilities, students of color, students who identify as LGBTQ+ and international students, as well as a program centered on outdoor recreation. While there are a few activities in which the groups can mingle, the programs are largely separate, and first-year athletes typically do not participate, Gan said.
He wants to develop at least one social event during early orientation that brings together all the groups, including athletes, and is also interested in offering an academics-focused session that would introduce STEM students to others pursuing those majors.
Gan said he appreciates having peers that he's known since his first days at Wheaton, and he believes early arrival programs offer one of the best ways to make those lasting friendships, especially for students who don't always see themselves in STEM.
"Because I was able to foster these relationships early on, that's my support system now. We're struggling through homework together, through research projects, whatever it might be," he said. "I think that sense of belonging, that sense of community, is definitely at the root of wanting to stay in something [like STEM]."
Associate Professor of Mathematics Rachelle DeCoste is teaching "STEM Leadership" this spring and said she has enjoyed getting to know her students in a different type of class than she's used to teaching.
"We've had conversations about issues they've had on campus and how these are places they should dive into and think about what changes they can make," DeCoste said. "I like that we're giving them the opportunity to make change."
The goal of the HHMI grant is to facilitate institutional change at Wheaton, removing unintended or previously unrealized barriers to student success, Kirkpatrick said.
"We're working hard in our departments to think about how we interact with students inside and outside the classroom, but that's actually a small part of their day. So what happens in their dorms, what happens on their teams, really matters. I think this course is a great piece of what we're doing," DeCoste said.
Tia Staszkow '22 was already looking for ways to grow community on campus—for herself and for others—when she signed up for the "STEM Leadership" course last spring. A sophomore from Hawaii, she was planning at the time to major in astronomy and physics (she has since changed to a double major in anthropology and Russian studies).
"I got a lot more out of the course than I thought I would," she said. "It was interesting to see how different identities can play into your leadership style, especially within the STEM world. The biggest thing I got was how to figure out why you do the things you do, as a way to maximize your leadership."
For her STEM Scholar project, Staszkow is hoping to start a living-learning community for first-year STEM students, similar to the "Brave, Bold and First" residential community for first-generation college students the college launched in fall 2019.
"It will be focused on different intersecting identities within STEM and learning about underrepresented identities and mental health and topics that people don't really talk about," Staszkow said. "I want a place where first-year students can come and find a community that they feel comfortable in, and to learn from that community."
Staszkow said she is interested in a career working in human rights and diversity, inclusion and equity—topics she feels directly relate to the community she wants to build at Wheaton.
Her main goal, she said, is to boost retention in STEM majors after the first year. Though she's happy with her major choices, Staszkow believes she would have benefitted from this type of residential community, and that it might have helped her overcome some of the challenges she faced in her studies.
The Wheaton sophomore is hoping to launch the program her senior year, after she returns from studying abroad in New Zealand, to be available as a mentor. Currently, she serves as a resident advisor on campus.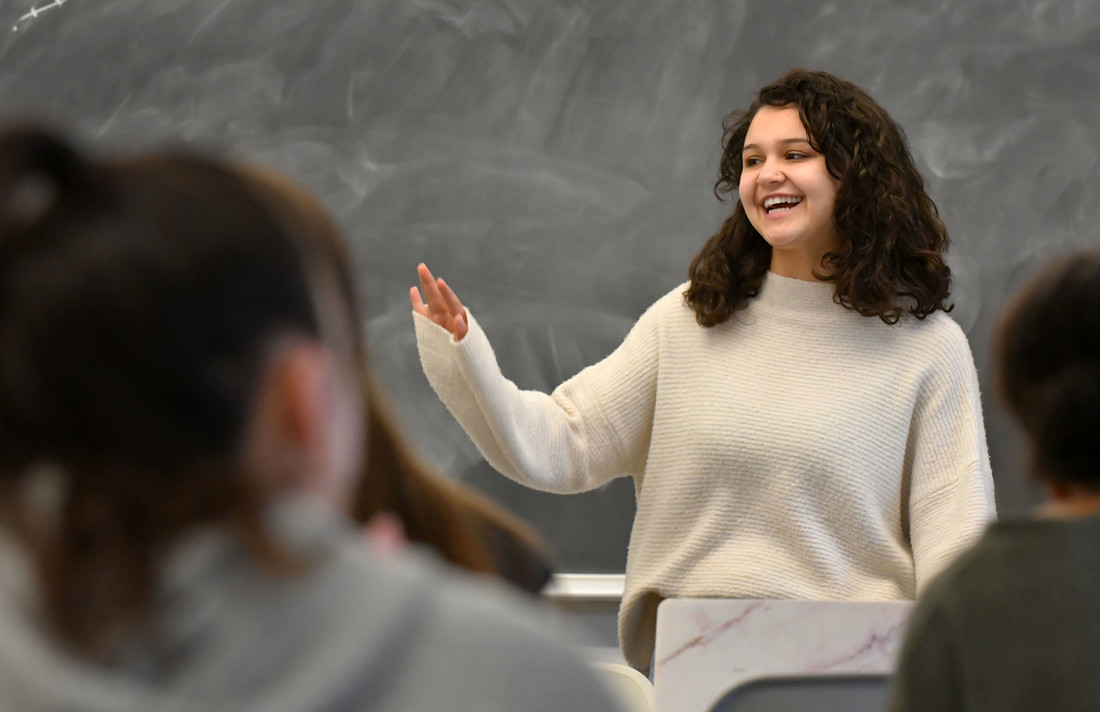 For her STEM Scholar project, Jillian Riveros '22 is creating a series of art-based events designed to open conversation about mental health topics, including addiction, depression and disordered eating, in an effort to reduce the stigma around those issues. In February, she held a poetry reading followed by a discussion about depression.
"Art really connects people. It makes you kind of vulnerable. So I wanted to do an art piece at the beginning of my event to open people up to the discussion," said Riveros, a biochemistry major on the pre-med track.
She is also interested in hosting events that feature vocal and dance performances as a lead-in to topical discussions.
Riveros said she believes many students would benefit from the "STEM Leadership" course, and that there are many areas of campus that could benefit from student insight.
"This course can help students to see from a new perspective," she said.
The HHMI grant and "STEM Leadership" course are part of Wheaton's ongoing efforts to support first-generation college students. In 2016, Kirkpatrick, with the support of Assistant Director of Community Service and Engagement Cassie Peltola '14 and others, launched the First-Generation Task Force (recently renamed the First-Gen and Low-Income Task Force) made up of faculty, staff and students to develop programming and provide guidance to Wheaton students.
The task force created a series of events, programs and resources under the term "Focus on First-Gen," including a week-long celebration highlighting the first-gen experience at Wheaton.
In August 2018, the task force collaborated with the Center for Social Justice and Community Impact to hold the first Brave, Bold and First early arrival session for newly enrolled first-gen students, inviting them to arrive a week early to acclimate to campus, develop connections with their peers and mentors and learn more about the resources available to them.