Encouraging, strengthening common bonds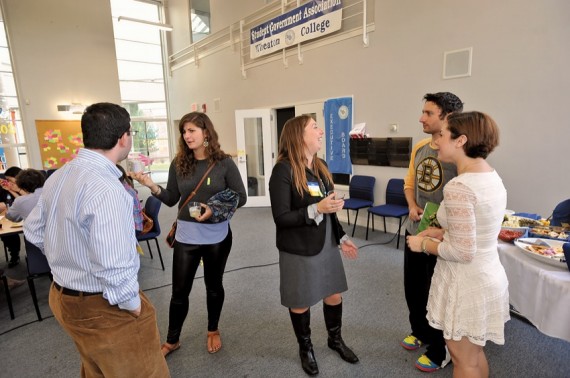 When Emily Firment '11 arrived at Wheaton she was a January admit student, so she had missed a semester of bonding with her freshman classmates. To make up for time lost and to jump into her new campus community, she joined the Student Government Association. There she found a family of friends.
"I loved being swept up into such a close-knit group so quickly my freshman year," said Firment, current Class of 2011 vice president. "I also loved feeling as though my voice and ideas mattered among my peers and the administration. The people I met through student government became my closest friends at Wheaton and we remain close friends today, even after we have graduated, moved across the country and gotten married."
The powerful connection that Firment felt to her SGA mates and the college, based on common interests and goals, is exactly what the Alumnae/i Association and the Alumnae/i Relations Office are seeking to tap into and encourage through a new affinity groups initiative.
The new program, which was launched at Homecoming, puts into place a structure and process to facilitate opportunities for alumnae/i to engage with each other, the college and current students through the teams, activities or groups they participated in during their time at Wheaton.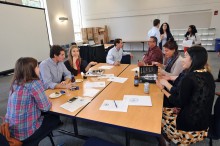 "An affinity group is a group of alumnae/i who come together to celebrate and strengthen a connection they share with each other and with Wheaton that is not based on the year they graduated or where they live. We want to connect with our alumnae/i in the way they want to connect with Wheaton," said Melissa Grove '07, director of student activities and leadership at Babson College.
Grove heads up outreach for the Wheaton Alumnae/i Association Board of Directors as a volunteer, focusing specifically on affinity groups. She is working in partnership with Wheaton staff member Hillary Shusterman '14, coordinator for Alumnae/i Relations.
Groups of alums already have been connecting based on interests. For example, the men's rugby team and the Gentlemen Callers have successfully formed unions to get together regularly at Wheaton. And the Lesbian, Gay, Bisexual and Transgender Alumnae/i and the Black Alumnae/i affinity groups have been active in the past. However, the association's formalized approach seeks to make it easier for alums who may not know how to go about connecting in this way. There now is a handbook that outlines the ways in which alums can engage with the affinity program.
During the 2014 Homecoming, the Alumnae/i Association officially kicked off the start of the new Student Government Association Alumnae/i affinity group with a reception in Balfour-Hood. Firment, a development strategy team coordinator in Harvard University's development office, has been one of the driving forces behind creation of this particular group.
"As I have grown farther from being a recent graduate, I have noticed that alums who were once very connected to the college through SGA leadership roles drift away from the college," said Firment. "The SGA affinity group will help alums who served as leaders at Wheaton to reconnect."
Zachary Agush '12, who was involved in SGA all four years at Wheaton and is gift co-chair for his class, attended the kickoff reception and is excited about the new group.
"The affinity group can serve as a resource for current students as well as the college because members can share their own experiences while in the SGA and offer advice, assist with communicating with alums and help rally support for college initiatives and priorities," said Agush, outreach associate at Transportation for Massachusetts.