Not all stories are planned. Often inspiration comes about suddenly or unexpectedly, and the writer never looks back.
For Ashley Sweeney '79, the idea for Eliza Waite (She Writes Press, 2016) first emerged while was hiking with her husband, Michael, through the dense woods of Cypress Island in the San Juan Islands in Washington State.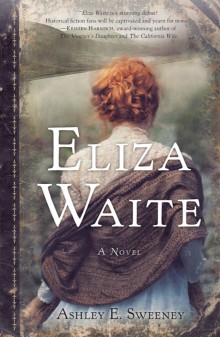 The couple took a wrong turn, and ended up at a sheltered cove on the island's north side, just below a massive cliff face. There, they spied a long-abandoned, dilapidated cabin. A nearby plaque told of owner Zoe Hardy, a self-sufficient hermit from the 1930s.
It was the first inkling of an idea for Eliza Waite, the main character of Sweeney's future book.
"I imagined a reclusive woman living in a cabin, and the story that would have led her there, and also the story that would have led her away from there," Sweeney said. "As a historical fiction aficionado and an American literature and American history major at Wheaton, the find fascinated me and was full of possibility."
Eight years later, Eliza came to life in Sweeney's published novel. The story, which takes place at the turn of the 20th century, chronicles Eliza's journey from the San Juan Islands to Skagway, Alaska, during the Gold Rush after the tragic death of her husband and son. There, she establishes a bakery among the town's miners, fortune hunters, business owners, con men and prostitutes.
"Eliza Waite is a strong and self-reliant character, who made her way as a woman in a rough and raucous man's world," Sweeney said.
Along the way, the book transports readers through Gold Rush history, diary entries and authentic pioneer recipes.
"I baked and tasted all 33 pioneer recipes included in the novel for authenticity," Sweeney said. "The recipes are integral to the story to show Eliza's struggles and successes. My favorites are Gingerbread, Pecan Tarts, Marionberry Coffee Cake and Country Apple Pie."
Sweeney, a career journalist and teacher, has a deep love of history and writing. She wrote for Washington newspapers The Lynden Tribune and The La Conner Weekly News, and also taught high school English, journalism and ESL for more than 12 years.
At Wheaton, she served as a staff member and editor of Rushlight. Also, music played a large part of her Wheaton experience, as she was a member of many choirs, including The Freshman Choir, The Chamber Choir, and The Madrigal Choir—all under the tutelage of the late Charles Fassett.
She recalls professors Nancy Norton and Samuel Coale as key mentors in her professional development.
Norton pushed her intellectually during preparation for her oral senior exam on Great Depression-era America and John Steinbeck's Grapes of Wrath. "I vividly remember the last class I took with Miss Norton in Mary Lyon Hall and regretting that my time with her—and her vast and varied knowledge—was formally over. I still have the many letters she sent to me while I spent my junior year abroad in York, England," she said.
One of her favorite classes was a senior seminar on 20th century American literature with Coale.
"I count it a privilege that I had the opportunity to attend a college that offered small classes with world-class professors," she said.
The debut of Eliza Waite is a special moment for Sweeney.
"I've been a wordsmith for as long as I can remember and am so satisfied to see Eliza Waite in print," she said.