Emergency preparedness in a time of crisis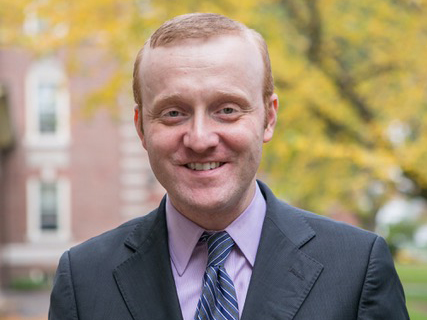 Chris Paquet '03 mobilizes the NYC Health Department's response to COVID-19
For the past 11 years, Chris Paquet '03, a Wheaton trustee, has dedicated his career to preparing New York City for disaster—whether it be a terrorist attack, a coastal storm or a pandemic.
As the assistant commissioner in the Office of Emergency Preparedness and Response within the New York City Health Department, it has been Paquet's job to imagine and get ready for the worst-case scenario—with the primary goal of protecting the public's health. The COVID-19 pandemic is daunting in the number of lives it has upended as well as taken in Paquet's beloved city. And yet he and his staff are handling it.
The coronavirus crisis emerged at breakneck speed in New York City. By the end of March, the number of new infections was doubling every three days. By mid-April, the outbreak in the U.S. was the largest in the world with more than 650,000 cases. New York City, the epicenter of the virus, surpassed 10,000 deaths in just 31 days. Government officials were warning of a limited supply of personal protective equipment and ventilators.
"What we are experiencing is widespread community transmission in our nation's most populous city and every second matters in this battle to save lives," said Paquet during a morning phone call on April 7 after returning to his Harlem apartment with only a few moments to spare before needing to return to work.
Paquet, who majored in political science at Wheaton, works within the city's health department to help agencies and New York City's complex health care system strengthen emergency preparedness.
"We plan, drill and test our systems constantly, but this novel coronavirus stresses every system and affects day-to-day life. An actual pandemic requires real disruptions to curb the spread of the virus, so health care facilities and the medical staff aren't overrun all at once," he said.
Since Paquet joined the NYC Health Department in 2010, the agency has responded to about 22 emergencies—including Ebola, H1N1 as well as Hurricane Sandy, which resulted in 44 deaths in the city. COVID-19 is a whole other level, he said.
"There has never been a death ticker at the bottom of the news screen saying 'this is yesterday's deaths toll," Paquet noted. "And, unlike Hurricane Sandy, where the public could see and hear when the winds were howling and places were flooding and there was no electricity, COVID-19 is an invisible enemy to most," he said.
The week of the interview, Paquet noted current actions he and his colleagues were focusing on, especially the work to support the department's health care delivery system partners.
"Setting up alternative care spaces, or makeshift hospitals, was a no-brainer but not an easy task. You are setting up a hospital with ICU capacity at places that normally host conferences or sports games. It's a massive effort," he said.
One such site, the Jacob K. Javits Convention Center of New York, was converted into a hospital within a week—with thousands of beds dedicated exclusively to patients with COVID-19.
Paquet said federal support is greatly needed and a recent request for assistance led to the U.S. Department of Defense to deploy to operate this facility as well as the U.S Navy hospital ship Comfort.
"From colleges and hotels, to open spaces, we're assessing all options to handle the demands being placed on those seeking care. It's a constant effort to get ahead of the virus, and time is not on your side," he said.
In the meantime, his department is providing ongoing guidance to New York's extensive health care system, which includes 55 hospitals, more than 400 primary care centers, 137 community health centers, 183 nursing homes and 50 urgent care centers. Also, his department's laboratory is processing COVID-19 tests 24 hours a day, seven days a week.
"I couldn't be prouder of the amazing doctors, nurses and medical professionals, my staff, the department and the city that I work for. The work that people are doing puts them at risk to save the lives of people they don't know. I'm in awe. We also are relying on so many people for things like essential worker transportation, grocery store operation, food delivery and so much more. I personally keep repeating, 'We need everybody to save anybody,' because every person in this city has a role in saving lives," he said.
Paquet said the department is mobilizing every resource to serve New Yorkers at this moment, including helping residents find missing loved ones using a searchable database and by partnering with other agencies.
"It's very hard but important to remind ourselves that we have to take care of ourselves and each other," Paquet said.
Paquet earned his master's degree in public administration at New York University and is a graduate of Harvard's National Preparedness Leadership Institute.