Professor participates in exchange with educators from Kazakhstan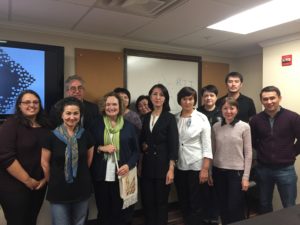 A delegation of educators from Kazakhstan spent a week in the United States studying facets of the U.S. educational system with guidance from a panel of experts, including Wheaton Professor of Education Vicki L. Bartolini.
The 10-member team came from the central Asian country's Center for Pedagogical Measurements, which is charged with overseeing the training and testing of teachers as well as evaluating student learning. The delegation started their week in New York City before coming to Massachusetts to talk with Bartolini; her colleague Mary Stephens, the founder and CEO of Boston-based PrepForward, and other educators.
The conversations ranged from best practices in teaching diverse students to establishing standards for teachers and developing tests to measure educators' competency. The engagement proved revealing for the visitors as well as their hosts.
"I have studied teacher preparation in many countries but never in an Asian country," said Bartolini, who has examined educational practices in New Zealand, Namibia, South Africa, Northern Ireland, Italy, Denmark and Finland. "I was interested in their more hierarchical perspective on teacher education, including national regulations and the centralization of authority."
That approach differs from U.S. education standards, which are largely developed at the state level and vary across the country.
"The delegation from Kazakhstan is tasked with creating assessments for their country's national teacher certification and licensure process," Bartolini said. "They were puzzled that very few teachers in the U.S. are nationally certified. We spent a great deal of time sharing how we assess students in teacher preparation programs, the variety of teacher tests used in the U.S., performance assessments in the field, and successful completion of required coursework."
The delegation spent a full day visiting Norton's nearby J.C. Solmonese Elementary School, observing classes and talking with faculty. Among those who participated in the engagement were Wheaton alumna Sarah Alves '04, who will be teaching a course on special education at the college in the spring, and Angie Zapustas, a specialist in teaching English language learners who leads a course on that subject at the college.
"This visit was one of the highlights of their week, according to the feedback we received. Principal Riitta Bolton, the staff and the children could not have been more welcoming," Bartolini said.
While the Kazakh educators walked away with new ideas to consider, they also provided new case studies for Bartolini's courses, such as "Issues in Early Education and Care."
"It was particularly interesting to me that all children attend preschool in their country. They call it kindergarten, but it's for three- and four-year-olds. All children attend as part of their system," Bartolini said. "Despite about 70 percent of young children in the U.S. being in some form of childcare from the first few months of life, we do not have a high-quality system that is free or affordable, thus widening the achievement gap before children even enter school. The average cost of full time childcare in Massachusetts is $18,000 per year. In Kazakhstan, these children would be in a free public school setting."
In addition to teaching at Wheaton, Bartolini is active in evaluating and developing early childhood education policy initiatives at the local, state and national levels. She has served as president of the Massachusetts Association of Early Childhood Educators (MAECTE), and she is a steering committee member of Teachers Resisting Unhealthy Children's Entertainment, promoting the importance of high-quality play in the lives of young children.