Economist Deborah Figart '81 focuses on workers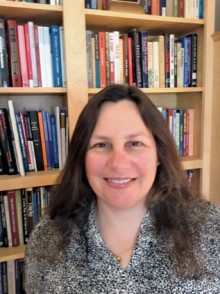 At Wheaton, Deborah Figart '81 chose to major in economics initially because she wanted to pursue a career in accounting or international business.
However, through her liberal arts coursework and the college's internship program, her perspective broadened. Her interest shifted from finance to the plight of workers—particularly those who saw their livelihoods challenged when multinational corporations moved U.S. jobs overseas.
Figart considered working for a labor union or a public policy think tank, but it wasn't long before she discovered a passion for teaching and research. "I taught my first economics course in graduate school in the fall of 1982, and I have been teaching ever since."
Figart, who has a Ph.D. in economics from The American University, currently is a professor of economics and education at Stockton University in Galloway, N.J., teaching and conducting research in the areas of gender and race discrimination, labor economics and public policy.
She is one of the 50 founding members of the International Association for Feminist Economics, and has served her profession in a variety of elected and appointed positions, including as president of the Association for Social Economics.
Figart also is a widely published scholar on both U.S. and European labor market policies.
In her latest book, Just One More Hand: Life in the Casino Economy (Rowman & Littlefield Publishers, February 2015), she writes about the odds against workers who are looking to casinos as a source of dependable work. She co-authored this book with her colleague and wife, Ellen Mutari.
"We wondered how jobs in the casinos compared with the old manufacturing jobs. Could you build a life working in Atlantic City's booming casinos?" Figart says.
The couple spent seven years interviewing 35 current and former workers, exploring a largely under-researched area. They focused on front line service workers, such as dealers, surveillance officers, beverage servers and others. The workers had collectively amassed more than 550 years of experience.
Back when Atlantic City casinos opened their doors in the 1970s and 1980s, people lined up for jobs. Opportunities were available for workers right out of high school. While there were plenty of downsides to the job, the workers could provide for their families and often enjoyed "very real bonds" with colleagues and regular customers. But this is a far cry from casino jobs today, Figart points out in her book. Throughout Atlantic City, wages have been frozen, benefits cut, and in some casinos the work has been reorganized to remove individual autonomy and skill.
In addition to Just One More Hand, Figart has written and co-written many other books, including, Living Wages, Equal Wages: Gender and Labor Market Policies in the United States (Routledge, 2002), co-written with Ellen Mutari and Marilyn Power, and Contesting the Market: Pay Equity and the Politics of Economic Restructuring (Wayne State University Press, 1997), with Peggy Kahn. She also has written op-ed pieces for newspapers, articles for scholarly journals and magazines, including Dollars & Sense.
Her writing career focusing on labor issues began at Wheaton with her honors thesis, which explored the impact of multinational corporations on labor, and a senior seminar paper about women and social security. Her Wheaton experience continues to serve her well today, particularly with her recent book.
"We took risks with our research methodology and our intellectual span," says Figart, referring to Just One More Hand. "Not many economists go out and interview people. I could not have written this interdisciplinary book on the casino economy without my foundation in the liberal arts at Wheaton."