Dual degree students explore engineering careers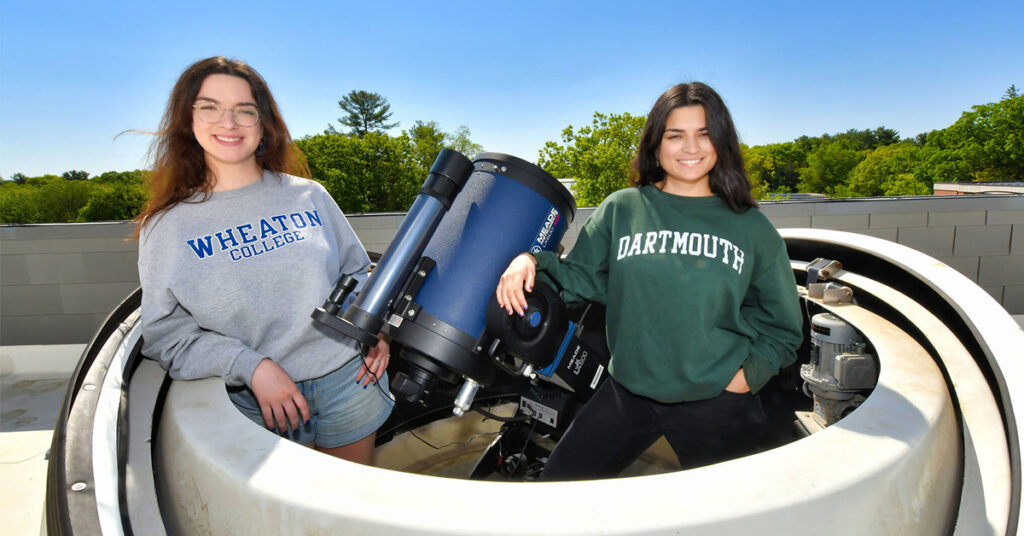 Nina Christenson '23 and 
Clara Quintanilha
'23 take courses at both Wheaton and Thayer School of Engineering
This summer, physics majors Clara Quintanilha '23 and Nina Christenson '23 are interning at two of the most renowned space research institutions in the world: the NASA Jet Propulsion Laboratory's Electric Propulsion Lab in Pasadena, Calif., and the NASA Goddard Space Flight Center in Greenbelt, Md.
In her role, Quintanilha is performing flight qualification testing for a model of the magnetically shielded miniature hall thruster—which provides path correction and guidance for crafts traveling into or beyond Earth's orbit. Christenson's focus is calibrating the imaging sensors of the Nancy Grace Roman Space Telescope, which is set to launch in 2027.
"In addition to gaining exciting hands-on lab experience, I've been able to meet many incredible people working on various missions and projects that are at the forefront of aerospace engineering and space exploration," Quintanilha said.
Both aspiring engineers, the women are making strides toward their dream careers thanks to a partnership between Wheaton College and Dartmouth College's Thayer School of Engineering. 
The five-year program allows students to reap the benefits of Wheaton's distinctive liberal arts education while furthering their studies in engineering at Dartmouth. Students spend their first, sophomore and senior years at Wheaton and complete their junior year and a fifth year at Dartmouth College—earning bachelor's degrees from both institutions. 
Quintanilha and Christenson, recent Wheaton graduates, are scheduled to attend Dartmouth in the fall to begin their fifth and final year.
Professor of Physics John Collins, who advises the program, said it evolved from the Twelve College Exchange Program, which decades ago allowed Wheaton students to earn credit at a dozen sister institutions. Since the early 1990s, the dual degree partnership has allowed motivated Wheaton students willing to meet a set of challenging prerequisites to earn an engineering degree at Dartmouth College.
"Students come to Wheaton interested in engineering, but not quite certain. This allows them to learn more about their interests," Collins said.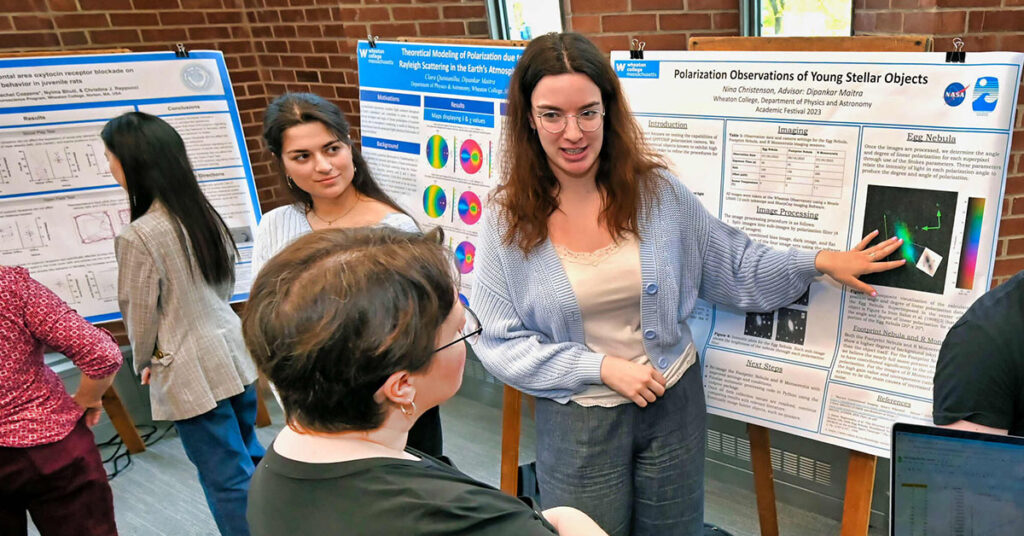 Over the years, dual-degree graduates have secured engineering jobs and many continue on to earn master's degrees in physics and engineering, according to Collins.
Quintanilha and Christenson said they first learned about the dual-degree opportunity during an informational session as prospective Wheaton students. 
They were attracted to Wheaton's liberal arts curriculum and campus life, as well as the personalized attention and camaraderie of the Physics Department.
"I wanted to do something STEM at a small liberal arts college. I found that the physics professors at Wheaton were welcoming and accessible. Being at Wheaton was the right choice; I felt at home here in this campus community," Christenson said.
For both, the opportunity to study engineering was an added bonus of attending Wheaton. With Collins's encouragement and support, they completed the courses necessary for acceptance into the dual degree program.
After two years at Wheaton, they joined a cohort of students who spent their third year at Dartmouth College. The two students equated it to "junior study abroad," as the experience required immersing in a new academic culture and campus experience. At Dartmouth, they engaged in hands-on technical projects and had access to facilities, including a machine and fabrication shop, specifically designed for students planning careers in engineering. 
Both students focused their studies on fluid mechanics—essential to aerospace engineering.
They enjoyed returning to Wheaton their senior year, and continued their scholarship. They presented research papers—Quintanilha on numerical modeling of the sky and Christenson on observational astronomy—at Wheaton's Academic Festival in the spring. 
Quintanilha and Christenson encourage students to consider the dual degree program to see if a career in engineering is a good fit for them. They both advise students to make sure they schedule the prerequisites necessary for acceptance into the program.
"Dartmouth is a great school to attend; our year was fun. You'll be around people who love making things and solving problems in the same way you do. If students are interested in engineering, they should go for it," Quintanilha said.
Collins noted that the special friendship formed between Quintanilha and Christenson helped them support each other and ultimately succeed at Dartmouth. 
"They are going to succeed in life. They have so many skills and things to offer, not just with intelligence but being kind and open. They have helped revitalize the Physics Club and make it more inclusive. The culture they helped create in our department is going to persist," he said.