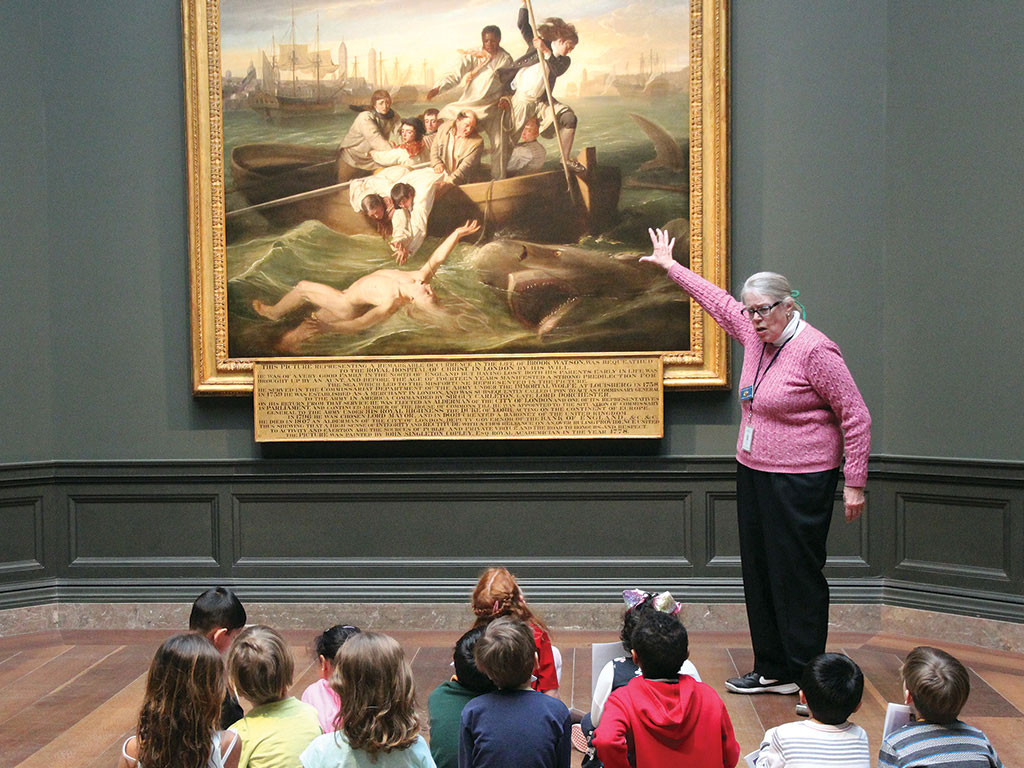 At the National Gallery of Art, Pickett Davis Randolph '60 stood beside the iconic 18th century painting "Watson and the Shark" by American painter John Singleton Copley.
The painting, in lurid detail, depicts the rescue of a child from a shark attack. Rescuers packed in a small boat scramble to save the naked boy, and there is an ominous hint of blood in the water.
Sitting cross-legged on the floor, a group of children study the painting. It conjures from them plenty of questions: Is that a girl or boy? Why doesn't he have on a swimsuit? What is that red stuff in the water? One restless child asks: What time do we eat?
Luckily, Randolph is there to help answer all of their questions. The Wheaton alumna explains that the painting shows the rescue of 14-year-old English teenager Brook Watson from Cuba's Havana Harbor. The boy lost his leg in the attack but survived when the rescuers were able to pull him free on their third attempt. Brook Watson ended up becoming the mayor of London.
Randolph, who graduated from Wheaton with a bachelor's degree in history, has served as a docent for 25 years. During that time, she has shared her love of the arts with hundreds of children touring the museum in Washington, D.C.
In 1993, she learned that the national gallery was looking for docents. At the time, Randolph was set to retire from a career at the CIA—a career she had started years ago as a new Wheaton graduate. At the CIA, her first position was stenographer, but eventually she became a training officer, an instructional role that involved speaking in front of diverse groups.
"I had visited the NGA many times, and I loved to teach so it seemed interesting. My interview was amusing: The questions were not about my teaching ability or knowledge of art, but the origin of my name Pickett. I said I'd only had one art class [senior year at Wheaton] but could learn and could teach," said Pickett, who earned her master's degree in national security affairs from the Naval War College. (She was the first CIA woman to attend Naval War College.)
The job involves more than just standing in front of a work of art and talking about it, she said. "We have to know a lot about each work of art. Oh, and the marble floors are unforgiving. Thank goodness for orthotics."
When talking about one of her favorite pieces at the museum, Leonardo da Vinci's "Ginevra de' Benci," Randolph describes what it was like to be a woman during the Renaissance. (The painting is of a 15th century Florentine aristocrat.) She also shares that this is the only work by da Vinci in the Western Hemisphere.
She confesses a little-known fact about being a docent: "The work is much harder than expected—intellectually and physically," she said.
But the effort, and the slippery floors, are worth it: "My favorite part is a hug from a child, or parent thanking me for a wonderful tour."