Discovering Wheaton community a continent away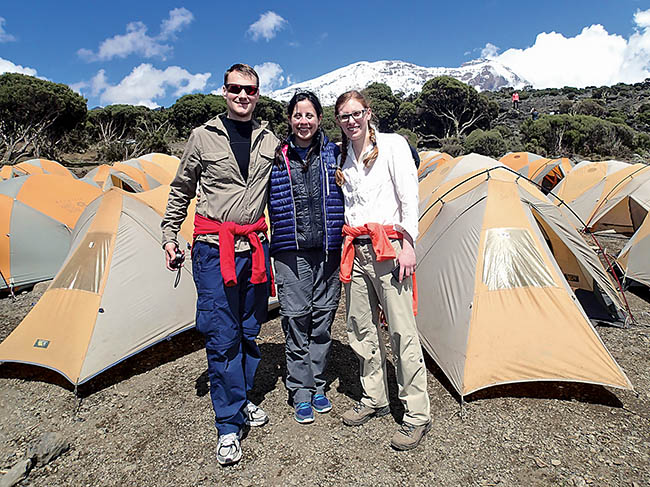 By Alexandra Levy '07
For three years, Katherine Rozakis-Wojciechowski and I lived within one mile of each other on campus at Wheaton, spent countless hours in the same library, and shared laughs with friends at Emerson Dining Hall. Yet, it wasn't until we left the country to live in London that we would officially meet. And it wasn't until after we graduated that we both realized the true salience of the Wheaton community.
In 2012 we met in London at a biannual Wheaton alumnae/i event at the home of Monique Lee Bahadur '80 and developed a close friendship over our common connections. Although our Wheaton experiences were quite different in terms of classes, we both had found an inspiring mentor in Daniel Golden (former dean of career advising at Wheaton), who very much influenced where we are today. Both of our families spend summers in Maine within 10 miles of each other, and we both chose to attend graduate school in London (after spending time abroad during our Wheaton years), a clear divergence from our cozy campus in Norton, Mass. A love of travel and curiosity in other cultures has always been a common thread in our friendship.
Together, with another Wheaton alumna, Genevieve Scoville '08, whom we each knew at Wheaton (and reconnected with here in London at different Wheaton events), we have formed our own little urban family.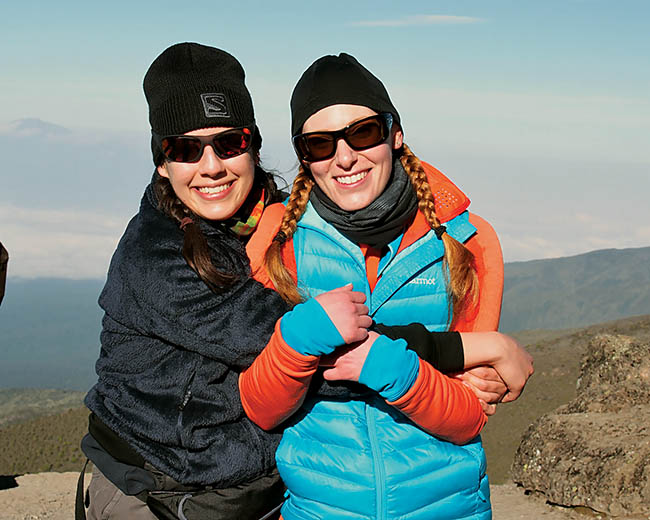 Our friendship has taken the three of us traveling all over Europe and last winter it led Katherine and me on an adventure. On Feb. 23, 2014, we climbed Mount Kilimanjaro (the "roof of Africa") in Tanzania—for the fun and challenge of it, and for a good cause.
At 19,341 feet, Kilimanjaro is Africa's highest freestanding mountain and one of the seven continental summits that people from all over the world attempt to reach. We tackled this challenge with a group of 30 people that included Katherine's husband and my mother.
Climbing Mount Kilimanjaro demanded commitment and the right training partners. For nearly 10 months we prepared our bodies for the physical challenge of the six-day trek (which would be nine hours of walking per day and 13 on summit night).
Through our many travels around the world and education at Wheaton, Katherine and I both understand the significance of giving back. In this spirit, I embarked on the climb to raise money for a charity called Room to Read, which seeks to transform the lives of millions of children in Asia and Africa by focusing on literacy and gender equality in education.
Founded on the belief that "world change starts with educated children," Room to Read works in collaboration with local communities, partner organizations and governments to develop literacy skills and a habit of reading among primary school children and to ensure girls have the skills and support needed to complete their secondary education. The money I raised in advance of the climb was donated to a school in Tanzania, as I wanted to give back to a community that I had a connection with.
After spending many months raising money, I have now become very involved in the London chapter of Room to Read and look forward to going to see a Room to Read funded school someday.
Katherine and I often share the wish to revisit our college days and connect on campus together, but we have come to the realization that our Wheaton friendships can extend beyond Norton, Mass., and for this, we consider ourselves very fortunate.
Alexandra Levy '07, an art history major from Albuquerque, N.M., works as an export sales manager at Thames & Hudson, an illustrated book publisher in London. Katherine Rozakis-Wojciechowski '06, a psychology major originally from Somerville, Mass., currently works as an advisory consultant at EY in London.