Disaster relief in Puerto Rico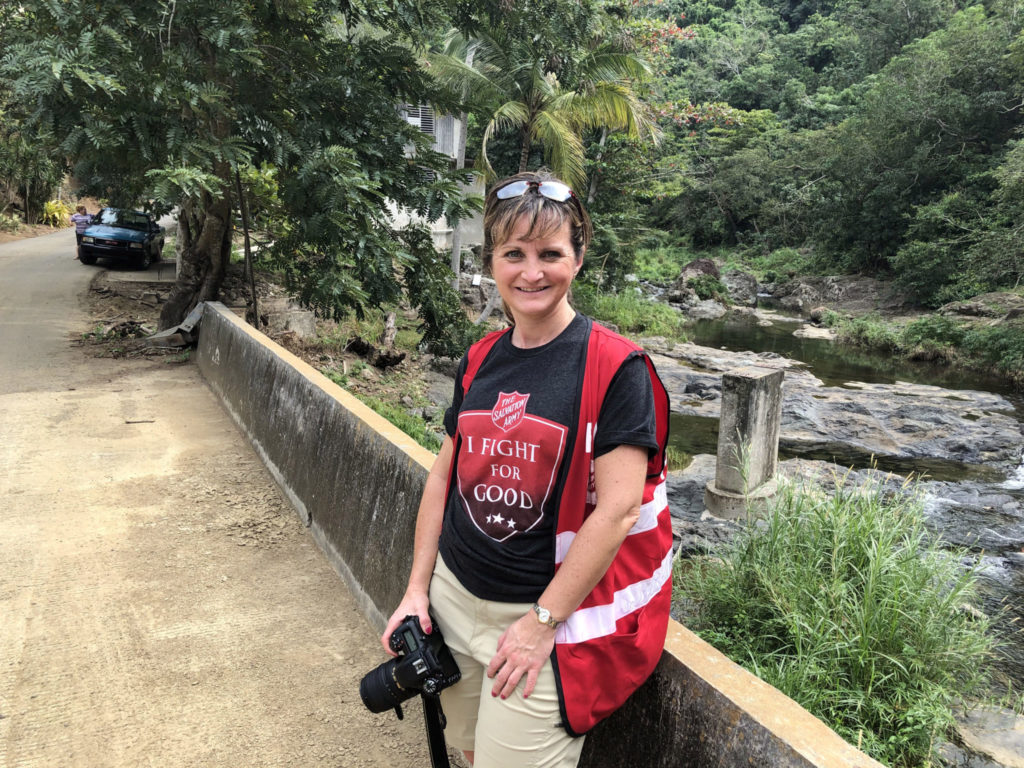 Heather MacFarlane '99 helps hurricane victims
On a recent February morning, at her office at The Salvation Army in Canton, Mass., Heather MacFarlane's phone buzzed with a dozen alerts. Each ding signified that yet another aftershock had rattled Puerto Rico—an island still reeling from a series of earthquakes that hit in December 2019 and early January.
The alerts felt personal to MacFarlane, as she recently witnessed firsthand the destruction and uncertainty that Puerto Ricans continue to face. In late January, she spent 10 days on the island as part of The Salvation Army's emergency disaster services response team.
MacFarlane, who majored in English literature at Wheaton, is the director of communications, marketing and public relations at The Salvation Army (Massachusetts Divisional Headquarters), a Christian-based international charitable organization. In Puerto Rico, she served as a public information officer, working with media to report the impact of the hurricanes, and assisted with relief efforts.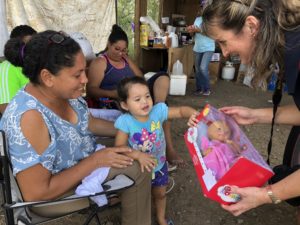 MacFarlane visited the mountainous regions of southern Puerto Rico, near Ponce, where the need for assistance is great. Many of the displaced Puerto Ricans she met never fully recovered from Hurricane Maria, the Category 5 hurricane that unleashed a major humanitarian crisis in 2017.
"You see people with tents pitched on their lawns. At camps, you see people in medical beds out in the open. What you learn is that people don't want walls around them because, with the aftershocks, they are living in constant fear," she said.
MacFarlane's team, however, was there to provide hope, offering on-the-ground assistance, including food, hygiene kits and other supplies. Just as important: the offering of emotional and spiritual support.
"Families really did need our help with emotional and spiritual care. People just want to talk and share their story," she said.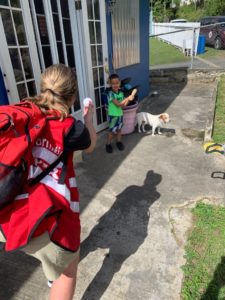 To raise spirits, the organization hosted events with live entertainment and handed out toys and coloring books. MacFarlane recalled meeting a 4-year-old boy with a rare kidney disease. When she approached the boy with a bat and ball, his demeanor quickly changed.
"I saw him transform with a huge smile," she said.
MacFarlane completed the dual-degree program with Emerson College and received her master's degree in journalism and public information from the Boston-based college.
She cited professors Michael Drout and the late Jay Goodman, as well as Dale Marshall, Wheaton's former president, as mentors. They encouraged her to pursue the dual-degree program, as well as internships in politics and journalism.
Sally Grant '91 connected MacFarlane to an internship in the White House Social Office as part of American University Washington Semester Program, which she completed her junior year.
"To work with people of that caliber in the Clinton Administration, at that young age, was an opportunity I felt lucky Wheaton offered me," MacFarlane said.
Since graduation, MacFarlane has worked in public relations and communications for many organizations, including the Alzheimer's Association, The Home for Little Wanderers, Boston Children's Hospital and the Arthritis Foundation.
She said her work at The Salvation Army allows her to combine her skills in communications, event planning and public relations with her love of helping others. She appreciates that the organization has established bases around the world, so it has a presence before, during and after disaster strikes.
"My experience allowed me to see firsthand how in times of crisis we are transforming people's lives. From lending a listening ear to sharing a hug or providing critical resources, we are giving people hope that they can rebuild their lives," she said.