Deputy district attorney serves community with empathy, skill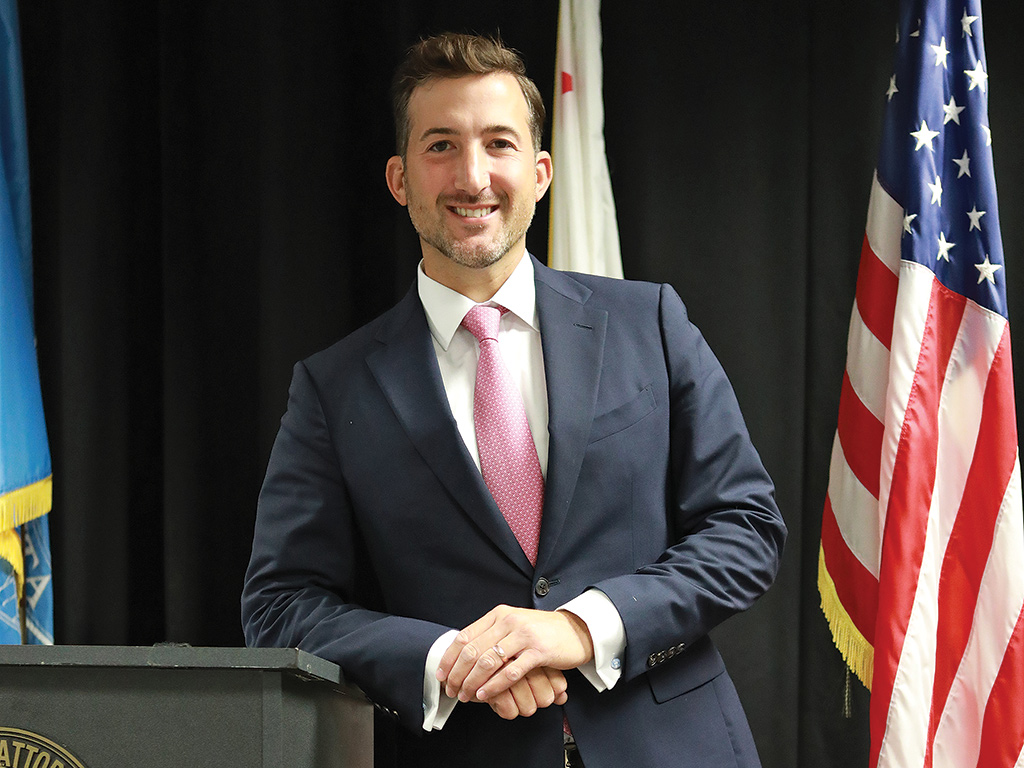 Leadership requires individuals to do the right thing; recognizing what the right thing is often is the more challenging prospect.
Santa Clara County (Calif.) Deputy District Attorney Mattia Murawski Corsiglia '05 believes this weighty inquiry is one of the hardest parts of being a prosecutor. And "the lessons I learned at Wheaton have helped me answer this question when it mattered most," he said.
Corsiglia's skills are tested regularly in the District Attorney's office, which is based in San Jose. Here, Corsiglia focuses on complex forms of crime such as corporate embezzlement, money laundering, Ponzi schemes, health care fraud, tax fraud and worker exploitation. His high-profile work has been featured in the media, including The Mercury News and San Francisco Chronicle.
"Each day, I am challenged to shed light on suspects who use positions of authority and trust to defraud their victims," he explained. "I recently obtained convictions in the largest health care fraud case ever prosecuted by my office and one of the largest financial recoveries by a local DA's office in the state of California."
Service to the community was ingrained in Corsiglia from an early age. As a child, he and his mother moved from Italy to San Jose to join his grandparents, whose civic work in health care, the arts and more was recognized on the U.S. House floor in 2017. He selected Wheaton so he could build close connections with professors and have opportunities to reach beyond academic interests to create something tangible.
"As a result of my parents' and grandparents' influence, I became acutely aware of the need to work on behalf of my community," Corsiglia said. "But it was in [the late] Professor Jay Goodman's Political Science 101 course where I learned that law school provided me a path to realize my dream."
At Wheaton, Corsiglia earned his bachelor's degree in political science. He went on to earn his J.D. from Santa Clara University School of Law, where today he teaches a course titled "Critical Lawyering Skills." He incorporates many of the ideas he explored in Wheaton courses with professors Goodman, Stephen Mathis and Marcus Allen.
"The types of cases I prosecute often raise novel issues in both the civil and criminal arena," he explained. "As such, it's important to have a diverse skill set. I teach 'Critical Lawyering Skills' to help students be reflective, strategic and deliberate in developing their abilities."
Corsiglia's service to the region extends well beyond his work in the DA's office. He co-chairs the Criminal and Judiciary Committees of the Santa Clara County Bar and is on a committee helping to fund a new high school in downtown San Jose. All this is in addition to raising two children with his wife, Roshan Corsiglia.
Wheaton's new major in criminal justice, restorative justice, and criminology is of special interest to Corsiglia because the program will encourage critical thinking.
"Wheaton is taking an important and leading step during an inflection point in society," he said. "Because Wheaton produces tomorrow's leaders and change makers, it's never too early for students to think about criminal justice policies and varying responses that deliver the thoughtful reform society seeks."