Awards celebrate exceptional efforts creating inclusive workplace, campus environment 
Wheaton College has been selected to receive a Providence Business News 2021 Diversity and Inclusion Award in recognition of exceptional efforts in promoting diversity and inclusion in the workplace. Wheaton also is being recognized on the 2021–22 Equity and Inclusion Colleges of Distinction list.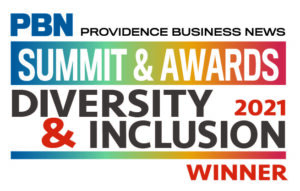 Providence Business News (PBN) announced its honorees in an article published on Friday, October 22. The college will be presented with the award in the higher education category at PBN's 2021 Diversity and Inclusion Summit and Awards program, which is scheduled for December 2 at 9 a.m., at the Crowne Plaza Providence-Warwick in Warwick, R.I.
Wheaton is one of 13 honorees (12 organizations and one individual) being celebrated. In addition to the awards presentation, a profile of each of the winners will appear in a PBN special report to be published December 10.
The Equity and Inclusion Colleges of Distinction list highlights institutions "that provide noteworthy support to underserved students who might not otherwise study and thrive on a college campus," and "not only enliven their curriculum with high-impact practices, but they also make these practices accessible in a welcoming community," according to the Colleges of Distinction website. Colleges of Distinction is a resource for parents, students, guidance counselors and others looking for the best fit among the many choices for higher education.
Since its founding, Wheaton has focused on being inclusive and has continually sought to expand who has access to a rigorous liberal arts education. The PBN and Colleges of Distinction awards are a great recognition of ongoing diversity, equity and inclusion efforts taking place to support the entire community, said President Dennis M. Hanno.
"This recognition reflects the hard work and commitment of our campus toward a more diverse, inclusive and equitable community," Hanno said. "I'm proud of the dedication and thoughtfulness with which students, faculty, staff, alumni and parents have contributed to our efforts."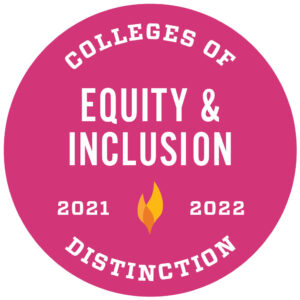 Hanno has been a stalwart for inclusion since he became president of Wheaton College in 2014, and there have been numerous efforts in the college's recent history in moving forward its diversity, equity and inclusion efforts. As a part of the strategic planning process during his tenure, Wheaton went through a year-long process to formulate a diversity and inclusion strategic plan in 2016–17.
Creating a campus environment and workplace where everyone feels that they belong is critical in supporting the mission of the college to prepare students to be global citizens, said Shaya Gregory Poku, the inaugural associate vice president for the Office of Institutional Equity and Belonging and co-chair of Diversity, Equity and Access Leadership. 
"What a profound validation of the substantive and thoughtful work that Wheaton is doing to tackle systemic oppression. These honors are a tribute to the legacy of the outgoing president, Dennis M. Hanno, who has invested significantly in Wheaton's equity and belonging efforts. We all can be incredibly proud of these accolades. May it motivate us as a community to make even greater strides toward justice."
Poku pointed to the First-Gen and Low-Income Task Force as one of many examples of initiatives created to support historically underrepresented populations. Wheaton dedicates staff and resources to support first-gen students. The Center for Social Justice and Community Impact also works with Student and Academic Affairs to develop programming for first-gen students every semester. 
To build the best workforce, the college has robust human resources policies and provides tools and training for managers and supervisors to support and ensure an inclusive and equitable job search process. 
The college posts and advertises all positions in several external publications to draw a diverse pool of candidates. The percentage of diverse staff has risen during the past several years. 
The college also has taken proactive steps to provide ongoing diversity-related training to senior managers and department heads, with the goal of fostering a fundamental understanding of diversity and inclusion principles and putting them into practice in the management process.  
Most recently, managers have been required to engage in the work of developing anti-racism action plans and actionable goals for their departments.