Kristina Danga '17 practices science by day, music by night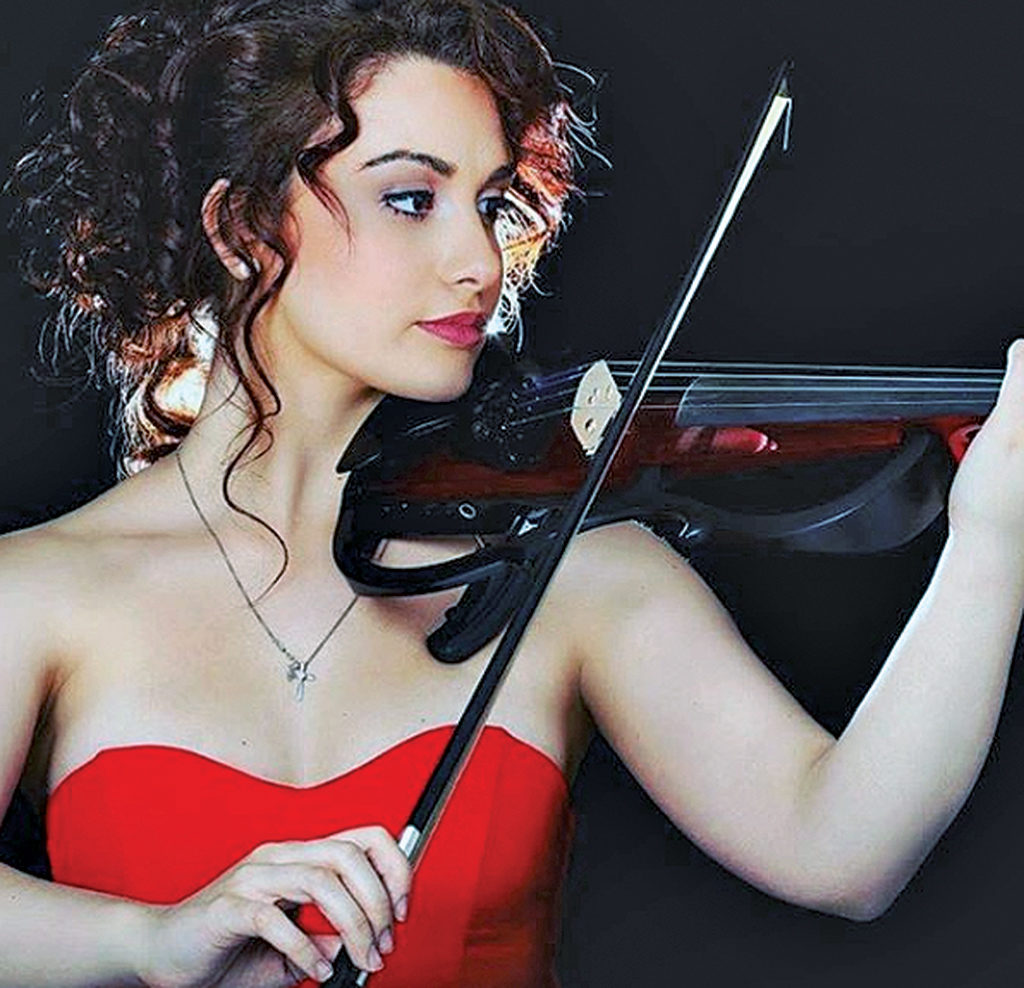 As a pianist and violinist, she has released her own original music and even played backup for renowned rapper Eminem; as a scientist, she has worked tirelessly to develop cures for rare cancers.
Kristina Danga '17 is a virtuoso in two very different worlds. The formula for success in both? An insatiable curiosity and love of process, combined with a liberal arts education that laid the foundation for flexibility in professional pursuits and prowess to make connections across disciplines.
"Both scientists and musicians are creators," said Danga, who majored in music and neuroscience at Wheaton. "In music, there are theories you follow and certain constructs that don't change. It's the same with science."
Whether composing melodies with notes and chords or sparking a reaction by mixing chemicals—you are telling a story, she said.
"I require passion in everything I do. Through these fields, I can express my creative and most explorative sides," she said.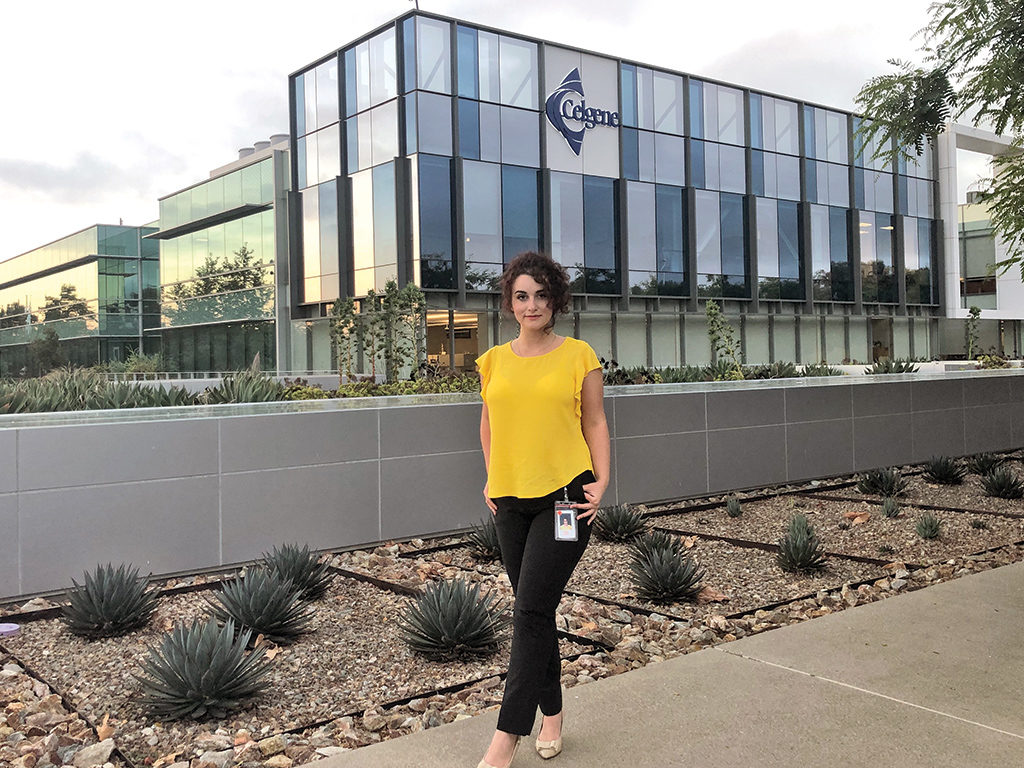 Musical beginnings
Danga's passion for music began at an early age. When her parents noticed 4-year-old Danga spending a lot of time fiddling with a keyboard in the house, they acquired a grand piano to allow her to continue her exploration.
Her father, a professional trumpeter from Albania, enrolled her in piano lessons with Olga Rogach, a pianist from Russia, in her hometown of Worcester, Mass. A few years later, in third grade, Danga felt drawn to the violin, and began taking lessons at the local public school.
"It was all my own choice. I never felt pressured to practice or learn an instrument," she said.
Over the years, her interest and talent in piano and violin continued to flourish. She played violin with the Bancroft Trio, a reputable group with established musicians, at Bancroft School, in Worcester. She also played piano and organ regularly at the Chaffin Congregational Church in Holden, Mass., and the St. Mary's Albanian Orthodox Church in Worcester.
In 2013, her musical talent earned her the Anick Award for Musical Excellence at the 16th Annual Anick Young People's Performing Arts Festival Concert in Marlborough, Mass.
While Danga mastered the classical styles of violin, she experimented with Eastern styles of music, honoring her family's Albanian roots, as well as electronic music.
While she blossomed musically as a teenager, she discovered another passion along the way: biology. Danga cited her high school teacher as an influence.
"She taught biology in a very passionate, creative way that made me feel like there is a connection between music and science," Danga recalled. "She showed me that if you look at biological systems, they are like art forms."
She was especially interested in neuropsychology, a branch of psychology that is concerned with how the brain and the rest of the nervous system influence human behavior.
"I was a counselor at music camps, and I had a good way of talking to people when they have problems," she said. "I wanted to connect to the emotional component of science, and understand the underpinnings of human emotion."
Nurturing passions on campus
Looking to grow as a musician and scientist, Danga applied to Wheaton.
"I chose Wheaton because the college enabled me to do two things at once," she said.
On campus, she took violin lessons with Assistant Professor of Music in Performance Sheila Falls-Keohane, whom she described as "an incredible mentor and friend," and piano lessons with Lisa Romanul, assistant professor of music in performance.
"Wheaton's Music Department is phenomenal. I can't say one bad thing; the professors are so passionate," Danga said.
Falls-Keohane, who taught Danga during all four of her years at Wheaton, described her as a free spirit. "She was always looking to follow her passions in music, on and off campus."
As a violinist, she mastered classical music but also pushed the edges and explored other genres, including fiddle playing, Falls-Keohane said. As a member of Wheaton's World Music Ensemble, which Falls-Keohane leads, Danga helped the ensemble capture the "true feel" of folk music through her connection to and experience with Albanian music.
"She has incredible stage presence; she has that flair. She was creative and could think outside of the page. And now she is applying that ability to science, which is great," the professor said.
At Wheaton, Danga said one course in particular helped her capitalize on her ability to think innovatively: "Neurobiology" with Professor of Biology Robert Morris.
In that class, students design a research project of their choosing. Danga said she conducted research on Alzheimer's disease through self-guided lab experiments that culminated in a paper. She said she found the process satisfying, although the results from her experiments weren't always what she hoped for.
"The cool thing about science is that most of the time you won't get the answer you want. Only 1 percent of your experiment may be working, but you like the journey and each puzzle piece you fill in," she said. "No matter the end result, it's a never-ending process."
Bridge to science
After graduation, Danga landed a research assistant position at the lab of Dr. Christopher French—the Chris French Laboratory of pathology and molecular biology—at Brigham and Women's Hospital and Harvard Medical School in Greater Boston.
French, who is also a talented painter, immediately saw Danga's musical background as an asset.
"He called me the day I submitted my application and wanted to interview me. I got hired on the spot," Danga said.
At Brigham and Women's Hospital, Danga worked on drug discovery for an uncommon but aggressive and lethal type of cancer called NUT carcinoma. The prognosis of patients with this type of cancer, which affects both men and women, typically is six months. Currently, the lab has registered 180 people with confirmed NUT carcinoma over the past 20 years.
"A lot of doctors don't know about it and many ultimately misdiagnose due to lack of awareness and training," she said. "We are the only lab that can perform testing for it."
In her role, she oversaw two
postdoctoral researchers testing samples from around the world to confirm, genetically, whether the patients truly had the cancer. She performed a technique called fluorescence in situ hybridization on tumors (which uses fluorescent probes to detect DNA sequences) to establish a diagnosis. She also compiled patient treatment and survival data to better understand clinically relevant diagnostic characteristics of the cancer.
Her work also involved testing the efficacy of certain drugs to target NUT carcinoma cells. These efforts enabled the Chris French Laboratory to pursue preclinical trials for one drug that has shown promise in targeting the cancer.
French, associate professor of pathology, said Danga succeeded because she handled feedback well and got along well with others.
"Her ability to accept and act on feedback was key to her growth in my lab. She rapidly became highly skilled at some very complex procedures. For example, she learned how to perform chromatin immunoprecipitation solo. This technique is usually reserved for postdoctoral fellows, so mastering it was a testament to her skill," he said.
He added that her musical training is ideal for laboratory work, where attention to detail can make or break research.
"Kristina has an incredible attention to detail. I do believe this may stem in part from being an accomplished musician," he said. "Attention to detail is really what differentiates successful laboratory scientists from unsuccessful. One must not only be self-critical, but also cannot miss details."
Danga said that the small size of the Chris French Laboratory allowed her to establish close relationships and be able to learn and ask a lot of questions.
"It was a really transformative experience that prepared me to take on the biotech world," she said.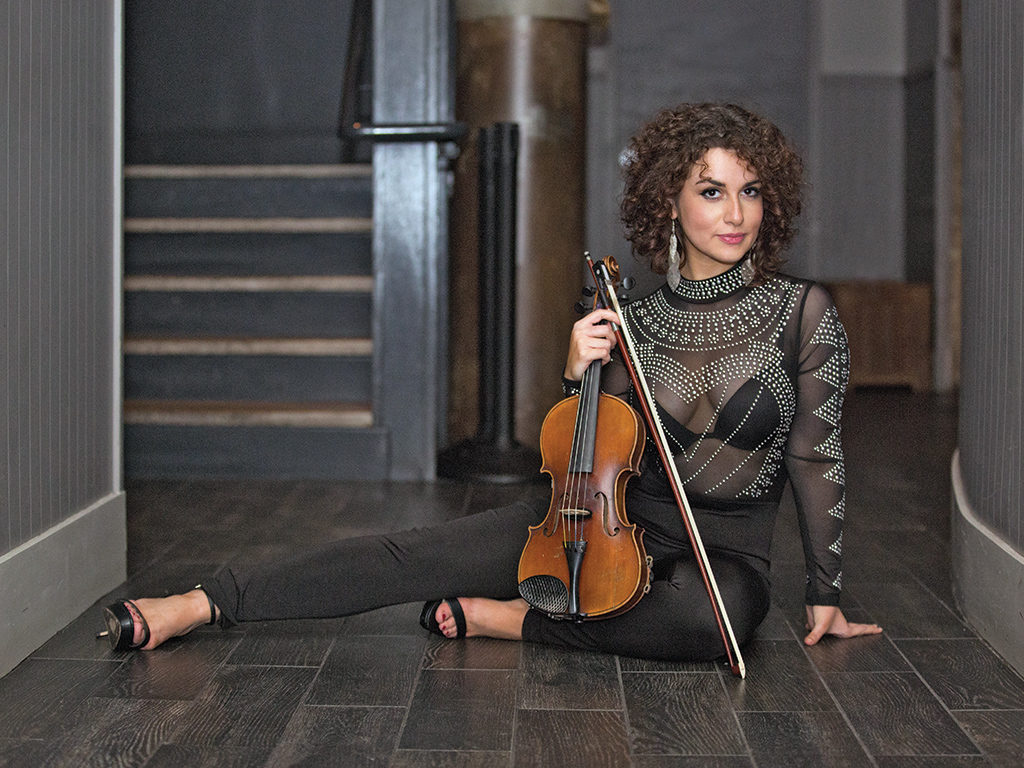 A momentous year
Danga put in long hours at the lab but still found the energy to write new music and perform at gigs in her free time.
She connected with producers and mentors who taught her the marketing and promotional side of the music business. She took part in photo shoots and activated social media accounts to interact with fans.
"Any chance I got in a weekend to book a show, I would. The more you put yourself out there, the more visibility you have," she said.
The efforts paid off: she performed with and recorded music for Michael Flatley—a well-known Irish-American dancer and musician associated with the show "Riverdance"—and at many fashion shows with Boston-based and nationally recognized designers. She also collaborated with Boston and New York City-based producers on house and dance music.
Last summer, Danga had the gig of a lifetime: performing with Eminem at the Boston Calling Music Festival. She played as part of a group called String Candy, which includes musicians from music schools and conservatories.
"It was so surreal playing for Eminem among so many talented musicians. I grew up listening to him and now was sharing the stage with him," she said. "It was an experience of a lifetime."
She also released her own track, "Zeal"—an evocative instrumental that showcases her talent on electric violin—on iTunes, Spotify and Amazon Music in August 2018.
Next experiment
This past summer, Danga moved to San Diego, a city known for its thriving biotech industry.
In July, she was hired as a research associate at Celgene, a U.S. biotechnology company that discovers, develops and distributes medicines for cancer and inflammatory disorders.
Again, she is working on novel therapeutics for the treatment of diseases.
As she conducts experiments on promising new drugs, she is taking a break from promoting herself as an artist and pursuing gigs.
"I'm using this time to collect myself and focus on my music," she said.
For her, it's a continuous, evolving process. But as a creator at heart, that's how she likes it.