Student's documentary shown at film festival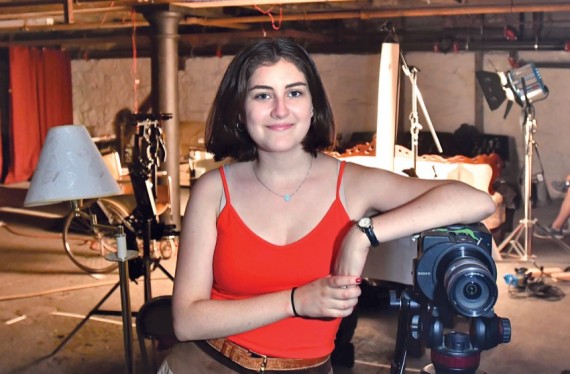 Eleanor Levine's documentary The Hidden Harpist was selected from hundreds of submissions from around the world to be included in the 2016 Newburyport Documentary Film Festival.
The Wheaton junior's film was one of 25 shown on Sept. 18, 2016, at the Firehouse Center for the Arts, in Newburyport, Mass.
"It was my first film festival experience—I'd never even been to one before this," said Levine, a film and new media studies major. "It was very strange and new but so amazing, and I got to connect with some filmmakers throughout the weekend, and see some incredibly moving documentaries. I'm so glad I applied."
All films submitted for consideration for the three-day film festival were viewed by a screening committee and selected completely on merit, said Joanne Morris, president of the Newburyport Documentary Film Festival, during an interview before the screening.
"Whether the film is a student film or from a seasoned director, all entries have an equal shot at acceptance. So the fact that [Levine's] is a student film is a huge accomplishment. It is playing alongside films that have screened in top festivals, including Sundance, SXSW and Hot Docs. In fact, a few years back one of the films we screened went on to be nominated for an Academy Award. We are very proud of the caliber of our films and very excited for Eleanor."
The 2016 films covered a wide range of topics—from a corporate battle over a grocery store chain to an exploration of the struggles prisoners face after they are released.
"Eleanor managed to create a powerful profile of a young musician in just four minutes. The imagery was especially notable," said Morris.
In her black-and-white film, Levine focuses on severe performance anxiety that often goes along with being a musician but is not often talked about.
"I knew I was interested in doing a music documentary, since I'm also a musician, and I'd only been told that my friend played harp—I'd never actually heard her play," said Levine. "I thought of this as a good opportunity (if she agreed) to hear her music and learn more about classical music. The story is about her struggles as a musician, because it's always assumed that someone who loves playing her instrument is a performer. But that isn't the case with her, which puts her in a strange love-hate position with her instrument."
Levine produced The Hidden Harpist during the spring semester in the "Documentary Storytelling" course with Assistant Professor of Filmmaking Patrick Johnson.
"I would highly recommend 'Documentary Storytelling,'" she said. "It's a great course and it really taught me how to find a story in any real-life situation. Professor Patrick Johnson was a huge influence all along the way, especially during the editing process, and he definitely contributed to the end product of the film."
She received support for her entry into the film festival from the Wheaton Film Festival Submission Fund, which Johnson created in 2015.
"I'm always looking for new ways to support Wheaton students engaged in film production," said Johnson. Having professional-grade equipment is a good start, but finding other ways to support students' artistic and professional journeys is a priority of mine. So the film festival submission fund seemed like an effective tool to both support and encourage our students to get their work out into the world."
Read about Levine's summer internship. See her documentary on YouTube.