Crowdsourcing for gender equality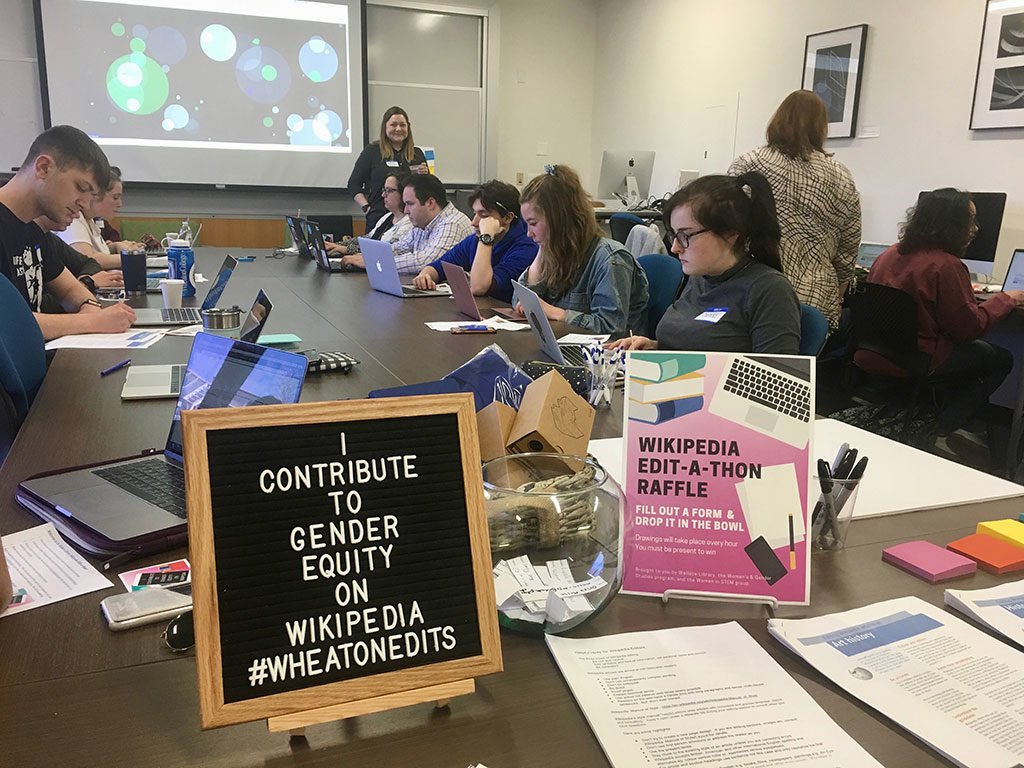 Wheaton community contributes to improving Wikipedia
Wikipedia just got a little better.
A small group of Wheaton students, faculty and staff—37 people over two days—spent some time last week enhancing the world's most popular English language reference guide by improving entries about women. The event: Wheaton's first Wikipedia Edit-a-Thon.
"Together we made 92 contributions to 42 articles on women or topics related to feminism and women's history," said Janine Kuntz, social sciences librarian. "But more importantly, our contributors left with an understanding that there is bias in the information we consume and that they have the power to make a difference."
One of the weaknesses of Wikipedia's crowd-sourced content is that the site doesn't give women their due. In fact, just 15 percent of biographies on the English language site are about women, perhaps because the majority of editors are men. Whatever the reason, the gender gap on Wikipedia is well documented, including on Wikipedia itself. (Ironically, its own article on the subject includes a note that it should be updated.)
Wheaton's efforts to close the gender gap on Wikipedia took place in in the Madeleine Clark Wallace Library. The initiative was sponsored by the library in coordination with Women's and Gender Studies program and the Women in STEM group. Among the contributors were students in the art history course, "Animated Bodies; Lively Things," taught by Kelly Whitford, assistant visiting professor of art history.
The participants found the library's Woolley Electronic Classroom transformed into a group-editing space, complete with tutorials on how to edit Wikipedia articles; coaching from Kuntz and fellow librarians Jillian Amaral and Cary Gouldin; refreshments; and hourly raffle prizes for the contributors. Background music was provided by a website that creates music generated by updates to Wikipedia.
The improvements ranged from correcting spelling errors and adding sources and citations to including missing information on various subjects and biography pages. Kuntz said that she and her colleagues viewed the event as the "first annual" Wikipedia Edit-a-Thon; they intend to do it again.
"Everyone who participated learned that they can contribute to one of the most often used sources of information and that they can do so with the goal of effecting positive change," she said. "We also hope that they left with a deeper understanding of how content is created and vetted in the resources they use on a daily basis."