One of the hallmarks of a Wheaton liberal arts education is the close working relationship that students have with faculty members, both inside and outside of the classroom. That is most clear in the collaborations that occur all year long between students and professors across disciplines—from English to science. Both sides benefit from joint intellectual pursuits that teach, inspire and fuel creative thinking and problem solving. And often their teamwork extends well beyond the campus to help others.
Here, we share a few of those endeavors from the fall semester.
Red eye for black holes
Student and professor stay up to study astronomy event
Pulling an all-nighter is a college rite of passage. But how about staying up for three consecutive nights to better understand the inner workings of a black hole?
Physics major John Scarpaci '17, in collaboration with Assistant Professor of Physics and Astronomy Dipankar Maitra, did just that when offered a rare opportunity to study the eruption of a black hole in real time.
In June 2015, the black hole binary system V404 Cygni erupted. "This was a totally unanticipated event and made us change all our previous plans for the summer," said Professor Maitra.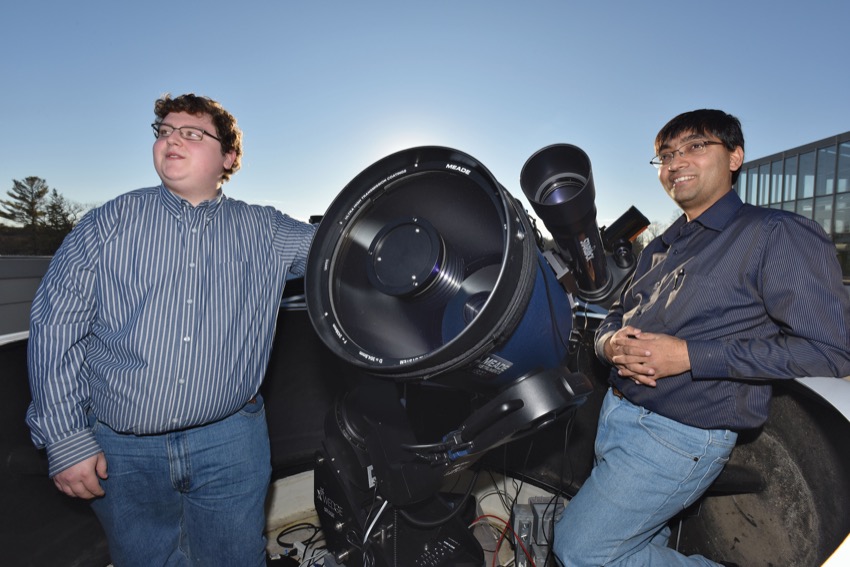 When matter spirals into a black hole, the accreted matter gets heated up to tens of millions degrees, and emits light of all wavelengths, ranging from visible to infrared through ultraviolet and X-rays. Scarpaci and Maitra researched the properties of these different wavelengths to better understand the nature and evolution of the accretion flow near a black hole.
The research team studied V404 Cygni's eruption using Wheaton's 12-inch aperture Meade LX600 telescope with an attached CCD camera and light filters. They produced hundreds of images and lots of data, which were transferred to a Linux workstation for processing and analysis.
"We could really see the flickering of light originating from very close to a black hole," Maitra said.
Scarpaci said observing the highly energetic and rapidly varying outburst from the black hole was awe-inspiring. "I couldn't stop myself from losing sleep over the analysis of the images. What we saw in our data is not what we would usually expect from a typical jet-dominated outburst."
Indeed, the results showed that the jet-launching region near the black hole was more compact and energetic than expected.
"We may have to go back to our drawing boards and reevaluate or modify our existing ideas about the process of accretion onto black holes," Maitra said.
Student-faculty collaboration is all about pushing boundaries in research. Scarpaci's favorite part of collaborating with Maitra is "having an extra gold mine of knowledge to dredge."
Maitra said student-faculty research is transformative, especially for hardworking and intellectually curious students like Scarpaci. "Once students realize that they are contributing something substantial to cutting-edge research, they take the project much further themselves," he said.
Scarpaci said he is interested in black holes because they strain our understanding of science. He plans to pursue a master's degree in astronomy or astrophysics after he graduates from Wheaton.
—Laura Pedulli
Writing with purpose
Women's and gender studies majors create grant proposals for nonprofits
When designing her Senior Seminar for women's and gender studies majors about five years ago, Associate Professor Kim Miller wanted to offer something new.
"By the time students reach the Senior Seminar, they have already had substantial experience conducting research, reading and writing," Miller said. "Because of this, one focus of the Senior Seminar—and one that makes us unique—is to equip students with practical skills that are associated with engaging in feminist politics, and which will help them find success in the complex contexts in which they will live and work."
Over the years, students in the class have written grant proposals for five nonprofit organizations—the Rhode Island National Organization for Women, Women's Fund of Rhode Island, Girls Rock! Rhode Island, the Lady Project and Sojourner House.
One proposal helped Girls Rock! acquire more instruments for the young musicians the organization fosters. Others have been adapted by the organizations to meet a variety of needs.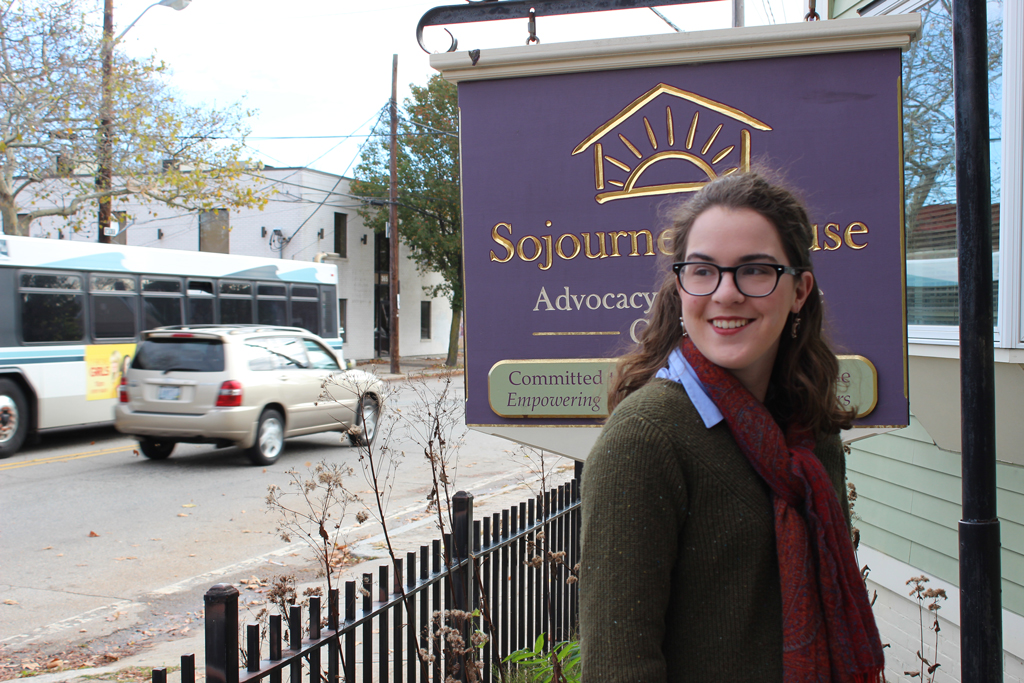 Early in the semester, former Women's Fund CEO Marcia Coné comes to Miller's class to run a workshop on grant writing for nonprofit organizations. Coné has repeated the training each year.
The students also visit the nonprofit site during the second week of the semester to better understand how the organization works.
"I've had a number of students who have graduated tell me that the class has helped them in law school or it helped them get a job. Employers look at their resumés and they're surprised to see they have that training," Miller said.
Alexandra Natale '16, who is double majoring in women's and gender studies and film and new media studies, has taken the class twice, including this past fall.
"I wrote a grant when I took this course before, and having that on my resumé made me a really competitive candidate for internships," she said.
For Emily Bergmann '16, the class offers the perfect blend of theory and practice and a chance to spend time with other women's and gender studies majors. She is a double major, also studying film and new media.
"I'm using all of the academic skills I've honed over the past four years on the readings, and I'm working on writing and more professional skills through the grant-writing process," she said.
This kind of work helps establish an inclusive, collaborative community in the classroom—something that fits well with the key goals of feminist pedagogy, Miller said.
"One of the most positive outcomes of the grant-writing project is that it has forced me to rethink the space of the classroom, dismantle our hierarchy, and collaborate with students at a much deeper level than I have been able to do previously in all of my teaching of undergraduate students," she said.
"It also promotes shared authority between me and my students, as opposed to the professor having total authority in the classroom, and has led to greater intellectual exchange in the classroom."
—Becca Manning
Marvels in the microworld
Senior teams up with biology professors to study beetles, toads
Whether it's amphibians or insects, the smaller creatures that inhabit our planet fascinate Hadley Biagiotti '16.
The biology major has kept busy discovering the intricacies of other species—embarking on two separate projects exploring the diversity of dung beetles and the biomechanics of cane toads.
In collaboration with Professor of Biology Betsey Dyer, Biagiotti conducted entomology research focusing on dung beetles in Wheaton Woods and the Great Meadow Hill Farm in nearby Rehoboth, Mass.
The project required Biagiotti to collect live dung beetles from cow manure. She mounted the beetles with insect pins and labeled the species and where they were found.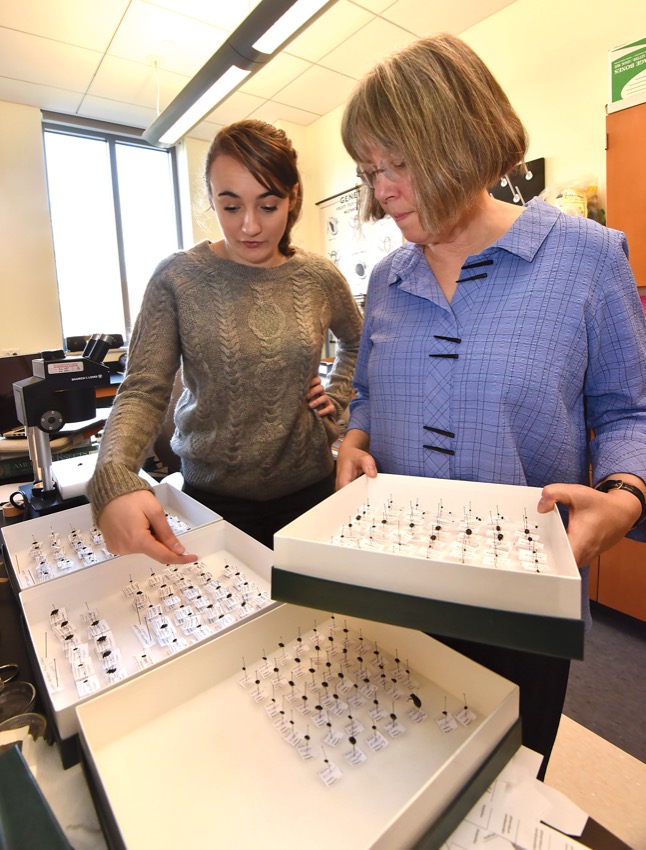 Raised on an Idaho farm, she is well suited to the work. Biagiotti previously has raised and showed dairy heifers, beef cattle and sheep at the local county fair. "Ever since I was a child, I have loved and been around animals," she said.
She also excels in the lab.
"Beetle identification can be difficult, but Hadley has excellent attention to detail and the patience for hours of microscopy," Dyer said.
Biagiotti's study of beetles sheds light on their surprising diversity and aesthetic beauty. "A lot of the beetles are stunning to look at, having iridescent color or bull-like horns," she said.
Biagiotti is working to arrange the beetles taxonomically. She has collected about 160 beetles, representing 15 different species. "I discovered that I really have a passion for making insect collections," she said.
In her research on cane toads, Biagiotti spent time marveling at the shape and motion of the bones that allow them to be extraordinary long-distance hoppers and landers.
She collaborated with Assistant Professor of Biology Laura Ekstrom to learn more about how the bones are positioned during landing, which will ultimately lead to understanding how forces are absorbed. Specifically, she analyzed digital videos and CT scans of toads in Ekstrom's lab.
This work has implications in medicine. "This inside look at the movements of the skeletal system can be useful in finding out why certain people are more prone to different types of injuries, such as ACL injuries, based on how their bones are moving," Biagiotti said.
Ekstrom describes Biagiotti as a motivated student who perseveres during challenging times. "Her ability to think on her own and critically analyze each problem we faced was essential to our success," she said.
Both experiences solidified Biagiotti's desire to take her love of research to the next level: graduate school. "I am confident that I will be able to efficiently handle new, difficult programs and experiments in the future," she said.
—Laura Pedulli
Smart shopping
Class works with education professor on annual toy guide
Students in Professor Vicki Bartolini's "Issues in Early Care and Education" course played a key role in fall 2015 in helping the national advocacy group Teachers Resisting Unhealthy Children's Entertainment (TRUCE) develop a guide for buying toys.
TRUCE had not produced the annual Toy Selection Guide for several years, but organization leaders felt it was time for an update—particularly as screens compete increasingly for children's free time. Bartolini, who serves on the TRUCE steering committee, along with alumna Blakely Fetridge Bundy '66, thought immediately of her students.
"I felt this was a great opportunity for students to apply their research to something families and educators could use," Bartolini said.
Along with assigned readings and class discussions, the students visited early childhood centers in the area and interviewed parents and educators to build a list of criteria for good and bad toys. They then visited stores to develop recommendations.
More than 75 percent of the students' recommendations made the guide, which was posted online in time for the holiday shopping season and distributed to thousands at the National Association for the Education of Young Children's annual conference in November.
Jeremy Zak '16, a biochemistry major and education minor, put toys that promote violence at the top of the "bad" list. His favorite good toy was a board game called Engineering Ants.
"It tasks the children with problem solving and thinking on their feet, which are very important lessons all children should learn, especially as they become more dependent on technology," Zak said.
Georgia Crane '16, a double major in psychology and early childhood education, said she was surprised to find so many toys that had limited use or required no creativity. One of her least favorite toys was an electronic banking version of Monopoly.
"Growing up, the adding and counting are what made the game exciting. Now that there is technology doing it for you, it really takes away from the game," she said.
Bartolini said the project helped her realize how much students value knowing their work will be used by an outside audience. And she enjoyed watching her students exceed expectations.
"One team created a point system for evaluating toys in the store based on their research for the assignment. This was a step that had not occurred to me and one that reflected careful organization of their research," she said.
The project also opened up new opportunities.
"After reviewing students' work, the TRUCE steering committee asked me if there is a student who would like to join the committee," Bartolini said.
—Becca Manning
Inspiring philanthropy
English class explores possibilities of crowdfunding
There is an art to telling a story—especially when it's not your own.
Students in Professor of English Lisa Lebduska's "Writing in Professional Contexts" class explored this art—but with purpose—when they developed crowdfunding projects.
In collaboration with Lebduska, students launched Crowdrise or Kickstarter websites on behalf of various organizations. They each cultivated a partnership with a nonprofit or business and worked to persuasively convey that entity's need for funding through digital storytelling.
"Students learned the complexity and responsibility that accompany any fundraising effort, because ultimately they tried to tell a story that is not their own. So they began by listening to and reading about their clients, and understanding their story in the fullest sense," Lebduska said.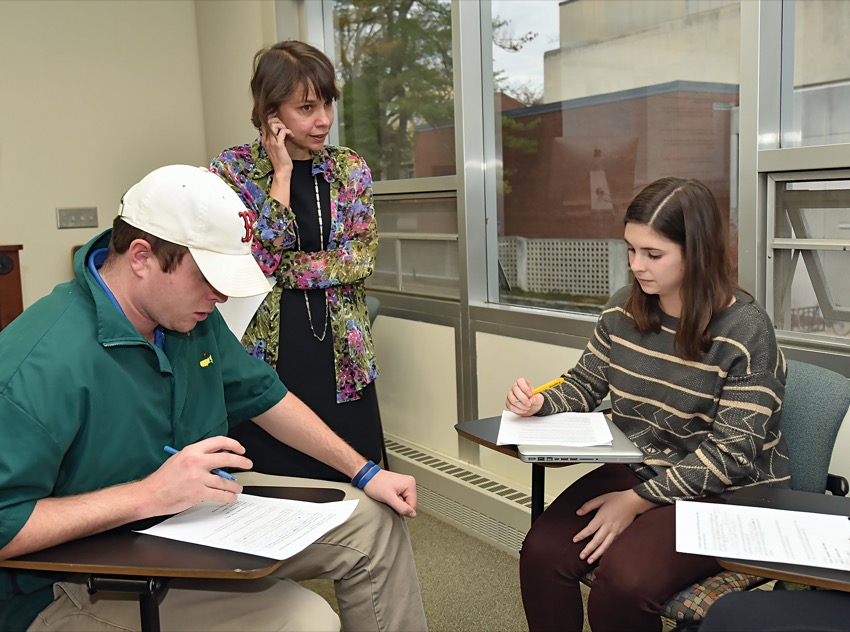 The students developed the campaigns using text, video and audio. They wrote, edited and revised their campaigns, incorporating feedback through a peer-review process. Also Lebduska advised students on developing a plan to promote campaigns beyond their own social media circles.
Campaigns supported various local and international nonprofits. One student developed a Kickstarter campaign for Cape Fifteen, an apparel company launched by two college students, including Kyle Rumberger '16.
Amanda Brazell '17 focused her campaign on Cake4Kids—a San Francisco-based nonprofit that delivers birthday cakes to foster children.
"The hope is to make these kids feel special for at least one day out of the year, to raise their self-esteem, and to increase their chance of success in school and life," said Brazell, who named her campaign "Birthdays Are AWESOME!"
An economics major, she said, "What's great about doing this project is that I get to help the community while also fulfilling my education interests."
Demetra Edwards '17 raised funds for the Winslow Farm Animal Sanctuary in Norton, Mass., which looked to repair the sanctuary's 100-year-old donkey barn.
"I figured that urgency would add to the campaign and show possible donors how important it is to raise the funds before winter," she said.
The class project reflects a major principle in a liberal arts education: understanding and respecting differences in others and ourselves, Lebduska said.
"If students can truly hear and convey an individual's or organization's story in a respectful way that persuades others to contribute to that organization's efforts, they've brought the pieces together. They've made rhetoric real and purposeful," she said.
They've made a real difference. Lebduska reported that her class has raised more than $5,200 for their organizations.
—Laura Pedulli
Unexpected editor
Psychology student discovers talent for close reading on book projects
Writing a book might seem like a solitary venture, but three Wheaton professors have discovered that it's a perfect opportunity for student-faculty collaboration.
Associate Professor of Anthropology M. Gabriela Torres was working on a book with Professor of Sociology Kersti Yllo last year when she thought to ask one of her students, Jessica Kruger '17, to help prepare the manuscript for publication.
The psychology major's writing had impressed Torres, so she hired Kruger through a Wheaton Research Partnership (WRP), which provides funding for student-faculty projects.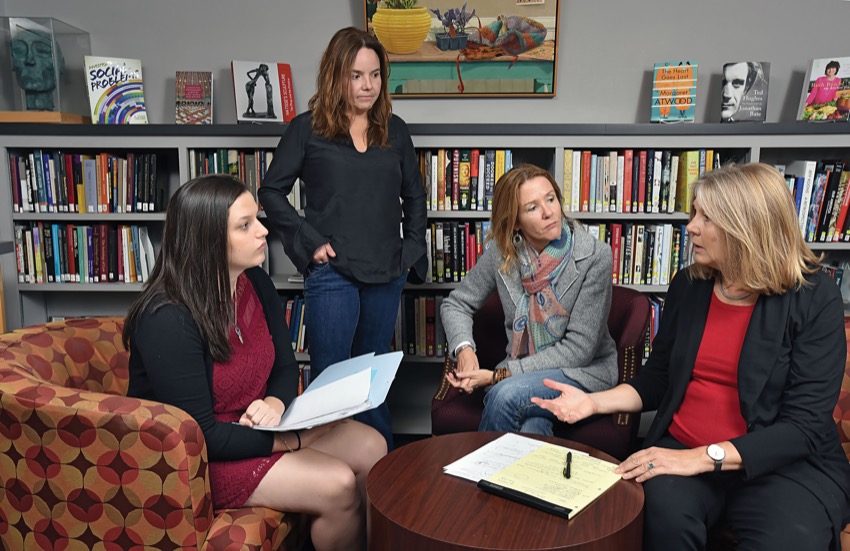 Though she started out checking citations and formatting, Kruger's role soon expanded to more in-depth editing.
"Especially through high school, you're taught that your teachers are your teachers, and they're the ones grading you, but through the WRP process, it's more like you're two academics as opposed to professor-student," Kruger said.
Torres and Yllo found Kruger's contributions invaluable.
"Jessica has been incredible in both her meticulous attention to detail and awareness of the big project," Yllo said. "I have never seen an undergraduate with this level of skill in editing and working on a manuscript. She has been a real gift to us."
The book, Marital Rape: Consent, Marriage and Social Change in Global Context, is being published by Oxford University Press and is based on a conference that Torres and Yllo organized at Wheaton in May 2013 with a grant from the Wenner-Gren Foundation.
"The conference brought together anthropologists whose work has touched on violence in marriage with scholars who have been working on marital rape across the world, in the areas of public health, law and human rights," Torres said.
Carolyn Stancliff '16 and Rebekah Howland '15 took notes during conference discussions that also contributed to the book.
"Students are a great help to our research, especially when they are curious, energetic and committed," Yllo said. "And they get to do work that at bigger universities you'd hire graduate students to do."
After they finished their book this past summer, Torres and Yllo recommended Kruger for another WRP, this time helping Professor of Hispanic Studies Mary Beth Tierney-Tello. Her book, which is being published by Bucknell University Press, explores Peruvian narratives of childhood and how they relate to identity.
Tierney-Tello had initially thought the WRP program didn't apply to her work, picturing a research student at a microscope or in a lab. But her collaborations with Kruger and other students have changed that mindset.
"Writing seems like a very solitary enterprise," she said. "The WRP has made me realize there are collaborative possibilities with my work."
—Becca Manning
Fishing for answers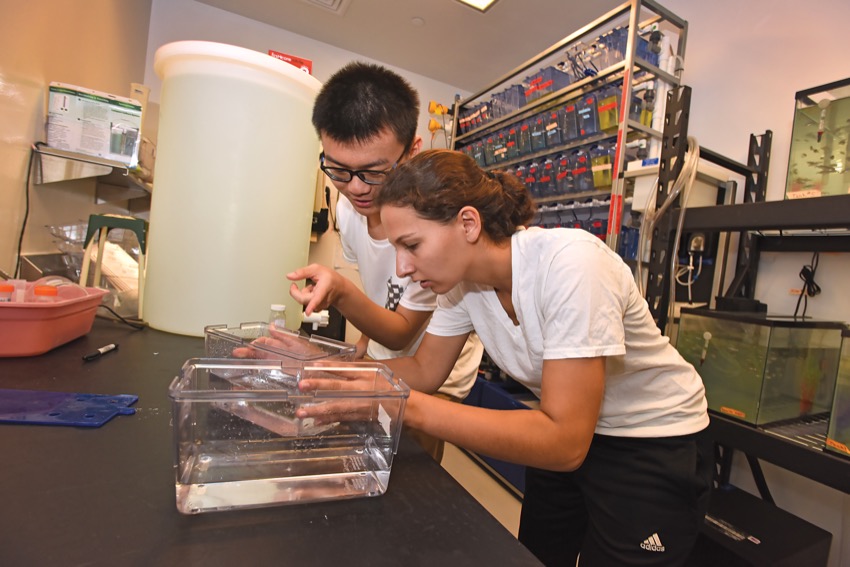 Biology professor, student researchers study zebrafish to learn about the human body
For more than two years, Assistant Professor of Biology Jenny Lanni has been exploring how potassium may affect bone size with the help of student researchers and 1,000 zebrafish.
Her research, which builds off postdoctoral work she began in the laboratory of Dr. Matthew Harris in the Orthopedics Department at Boston Children's Hospital, has potential applications in human medicine. Zebrafish share about 60 percent of their genes with humans.
"Using whole genome sequencing, I found that zebrafish with extra-long fins carry a mutation in the KCC4a gene," Lanni said. "This mutation seems to increase the amount of potassium that cells transport across their membranes."
Determining the mechanism that connects potassium levels to fin size is the focus of Lanni's research. She works with both the long-finned mutant strain and the regular short-finned strain of zebrafish, known as "wildtype."
Both strains have been genetically modified so their blood vessels are fluorescent, making them easier to see and photograph under a microscope. The fish are housed in a state-of-the-art aquaculture facility in the Mars Center for Science and Technology.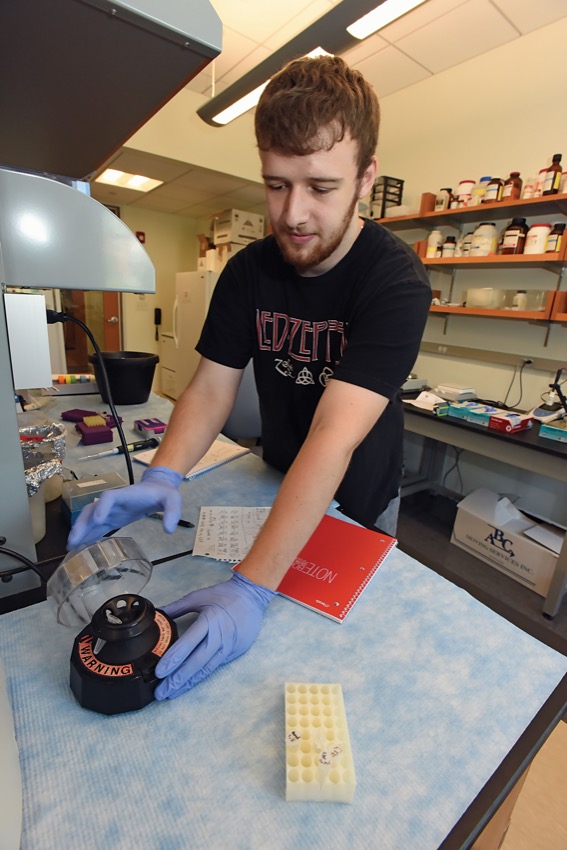 Ethan FitzGerald '16, a double major in biochemistry and political science, is introducing an activated version of the KCC4a gene into wildtype zebrafish to see if it will cause long fins when the injected embryos are raised to maturity. Kathryn "Katie" Henrikson '16, a double major in biology and psychology, is using gene-editing technology to inactivate the KCC4a gene in the long-finned strain, to see if this will prevent fin overgrowth. They hope to have initial results from the two experiments this spring.
Another area of Lanni's research is exploring why zebrafish that carry two copies of the KCC4a gene mutation (homozygotes) have less vigor as adults than those that carry just one copy (heterozygotes). FitzGerald and biochemistry major Ao "Kevin" Shi '17 are taking a closer look at heart function and nervous system development in the homozygous fish.
Biochemistry major Caroline Stanclift '16 is assisting Lanni with a related area of research—figuring out in which tissues the KCC4a protein is expressed. Stanclift said she loves many aspects of the work, but mainly the way Lanni balances support with letting her students work out their experiments independently.
"I've learned critical biochemical techniques but also, more important, how to communicate questions clearly, when to offer my ideas and work with my fellow lab mates," Stanclift said.
As for Lanni, working closely with student researchers helps keep her focused and energized.
"Unlike in most laboratory classes, I truly don't know what results they are going to see. Together, we think about the right controls to include for a valid experiment, choose what protocol to try, and discuss how to troubleshoot problems when things don't work at the bench," she said.
—Becca Manning