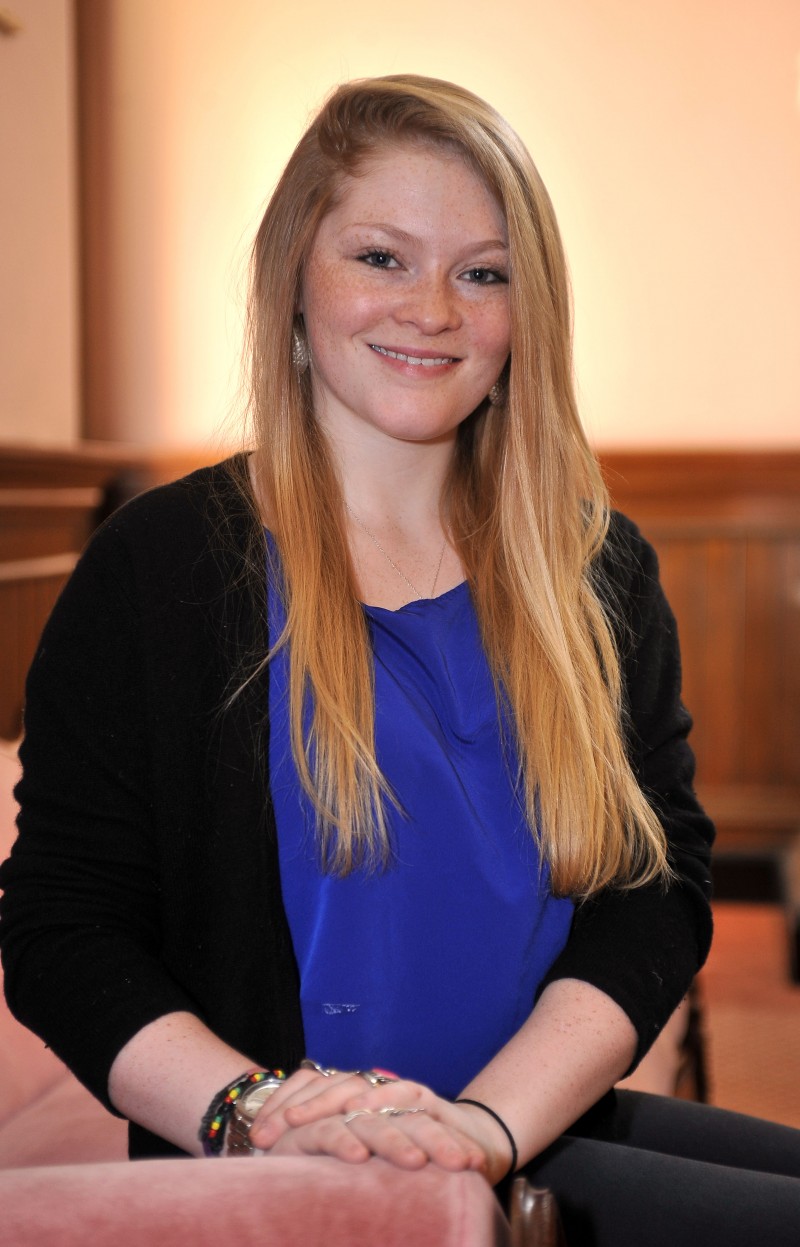 Having experienced homelessness as a teenager, Marguerite Dooley '16 is now in the position to give back.
The recipient of a 2015 Projects for Peace grant, Dooley will launch a program this summer to support youths in southern Vermont who are facing challenges similar to those she overcame.
"This project has a lot of personal connections for me, especially because I plan to implement it in my hometown working with a shelter and other organizations I have been closely involved with in the past," Dooley said. "I believe that giving kids opportunities for social and educational outlets when they are younger will lead them to seek those opportunities out as they become older and more independent—something I hope this project inspires."
While she was in high school, Dooley and her mother lost their home after the death of her father. As a result, she spent time in Section 8 housing and at the local homeless shelter.
"I, along with my peers at the shelter, mainly watched TV or 'hung out' to pass the time. Due to budget constraints, there were no constructive activities," Dooley wrote in her proposal. "I would like to create programs that open up greater opportunities to young people in the areas of education, creativity and self-expression."
Projects for Peace grants are awarded to undergraduates at American colleges and universities that are part of the Davis United World College Scholars Program, giving recipients $10,000 to implement a project that seeks to promote peace, resolve conflict and build understanding. Philanthropist Kathryn W. Davis—the mother of Wheaton alumna Diana Davis Spencer '60 and recipient of an honorary Wheaton degree—created the program in 2007. At least one Wheaton student has received the grant each year since the program's inception.
Dooley, a political science major with minors in community health and psychology, will apply her grant toward establishing a summer program for children and teens who are currently homeless or at risk of becoming homeless. She is partnering with Brooks Memorial Library and other agencies in her hometown of Brattleboro, Vt., to establish a program based out of the library that will serve youths at least one day a week during the school year and three days a week during the summer. Volunteers will provide "caring and engaged adult supervision," organizing educational games and creative art projects and creating a "safe place" for at-risk youths, according to Dooley's proposal.
The Wheaton junior plans to purchase tablet computers with educational and creative software for children ages 3 to 7 and refurbished laptops with software appropriate for ages 7 to 13 and programs for high school students that promote college-readiness, standardized test preparation and other skills.
Dooley also has set aside money in a sustainability fund that will help keep the program operating beyond the first year.
"Ultimately, I would like to see this program grow in both size and reach," she said. "Once it is established and recognized in the southern Vermont community, I would like to be involved in its expansion to other regions of Vermont and perhaps the rest of the country."
After graduation, Dooley hopes to work with at-risk adolescents in southern Vermont and eventually to pursue a dual degree in social work and public health.
"Working with Projects for Peace will give me the opportunity to gain personal experience in the fields of both public health and social work, allowing me to work one-on-one with kids of all ages and give me experience in program management and implementation—important aspects of a job in these fields," Dooley said.
Recent Projects for Peace Recipients
• Jorge Clemente de Leon Miranda '14
• Molly Skaltsis '13
• Pagna Sophal Donlevy '13
• Caitlin O'Connor '08
• Ashley Mott '08
• Derron J.R. Wallace '07