Creating a competitive edge
President Hanno announces Catalyst Fund for Wheaton Athletics
An anonymous alum and their spouse have issued a matching gift challenge for Wheaton College Athletics designed to generate $6 million in support of key enhancements that will improve the student experience on campus.
President Dennis M. Hanno announced the Catalyst Fund during a President's Commission meeting on October 28. The major fundraising initiative will create endowed coaching positions and significant renovations to upgrade the spaces where student-athletes learn, train and compete.
The fund is already off to an impressive start with current gifts and pledges just under $3.5 million toward the $6 million goal.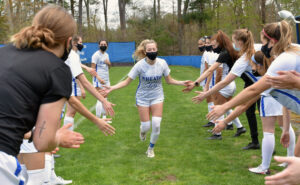 "This generous $3 million in seed funding from a long-time supporter is greatly appreciated and already is inspiring new leadership commitments to Wheaton Athletics from eight members of our community," said President Hanno. "In the coming years, Wheaton will have the resources to dramatically—and strategically—increase investments in its athletic facilities and in the dedicated coaching staff of our 21 varsity sports."
Joan McNamara Crowley '78, who majored in American history and literature, is an early supporter of the Catalyst Fund because the goal is close to her heart. Crowley, owner of Scraggy Neck Design, was the captain of the Wheaton field hockey team during the 1977–78 season and a member of the President's Commission from 2007 to 2012.
"I support Wheaton because of my fond memories in the classroom and on the athletic field. I believe there are lessons to be learned from extracurricular activities, be it sports, art, music, theater, etc.," Crowley said. "Engaging in something beyond the classroom gives your life balance. It is important that Wheaton continues to offer quality extracurricular opportunities."
Investing in impact
Gavin Viano, director of athletics and recreation, welcomes the opportunity to create a competitive edge for student-athletes as well as enhance spaces that also contribute to well-being.
"When promising recruits visit our beautiful campus, we want to showcase top-notch facilities for training, recreation and competition," Viano said. "We want to present an athletics program that is on par with the college's strong curricular offerings. Improved facilities will strengthen recruitment efforts, helping to maintain the college's excellent retention of student-athletes."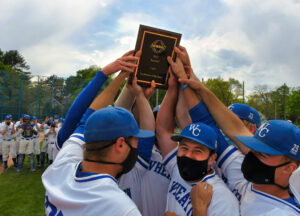 Wheaton varsity athletes comprise 25 percent of the student body. The retention rate among student-athletes is 5% higher than the overall average, and the four-year graduation rate for student-athletes is 3.6% higher than students who do not participate in athletics.
Walter Caffey, vice president for enrollment and dean of admission and student aid, echoes that sentiment.
"Quality contemporary facilities for athletics are essential to Wheaton's ability to shine in a very competitive admission market. Improved team rooms and larger spaces dedicated to strength training and conditioning will help Wheaton matriculate even more student-athletes," Caffey said.
The first phase of planning upgrades to the Haas Athletic Center is well underway. The college is working with S3 Design, which is based in Braintree, Mass. The architecture and interior design firm specializes in athletics, recreation and wellness facilities.
The plan calls for a renovated 1,800-square-foot strength-and-conditioning center that will create a workout space for varsity teams that is four times the current size.
"The new strength-and-conditioning facility will benefit all varsity teams as well as future generations of student-athletes at Wheaton," said Kim Spence '04, head cross country and track and field coach.
"Year-round strength and conditioning has been a staple of our program and has elevated dedicated Wheaton athletes to new levels. We can now look forward to working out in a state-of-the-art space large enough to accommodate entire teams," Spence said.
Current planning also includes renovations to Emerson Gymnasium locker rooms and team meeting room, along with enhancements to the Balfour Natatorium, tennis courts and outdoor fields.
Investing in leadership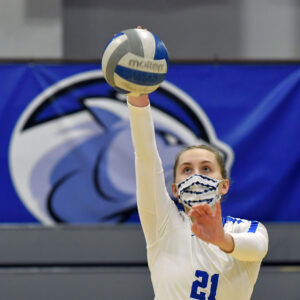 Wheaton coaches mentor, inspire and lead their teams toward conference championships and the quest to bring home the college's next national championship. More importantly, Wheaton coaches help prepare student-athletes for lives of leadership and service following graduation.
"The leadership skills that are developed through collegiate athletics prepare student-athletes for post-graduate life," said Spence, who as a Wheaton student was a four-year member of the indoor and outdoor track and field teams.
"There is no greater experience than being on a collegiate team where students-athletes work together toward a united goal and learn the value of commitment, time management and overcoming adversity," she said.
Viano sees a parallel between present-day Wheaton athletics and a period of championship-winning success that was enabled by the college's commitment to investment in athletics and recreation during the late 1980s.
"Wheaton coaches in that era set the standard in recruitment and player development. By adding and endowing coaching positions today, we can allocate resources for an expanded professional staff of assistant coaches and support staff. It's an investment in leadership," he said.
Investing in student-athlete success
Supporting student-athletes has been important to their success both in the classroom as well as on the playing fields.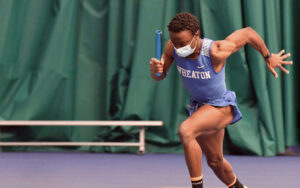 In the past decade, more than 1,200 Wheaton student-athletes have been named to the Dean's List (with a GPA of 3.5 or higher). They have won All-American honors and prestigious academic awards, like the Watson Fellowship, and they have earned 668 New England Women's and Men's Athletic Conference Academic all-conference accolades. In addition to winning eight NCAA Division III national championships, 64 student-athletes have been named individual national champions.
"Athletics play a central role in community-building at Wheaton and are truly an essential element of our liberal arts mission," Hanno said.
"Our student-athletes are drawn here because we provide them with a liberal arts education that offers rigorous academics, flexibility in making intentional decisions about their own educational course, paths to professional life as well as opportunities for competitive Division III athletics," Hanno said. "The Catalyst Fund for Wheaton Athletics will be a game changer for recruitment and player development."