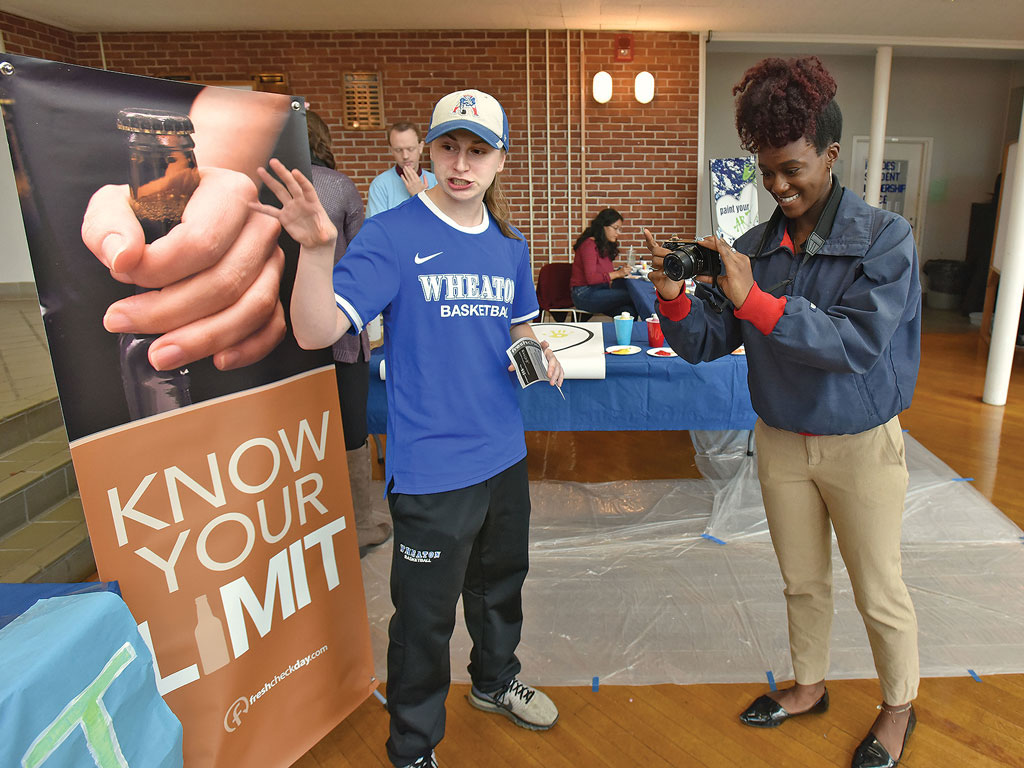 Wheaton enhances its focus on well-rounded student-athletes
Student-athletes have the dual challenge of working to excel in the classroom as well as in the arena of their chosen sport. Wheaton is intensifying ongoing efforts to help student-athletes meet that challenge with a newly created staff position.
The coordinator for student-athlete success, inclusion and leadership role has been created to provide student-athletes with opportunities to develop leadership skills, broaden their engagement on campus and deepen self-awareness.
"We saw an opportunity to do something that would help us truly make the Wheaton student-athlete experience complete," said John Sutyak '00, director of athletics and recreation. "Our main goal is to enhance our outreach to our student-athletes in new ways. Having this position allows us to further develop student leaders through additional programming that is tailored to each class year and it helps us collaborate on programming with many different campus partners—from academic advising to the Student Government Association."
Christal Peterson was hired in July 2018 for the inaugural role to plan programs that encourage diversity and inclusion, leadership and academic achievement as well as healthy behavior and social responsibility. Currently, she is working to develop and implement a four-year comprehensive leadership program centered on the four key components (character,
performance, involvement and self-care) of the AllWheaAre initiative that is already in place under the leadership of Lisa Yenush '90, associate director of athletics.
"I firmly believe that success, inclusion and leadership are important building blocks that create well-rounded students," said Peterson, who previously was the graduate assistant for student-athlete welfare and development at the University of Central Florida. "Wheaton is committed to the total development of students and preparing them with life skills that are useful throughout the college experience and well beyond graduation."
Among the programs offered in fall 2018 was "Let's Talk Boundaries" for first-year students, in partnership with the Sexual Misconduct and Assault Resource Team (S.M.A.R.T.). The interactive workshop facilitated discussions on how to set healthy boundaries in various situations and why that is important for self-care. "The Power of You" program for sophomores aimed to help student-athletes identify personality traits in themselves, classmates and professors to gain insights and strengthen communication skills and interactions. A networking and dining etiquette event for juniors and seniors is in the works for the spring, as part of a collaboration with the Filene Center.
Emma Stump '20, a double major in sociology and religion and a member of the synchronized swimming team, attended one of the leadership workshops in August 2018.
"I learned more about my own values and how these values reflect on me as an individual and as a leader within my own team and within other groups on campus," Stump said. "I also learned how imperative it is that I have a clear understanding of my own values so that I can fully represent them and be a good example for all those who look to me as a leader."
Sutyak noted that the hope for all student-athletes is that they have the ability to lead, learn and engage at a high level, not just on their teams but also on campus and in the communities in which they currently, or someday will, call home.
"Obviously, as an athletics department, we also want to ensure that we continue to build a stable of high-level leaders on our teams, which can only work to help us achieve our collective goals of winning NEWMAC championships and competing on the national level."