Courage, compassion and forgiveness
PICTURED ABOVE: President Barack Obama and First Lady Michelle Obama greet Alison Remy Crowther '70 at the dedication ceremony of the National September 11 Memorial and Museum on May 15, 2014. "Meeting the Obamas was like meeting caring parents. What came flowing out of them was sympathy as parents, sharing the horror of losing your own child. There was no artifice, only concern for their fellow Americans," Crowther said. Photo by Pete Souza
At Ground Zero, in an immense underground space filled with sunlight, the voice of Alison Remy Crowther '70 permeated the silence.
Facing President Barack Obama and First Lady Michelle Obama, and a room full of dignitaries, reporters and victims' families, she spoke about her son, Welles, who died during the terrorist attacks of Sept. 11, 2001, in New York City.
Beside her was Ling Young, one of at least a dozen people Crowther's son had led to safety during his final minutes of life.
"For us, Welles lives on, in the people he helped, and in the memory of what he chose to do that September. He believed we are connected as one human family and that we are here to look after and take care of one another—that that's life's most precious meaning," said Crowther at the May 2014 event marking the opening of the National September 11 Memorial and Museum.
That others will follow his example "is the true legacy of September 11," she said.
Since losing her son, Crowther has worked tirelessly to ensure Welles's example endures, and fosters positive values in a world rife with conflict.
She has traveled across the country and world, speaking with countless youth and teaming up with educators and religious leaders to ensure his message carries on. Central to her efforts is the curriculum that she helped develop that teaches youth positive values based on the example of Welles's life. So far, thousands of students have used the curriculum, called The Red Bandana Project, named for one of her son's favorite items.
A mission
Fifteen years ago, the terrorist attacks on New York City, Washington, D.C., and Shenksville, Pa., took 2,996 lives, including Crowther's son.
Before that event indelibly altered her life, Crowther enjoyed professional success and a rich family life. In 1970, she had graduated from Wheaton with a degree in biology, and had landed her first job when a representative of Rockefeller University (New York) conducted interviews on campus at Wheaton.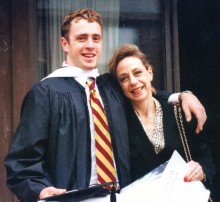 She spent seven years working in narcotic drug research with Vincent Dole, a well-known doctor who, along with his wife, Marie Nyswander, pioneered the practice of using the synthetic narcotic agonist methadone to treat heroin addiction.
Soon her attention turned to her family. She married Jefferson, and together they had three children: Welles, Honor and Paige. Crowther is now a realtor practicing in New York.
But from her son's death arose a new mission in life: to impart the principles that he demonstrated during his 24 years of life—and a call to action to build a more peaceful world.
Welles worked in finance, in an office on the 104th floor of the South Tower of the World Trade Center—but he had a strong affinity for firefighters. In his youth, he volunteered with the local fire department, and before he died, had voiced a desire to quit the finance sector and become a firefighter. That September day, he proved himself capable.
During the 2014 dedication ceremony, President Obama talked about the moment when Crowther first read a newspaper article detailing survivors' accounts of a young man wearing a red bandana who led people to safety. Crowther knew right away it was Welles. Ever since he was a boy, he had always carried a red bandana.
Over the years, the red bandana has become a symbol of something much larger than just a handkerchief Welles carried.
Crowther said for her, the red bandana symbolizes strength of character, right action and caring for others. "It symbolizes courage in the face of impossible odds. It symbolizes that the power lies within you to make the right decisions."
The red bandana has become a tangible reminder as she and others teach these lessons to a new generation of children, many of whom weren't even born when the 9/11 attacks occurred.
A spark
After 9/11, Crowther wanted to generate some good despite the tragedy. So she and husband Jefferson established the Welles Remy Crowther Charitable Trust, which funds merit-based scholarships for students and athletes (Welles was an accomplished hockey and lacrosse player). The trust also supports other youth-focused nonprofit organizations.
She also spoke about Welles at two middle schools in Rockland County, New York—which encompasses her hometown of Nyack, N.Y. —and regularly corresponded with people inspired by Welles.
Interest in his story began to swell.
"We received letters from students, teachers and parents," said Crowther, recalling a Sunday school teacher in Texas letting her know that Welles's story was part of their lesson plan, and a youth fellowship in Oklahoma sharing a photo of their group sporting red bandanas at a gathering. "We learned that the most intractable kids' lives were being changed by Welles's story," she said.
In 2011, Welles was the subject of a 13-minute ESPN documentary that won a Sports Emmy Award. (Tom Rinaldi, the sports commentator who wrote the script for the documentary, also has written a book based on Welles that is scheduled to be releasedby Penguin Random House in September.)
Momentum continued to build and Crowther began receiving more phone calls and letters. Thousands of students from Boston College, Welles's alma mater, began to sport red bandanas at major sporting events.
Red Bandana Project
An even bigger opportunity to spread the messages of courage and caring arose when Timothy Epstein—a Chicago-based attorney and representative from the Fetzer Institute, which seeks to promote dialogue on love and forgiveness—reached out to her with a seemingly simple question: "What is your next creative step?"
Crowther reflected, and realized that she wanted to create a curriculum to help young people develop socially and emotionally, and build positive character traits.
The Red Bandana Project was born. Geared to K–12 students and athletes, the Red Bandana Project offers lessons that boost social and emotional development, and promote community engagement and positive interpersonal relationships.
She teamed up with Vernoy Paolini, an education consultant, and other professionals, to co-create the curriculum. To date, the project has been tested in 100 schools, camps and youth programs, Crowther said, adding it is aligned with the Common Core, the federal education standards.
Schools choose from a variety of themes, including leadership, caring for others, team, the power of one, bridging divides, forgiveness and carpe diem.
Students engage in research projects to answer self-generated questions. These could include: "What makes a good, positive leader?" and "How can leaders and supporters of 'good deed' projects impact relationships of much broader populations?" The students draw evidence from informational texts to support analysis, reflection and research.
In the process, students learn about Welles, talk about how the themes had shaped his life, and how they currently play out in their own personal lives.
Welles demonstrated the power of one in his last acts, as well as leadership. As a young man, he also was a bridge builder in his diverse community who befriended all types of people, Crowther said.
As an athlete, Crowther said Welles valued teamwork—another theme of the curriculum. "Welles told me, 'One of the things I love about being on a team is that all these differences disappear. You are just part of one family working toward a common goal,'" she said.
In the lesson on carpe diem, students learn to make the most of the present time, as you never know when today will be your last.
"I don't know my expiration date on life. Welles wasn't thinking that it would be his last day on Earth, but he still worked to make the world a better place," Crowther said.
Crowther actively engages with students, talking to them in classrooms and large assemblies, and through video technology when she cannot be there in person.
"I see the good it brings. I see [the students] sit up straight, puff up their chests and really listen. I see the impact Welles's story has and that it's bringing good," she said.
One testimonial from a sixth grader in Minnesota said this: "[The Red Bandana Project] taught me that to be a hero, you don't need a cool costume or a cape. You need to be kind and generous and selfless to people. Welles taught me to be kind and generous to people, even if you don't know them."
Scarsdale Middle School
After the 10th anniversary of the attacks, at Scarsdale Middle School in Scarsdale, N.Y., English teacher Kathleen Connon, in collaboration with others, implemented a unit on 9/11 for eighth graders.
Connon learned about the ESPN documentary and the story of Welles, who had grown up not far from Scarsdale. And she arranged to meet with Crowther, who offered to provide her with the curriculum, red bandanas, and also speak at the school's Human Rights Day, when students learn about inspirational leaders.
"She was just a very loving, open person," Connon said.
In implementing the Red Bandana Project curriculum, Connon chose to focus on the theme of forgiveness.
Students examined forgiveness in the context of the loss of Welles, but they also applied that lesson to their own lives. For example, students opened up about learning to forgive a father for leaving their home and mother.
The students also explored this theme through poetry. In April 2015, a dozen of Connon's students shared their poetry at the 9/11 Tribute Center for Poem in Your Pocket Day.
On Human Rights Day, Crowther addressed the entire school, but also met 15 students in a more intimate environment.
"It was anything goes. They could ask about ISIS, terrorists, anything," Connon said. "The discussion was emotional and intimate, as students shared their own concerns in their personal lives, their fears and anger, and their worries about terror."
The curriculum also has built a bridge between Connon's class and another on the other side of the country. The Scarsdale class, as well as Crowther, participated in conversations via video technology with a class in the small town of Sully, Iowa.
Attesting to the lasting impact of the curriculum, two students returned to the high school to remark on the power of the unit, and asked Connon whether she planned to continue teaching it.
The answer: yes. In fact, Crowther will visit Scarsdale Middle School again this upcoming school year—and this time hundreds of students wearing red bandanas in solidarity will greet her.
Forgiveness
Crowther also has taken her message across the globe.
In January 2015, she traveled to Amman, Jordan, for a conference sponsored jointly by the Salam Institute for Peace and Justice and the Royal Institute for Inter-Faith Studies. Heads of state and influential religious leaders attended the conference.
Crowther recalled being asked how to teach young people the values of compassion and caring for others in a violent world.
She answered: "I recommend bringing young people together, with no framework of religion, and letting them know each other as human beings, and the common things they share. Then you can start with religion. Let them get to know each other as members of the same human family first."
Although she has traveled widely to share her message of peace, it took her many years to tackle the subject of forgiveness.
A turning point occurred in September 2012, when she participated in a Fetzer Institute conference in Assisi, Italy, which brought together 500 thought leaders from around the world.
There, community leaders talked about using forgiveness to heal wounds in war-torn Uganda, and grassroots activists shared their work organizing street-smart poetry slams to help youths bridge racial divisions in inner-city Chicago.
"I heard some stories that really humbled me," said Crowther. "It became very clear that forgiveness was the most difficult topic of all for anyone to address and understand. I have begun to have new understandings about forgiveness and its dynamics."
Now she's at the point in which she feels that most things that happen in life can and should be forgiven. "I don't get caught up in the unnecessary. It's a gift to give yourself to let go. That way you are not tied up in knots wasting your precious time on Earth holding grudges," she said.
However, Crowther does draw a line, especially when it comes to severe acts of violence, like genocide and 9/11.
"I really can't forgive the terrorists," she said.
Instead, she focuses on small positive changes that can inspire good. "After all, the power lies within each one of us to help create the world in which we live, a beautiful world for all, in ways both large and small," she said.