Connecting through language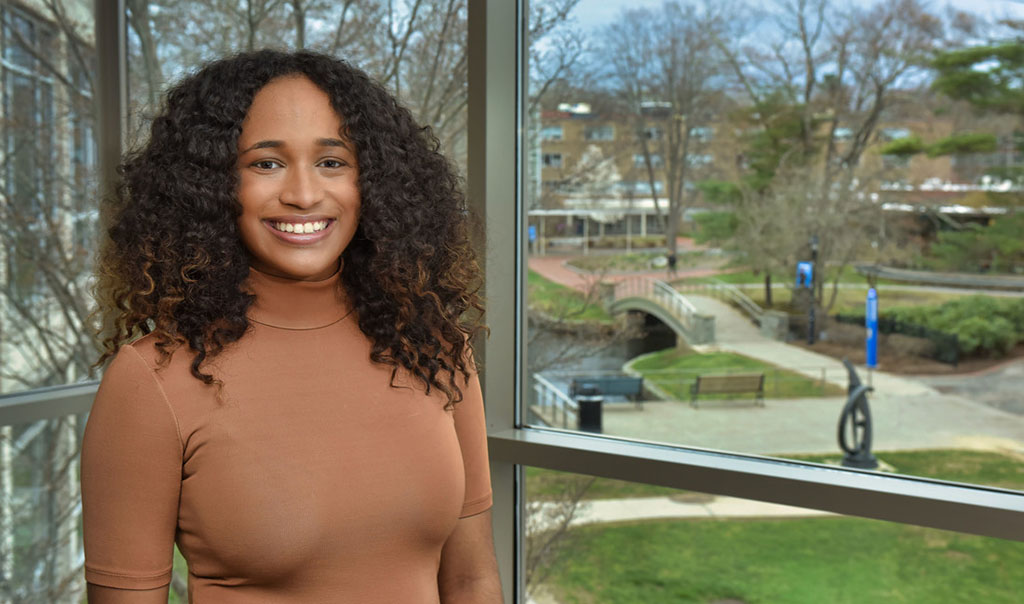 Yenny Bautista '19 wins Fulbright to teach in Brazil
A native Spanish speaker who began learning English in elementary school through an ESL program, Yenny Bautista '19 chose to major in English at Wheaton to further explore the language and discover new ways to express herself through English literature and writing.
After graduation this May, she will be sharing what she has learned and loves about the language with students in Brazil, on a Fulbright English Teaching Assistantship.
"As a native Spanish speaker, I feel that it took me twice the work to learn the English language and therefore, as I have grown personally, my love for English has grown with me," Bautista said.
She's looking forward to connecting with her students, teaching them not just how to use language but the value of cultural exchange.
"I decided to apply for a Fulbright because I wanted to have a global experience where I can grow my capability to use the English language to connect different backgrounds," Bautista said. "Within the classroom, I look forward to making use of the different perspectives that will lead to discussions surrounding language, culture and social issues."
Bautista understands the benefits of exploring other languages and cultures. Growing up in a Hispanic neighborhood in New York City, Bautista, a first-generation college student, said she was drawn to Wheaton's small liberal arts community but hesitated to apply because it lacked the diversity she'd experienced growing up.
"But I saw the value of this environment, and how it would deepen my educational experience, and was determined to seek out this opportunity for myself," she wrote in her Fulbright application. "I applied to Wheaton College and have become passionate about giving other people the same opportunity and getting them involved in multicultural issues on campus."
As much as she has learned from others, Bautista has actively worked to share her own culture—as a current member and past co-director of the Latinx dance group Paraiso Latino, member and secretary of the Latino Student Association and preceptor for first-year students.
"During my time at Wheaton, I have been lucky to be a part of groups that have made me feel connected with my culture and have provided me the opportunity to help others," she said.
She has also taken full advantage of opportunities to explore other cultures while at Wheaton. The summer after her freshman year, she took a short-term, faculty-led course in Tanzania—her first introduction to global education. Returning home to New York City, she participated in a Wheaton-sponsored community service project in the Bronx. There, she met President Hanno, who invited her to join him on a teaching trip to Rwanda later that summer.
During fall semester her junior year, Bautista studied abroad in Greece. The following summer, she received grant funding from Wheaton to work on a Lexomics research project alongside her advisor, Professor of English Michael Drout. Later that summer she began her first teaching fellowship, leading a seventh grade creative writing and reading course through Generation Teach, in Boston. This past winter, she helped rebuild homes impacted by Hurricane Katrina through Wheaton's Alternative Winter Break in New Orleans.
Her Fulbright year will allow her to continue this global education, as well as serve as a launching point for a career as a cultural teacher.
"I want to teach and learn alongside my students by exchanging cultures in the classroom through literacy," she said. "My interest in global education is a combination of my passion for cultural learning and motivation to teach my students about the diversity in literature."