Computer museum connects learning, fun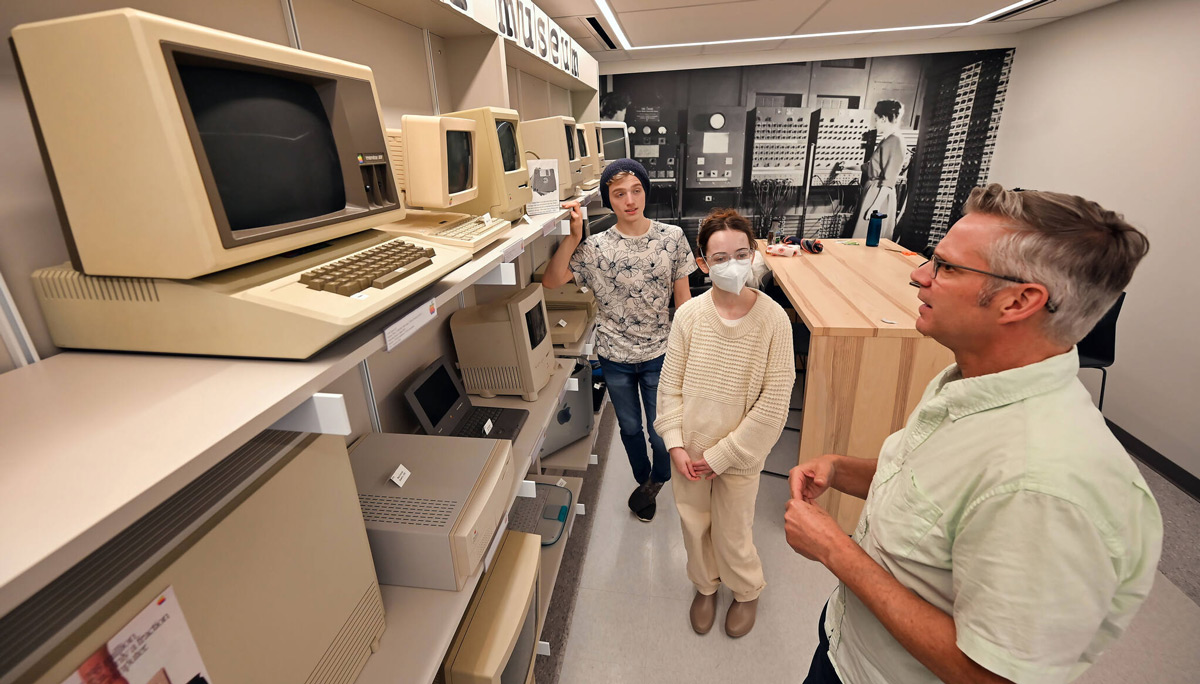 Professor collaborates with student curators to exhibit classic technology collection
The year Professor of Computer Science Mark LeBlanc began working at Wheaton in 1993, Mosaic, one of the first web browsers, launched; the internet was beginning to become available for general use via commercial service providers; and the MP3 file format that is used to play and store audio was first released.
Things have come a long way since then. Just ask Siri or Alexa. LeBlanc is making sure we never forget that with the computer museum that he created with cohorts of students and is now reinstalling with the help of computer museum curators Hanna Ondrasek '26 and Samuel Chisholm '26.
Not only is the museum a display of the professor's passion and a teaching tool, it also is an opportunity for hands-on work/study and internship experience for Ondrasek and Chisholm.
"In the fall of 1993, I had just started at Wheaton and the department had some old cool wooden display cases, so I started displaying old calculators, memory chips, books and other items. When there was more display space, that grew into installations featuring early Macs and early Windows computers," said LeBlanc.
"I never had computers or gaming stations growing up. But I intersected with computing in college as a first-year student in 1980 and since then, I have been fascinated with tech, but not for the latest and greatest. Instead, I have a love [and respect] for the old," he said.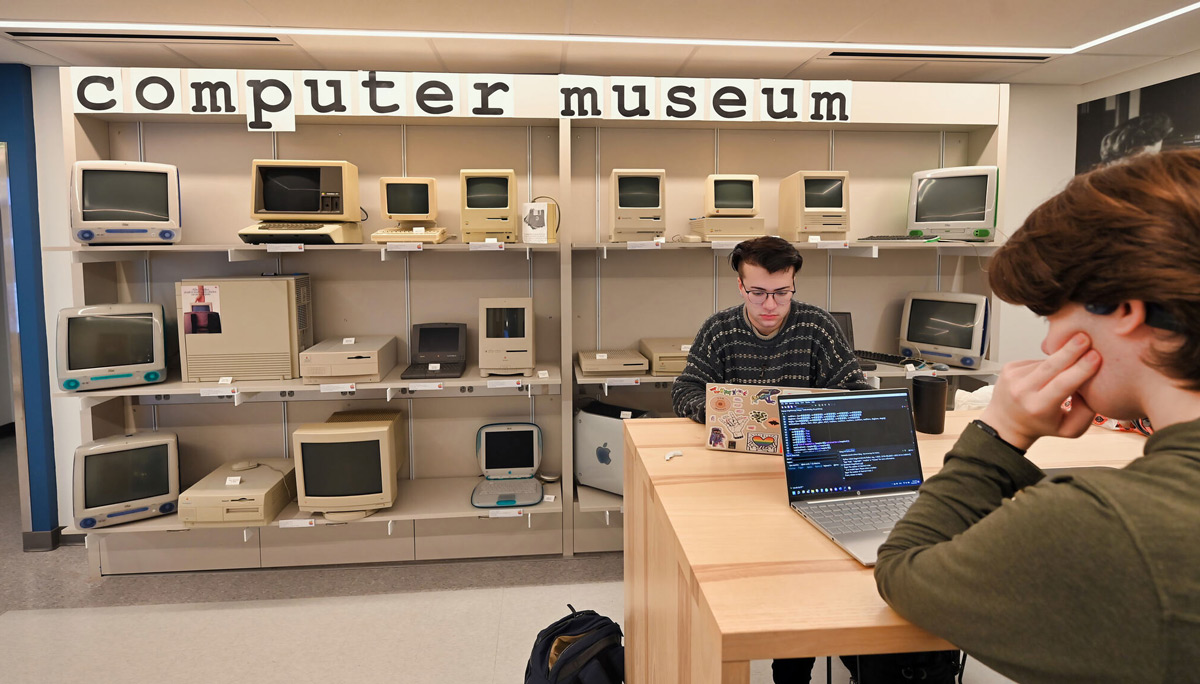 LeBlanc describes Wheaton's collection as a "micro-computer" museum, featuring personal computing technology from the 1970s and after, as well as a range of calculating devices. One of the older computers on display is the original IBM PC running DOS v1.1 ["originally the price of a car in the early 1980s"], he noted.
The museum underwent a makeover during renovations of the Diana Davis Spencer Discovery Center Dedicated to Free Speech and Innovation last year and all the items were stored in shrinkwrap. Now, they are slowly returning to the shelves of a brightly lit space designed for students to hang out at a table and soft seating, learn in nearby classrooms and play vintage video games on two large screens.
"This semester, Hanna and Sam are setting up an installation of the history of Apple equipment, an Amazon Echo to 'talk' about some of the pieces, updating a slideshow of history moments on a large monitor that welcomes visitors, and keeping our gaming emulators in demo-ready mode," LeBlanc said. "A shout out to Nick Rauer, manager of networking and telecommunications at Wheaton. He donated his time, expertise and equipment [two Raspberry Pis] to play hundreds of old video games on two emulators, each with their own large screen and controllers."
Ondrasek, who plans to major in computer science, is working with Chisholm to determine how to organize the museum, get the computers in the proper order by year on the shelves, decide which computers to display, prepare old computers to be "demo-ready" and update signage.
"I really like computers, coding and any STEM-related activities, including computing and the history of computing, so this job is really a perfect fit for my interests," said Ondrasek.
"My position at the computer museum is giving me a bit of experience working in STEM, and working with people in general, since we have to correspond and update each other often. I think having a part-time job relating to my major is great, since I will already have a bit of work experience and won't be completely new to the working world when I graduate," she said.
Ondrasek said she has enjoyed working with Professor LeBlanc and Chisholm and learning about the history of technology.
"It is really insane to me how far technology has come, and I am reminded of that fact every time I work in the computer museum," she said. "Some of our earliest computers had release prices that would be the equivalent to over $3,000 today, yet were only capable of simple word processing and had incredibly low memory. It really makes me appreciate the incredible capabilities and the ease of use of computers today."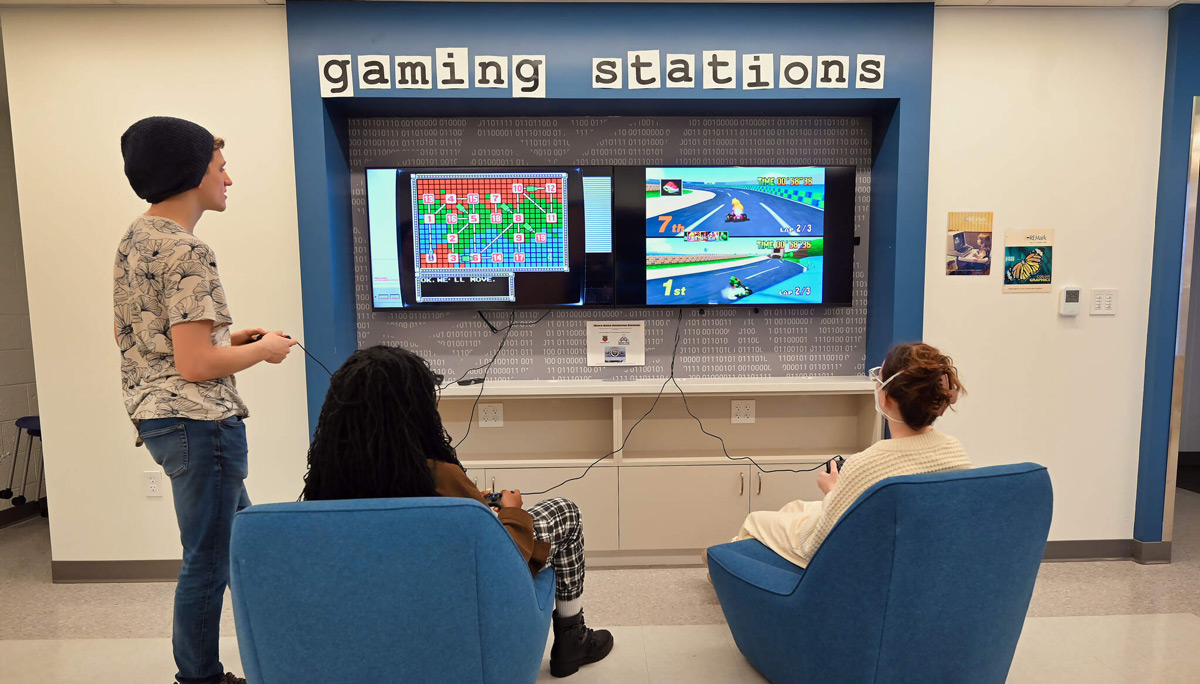 Chisholm, a visual art and computer science double major, said working as a curator is both amazing and nerve-racking.
"On one hand, it's amazing to be able to be near such old computers. On the other hand, it's terrifying knowing how delicate they are," he said. "The work connects with my major in computer science, and I personally would like to become a computer science professor. My favorite task so far is working on the display on the television with my coworker. It is fun to be creative and learn all sorts of things about computer science."
Chisholm uses a Windows PC that he built himself for making art or playing games, or a Windows laptop. "I totally encourage building your own computer, by the way. It's like building a Lego set once you learn more about the process," he said.
This semester, Professor LeBlanc is teaching "Object-oriented Programming in C++" and "AI and Machine Learning." Both provide additional opportunities to invite students to consider how far technology has come.
"I regularly share stories of past work that ran on the computers in the museum. In most courses in computing, we are often writing software to leverage the hardware that is available," LeBlanc said. "Hardware/devices/data are everywhere; the pace of change is fast. The computer museum reminds us in AI how far we've come and how fast we are changing."