Competing in Boston pitch night
Brandon Witter '20 puts Wheaton experience into practice, shares business idea
Brandon Witter '20, a computer science major, was one of 10 applicants selected to present his business idea and compete for a $1,000 grant last week at the Roxbury Innovation Pitch Night in Boston.
The Roxbury Innovation Center supports local economic development by encouraging innovation and entrepreneurship. At the February 11 event, each pitch participant (only 10 out of 47 applicants were accepted) had three minutes to share their business venture with a panel of judges in front of an audience of about 200. They also showcased their businesses at tables and had an opportunity to network.
Witter presented his idea for BuzzSafe Technologies, a vibrating fire alarm designed for individuals who cannot hear. He has been developing the social venture since his junior year at Wheaton.
Although he didn't walk away with a prize, the competition was a valuable experience, he said, especially because of the validation he received for his product and mission—as well as yet another chance to practice his business presentation skills.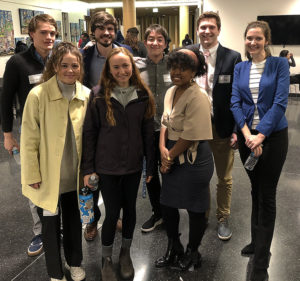 "What was most memorable was when one of the audience members came up to me and let me know that both of his girlfriend's parents are deaf and would really benefit from my product. This means more to me than any cash prize," Witter said.
"I really enjoyed the tabling session and interacting with the attendees of the event. It was reassuring to have so many people interested in my product and believing in my mission. The positive reactions that I received from so many people when I told them I am making a fire alarm for people who are deaf is something that will stick with me for the rest of my life."
At Wheaton, Witter is an intern in WiN Hub, the president of the Social Entrepreneurship Club and a consultant to the Global Center for Social Entrepreneurship Network (GCSEN), a partner in Wheaton's Social Entrepreneurship Launch Week, which was recently held during winter break.
Seven Wheaton supporters drove to Boston to cheer Witter on—Eammon Littler '20, Acerlia Bennett '21, Phin Underwood '23, Jenna Palmer '20, Sam Read '22, Emma Yount '21 and Madison Dunaway, coordinator of innovation programs and spaces.
As part of her role, Dunaway is seeking ways for Wheaton to partner with the broader community of makers and social entrepreneurs. She discovered the Roxbury pitch night during her research and got students involved by taking them to the innovation center to learn more.
"Madison is the whole reason I was in the competition," Witter said. "I cannot thank her enough for being the spark that caused me to apply. The other six are students from the GCSEN social venture boot camp that occurred in January. They are all such incredible, passionate entrepreneurs and it means the world to have their support."