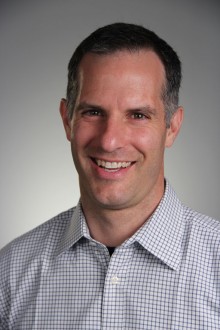 Tom Sanderson '92, a leading expert in the investigation of terrorism, transnational crime and global intelligence, will deliver the keynote address at Wheaton's 182nd Commencement ceremony on Saturday, May 20.
As senior fellow and director of the Center for Strategic and International Studies (CSIS) Transnational Threats Project in Washington, D.C., Sanderson studies terrorism, insurgency, criminal networks, global trends and intelligence issues as they relate to international public policy.
He has conducted field research in more than 70 countries, engaging with journalists, terrorists, traffickers, foreign intelligence officials, business leaders, nongovernmental organizations, clergy and academia, and he has written or coauthored dozens of reports on these subjects.
"Tom's ability to engage with people from many different backgrounds, in some of the most difficult situations around the world, is inspiring and speaks to the value of an education that emphasizes the connections among disciplines and among people," President Dennis M. Hanno said. "The work he does is vitally important, not only to U.S. security and public policy but to understanding the causes of conflict and in reducing that violence, and I look forward to hearing his message for the Wheaton Class of 2017."
Sanderson also serves as a course instructor and consultant for the U.S. government and in the private sector, testifying before Congress and providing expert commentary for the media and courts of law on the subjects of terrorism, geopolitics and global threats.
His work has been published in The Economist, TheNew York Times, The Washington Post, CTC Sentinel, Harvard Asia Pacific Review and other media.
Currently, Sanderson is investigating the motivations, operations and movements of Jihadi-Salafi "foreign fighters"—individuals who come from other countries to support armed conflicts, in places such as Syria, Iraq and Libya. He also recently completed extensive studies of emerging trends in terrorism in South Asia, the Middle East and Africa.
Prior to coming to CSIS, Sanderson was a defense analyst at Science Applications International Corporation, where he conducted research on weapons of mass destruction and terrorism for the U.S Defense Intelligence Agency's office of counterterrorism.
Along with his governmental work, Sanderson has served as an academic fellow at the American Academy in Berlin, Germany, and at Fudan University in Shanghai, China.
Sanderson will celebrate his 25th Reunion during the 2017 Commencement/Reunion weekend. He graduated from Wheaton with a bachelor's degree in international relations and holds a master's degree in law and diplomacy from The Fletcher School of Law and Diplomacy at Tufts University.
"I am deeply honored to represent both Wheaton College and the Class of 1992 as I address today's graduates," Sanderson said. "Wheaton has been and continues to be one of the greatest influences on my life, both personally and professionally."
Sanderson will receive an honorary degree at the 2017 Commencement ceremony, along with two other honorees: Russell Goings and Susan Schiffer Stautberg '67.
Russell Goings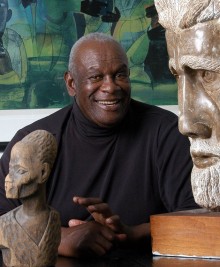 Russell Goings has been a writer, businessman and art collector, among many other titles, over his long career. As a stockbroker in New York in the 1960s, he became one of the first African Americans to join the New York Stock Exchange, taking a seat as the owner of First Harlem Securities, which he purchased from his former employer, investment firm Shearson Hammill Inc. The first African American hired by Shearson Hammill to run a branch, Goings successfully guided the Harlem branch from its distinction as the company's lowest in productivity to the most profitable, within two years.
He was the first chairman of the magazine Essence, which was born in his office in 1969, and was also the first black chairman of The Studio Museum in Harlem.
Goings left Wall Street in 1978 to become an art dealer and collector, focusing on works by African Americans. He developed a close friendship with the Harlem renaissance artist Romare Bearden, who helped inspire him to become a writer, and he became a strong advocate for Bearden's work.
He began studying writing at Fairfield University in his late 60s and wrote "The Children of Children Keep Coming" shortly after attending the Million Man March in Washington, D.C., in 1995. The 1,000-plus-page epic poem, written in the style of West African griots (traveling poets, singers and storytellers), tells the rich history of African Americans in the United States. A portion of the poem was published in book form in 2009.
Goings is also a veteran of the U.S. Air Force, serving four years and becoming an instructor in specialized tactics of evasion and escape, before attending Xavier University. Goings played football in college and, after graduating from Xavier in 1959, joined a team in the Canadian Football League. Soon after, he was drafted by the Buffalo Bills, though an injury prevented him from continuing to play professionally.
Susan Schiffer Stautberg '67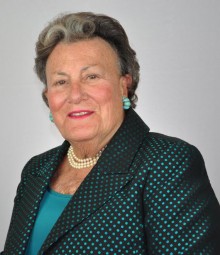 Susan Schiffer Stautberg '67 is a senior executive, author and advisor whose impressive career spans the corporate, entrepreneurial, media, nonprofit and political sectors, including working in the White House. Currently, she is cofounder, chairman and CEO of the WomenCorporateDirectors Education and Development Foundation, the world's largest organization of women board directors, with more than 3,500 members serving in 75 chapters across six continents.
Stautberg is the founder and former president and CEO of Partnercom Corporation, which assembles and manages advisory boards around the world for business, governments and nonprofits, and now serves as consultant to the company. She also is founder and president of Belizean Grove, a community and retreat for leading women around the globe.
A graduate of Wheaton College (celebrating her 50th Reunion this year), Stautberg holds a master's degree in public and international affairs from George Washington University and is a graduate of Harvard Business School's advanced management program. She began her career as a correspondent with Westinghouse Broadcasting, launching their Washington office and becoming the first woman to head a national TV bureau. She also was the first TV journalist to be named a White House Fellow, working for both Vice President Nelson A. Rockefeller and Secretary of State Henry A. Kissinger.
She served as director of communications for the U.S. Consumer Product Safety Commission, McNeil Consumer Products and Touche Ross (now Deloitte and Touche) before launching her first business—the publishing house and speakers bureau Mastermedia Ltd.—in 1987.
She has served on numerous boards of directors for businesses and nonprofits and is the author or co-author of seven books, including Women on Board: Insider Secrets to Getting on a Board and Succeeding as a Director, published in 2015.