With plans to simultaneously pursue a Ph.D. in biology and a master's in political science at Brown University after leaving Wheaton, senior Ethan FitzGerald '16 understands the value of research and peer review.
He recently had the opportunity to engage with peers on one of his two academic passions at the Undergraduate Colloquium on Russian and Eurasian Studies at Harvard University, an annual event featuring students and faculty from Harvard, Wellesley and Wheaton colleges and sponsored by Harvard's Davis Center.
FitzGerald, along with Oleksandra "Sasha" Lozytska '16, were selected to represent Wheaton at this year's colloquium. FitzGerald was also honored with the Kathryn W. Davis Memorial Prize for Undergraduate Research.
"Winning the colloquium's student prize was hugely gratifying, and made the struggles of my research feel even more worthwhile," he said.
He credited his advisor, Professor of Political Science Jeanne Wilson, with guiding him through the process and helping him develop his research in a meaningful way.
"The colloquium was a truly amazing experience for me," he said. "Getting the opportunity to both share my research and to hear others at the Colloquium was the first scholarly exchange outside of college that I have gotten the chance to actively participate in, and I certainly hope it won't be the last."
FitzGerald's paper draws on multiple theories of international relations to explore Russia's involvement in global politics, in particular the Syrian War.
"My goal is not simply to apply theory but to integrate theory analysis into policy recommendations, particularly with regard to U.S. foreign policy relating to Russia," he said.
A double major in biochemistry and political science, FitzGerald said he thought of his paper topic after taking a course with Visiting Assistant Professor Nick Dorzweiler called "Might, Manipulation, and Morals."
"In this course we studied international relations theory closely in the first half of the course and then sought to apply the theories to real world events in the latter half. However, frequently I saw scholars engaged in arbitrary debate about which school of thought ought to be dominant, as opposed to applying their theories directly to solve policy problems," FitzGerald said.
In his paper, FitzGerald instead drew on the strengths of several theories to "paint a more cohesive picture of international relations."
As Wheaton's Shelby Cullom Davis Professor of Russian Studies, Wilson helps to seek out and prepare students to present at the Colloquium and advised both FitzGerald and Lozytska on their honor theses.
"They both felt absolutely exhilarated after their presentations and the opportunity to have an external audience pose questions about their research, which has been a consuming part of their lives for the past two semesters," Wilson said. "It is one of the most deeply satisfying moments of being a member of the faculty at Wheaton College."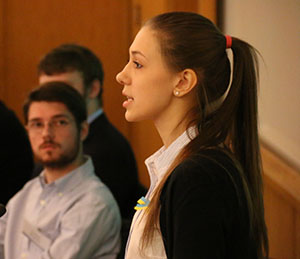 Lozytska, a double major in international relations and Hispanic studies, wrote her paper on the numerous factors that have contributed to the national identity of Ukraine, her home country. She argued that the driving force behind Ukraine's future is a Europe-oriented nationalism rather than a pro-Russia nationalism.
"In my mind, my country is in the midst of its most important social transformation of its entire history, and its change toward a more modern, progressive European identity can not only improve the Ukrainian population's sense of identification but also help develop more democratic political and economic systems, which are crucial to increasing the country's stable position domestically and internationally," she said.
Lozytska said she enjoyed the opportunity to present her work, to answer challenging questions and to listen to other panel presenters. After graduation, she is interested in a career working in multilateral diplomatic organizations, such as the United Nations.