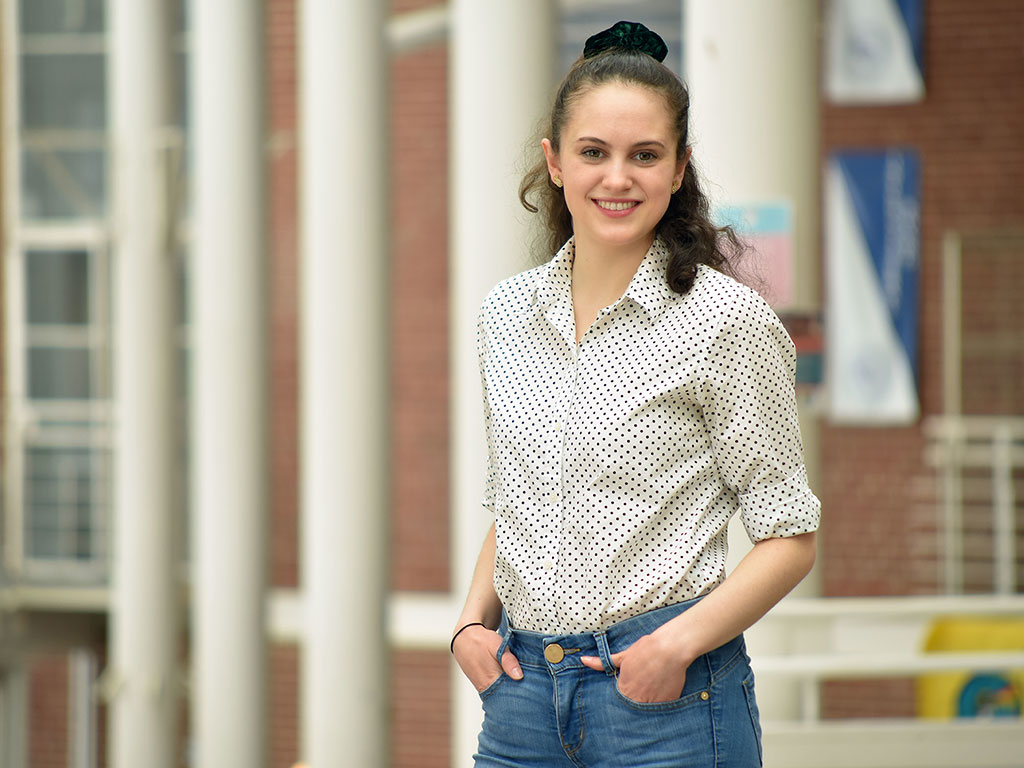 Wheaton junior earns year-long fellowship
Casey E. Smith '20 has been invited to participate in a year-long national civic leadership program that is offered to a select group of students who have demonstrated a capacity for leadership and an investment in solving public problems.
The Wheaton College junior has been awarded a Newman Civic Fellowship by Campus Compact, a national consortium of colleges and universities dedicated to promoting the public good in higher education. She is one of 262 students in the organization's 2019–2020 cohort of Newman Civic Fellows.
"I have always been deeply passionate about politics, particularly issues like climate change, barriers to education and gender inequality, issues that are so global in scale they often seem too big to tackle," Smith said. "I'm very excited about the fellowship."
The Natick, Mass., native is pursuing three majors—secondary education, history and Russian studies—but she has made time to work on the social justice issues that are important to her. In fact, she has found multiple ways to work locally on issues that are global in scale.
"One of the issues I'm most concerned about is climate change. It's one thing to talk about it on a global scale; it's another to bring it back and figure out how it affects people at the local level," she said. "I think it's easier to make immediate change when the discussion isn't about the broad issue but rather it's on the direct effects that people can see and experience."
As the civic engagement intern for Wheaton's Center for Social Justice and Community Impact, Smith has organized voter registration drives, coordinated a midterm election party where she prepared a presentation on "Voter Turnout and the Importance of Voting," and partnered with staff to facilitate workshops for her fellow students on civic engagement. She also is active in the Wheaton Model UN, for which she serves as leader and co-delegate, and the Wheaton College Dems.
This spring, Smith is collaborating with Cassie Peltola '14, the assistant director for community service and civic engagement in Wheaton's social justice center, to lead a pilot program, "Filibuster Fridays," that brings students together to address issues of mutual interest, such as food insecurity and gender equality, through reflection and community service.
"In general, young people have really low voter turnout and they are pretty unengaged with local politics. That needs to change," Smith said. "Wheaton is in Norton and we are part of that town. There's a lot of vibrancy to Norton that students don't see. It's so important to get beyond the campus borders. When you are doing community service and meet people here, you begin to understand that we have a place in the town."
The Newman Civic Fellowship, named for Campus Compact co-founder Frank Newman, provides a variety of learning and networking opportunities, including a national conference of Newman Civic Fellows in partnership with the Edward M. Kennedy Institute for the United States Senate. The fellowship also provides fellows with access to apply for exclusive scholarship and post-graduate opportunities.
"We are proud to recognize each of these extraordinary student leaders and thrilled to have the opportunity to engage with them," said Campus Compact President Andrew Seligsohn. "The stories of this year's Newman Civic Fellows make clear that they are committed to finding solutions to pressing problems in their communities and beyond. That is what Campus Compact is about, and it's what our country and our world desperately need."
The Newman Civic Fellowship is supported by the KPMG Foundation and Newman's Own Foundation. Learn more at compact.org/newman-civic-fellowship.