Chogyal Norbu '23 wins Projects for Peace award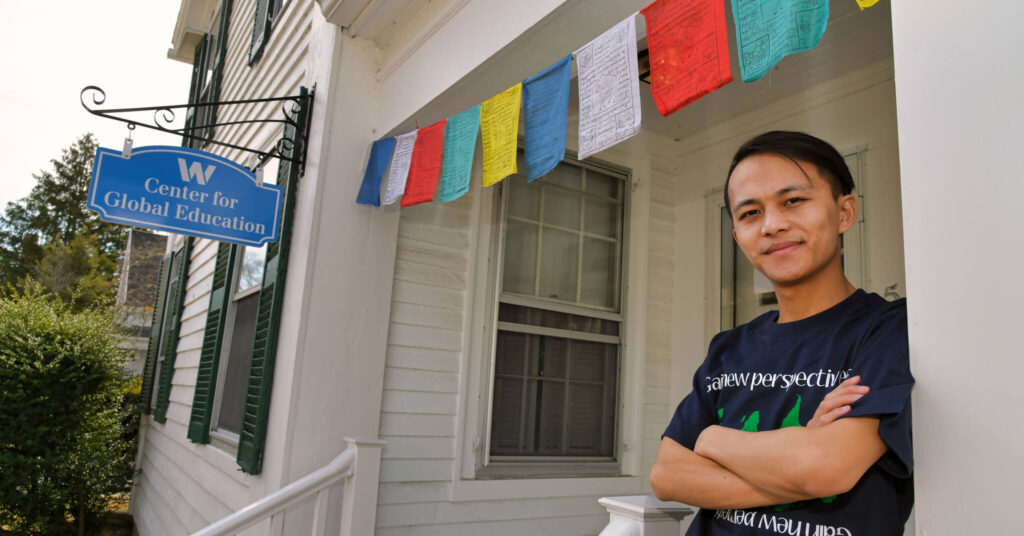 Junior plans to create community center for youths in Bhutan
Since high school, Chogyal Norbu '23 has worked to improve the lives of young people in his native Bhutan through involvement with several organizations. This summer he will take the lead in creating opportunities for children as the 2022 recipient of a Projects for Peace award.
Norbu, who is double majoring in political science and international relations at Wheaton College, won a Projects for Peace award for his proposal "Community Center: Bringing Advancement in Military Camp."
The plan aims to improve the experiences of children living in a military camp by providing a place for activities that will support their academic pursuits and enrich their social lives.
Last summer while home, Norbu said he consulted with educators and students to assess needs to strengthen his proposal. He also has a network of friends and professionals who are willing to collaborate with him, including helping to convert a school library into a community center that will operate during after-school hours and on weekends.
"I want to focus on improving student reading, writing, listening and language skills so they will be able to express themselves more coherently and fluently," said Norbu. "They will also get awareness programs on violence, mental health issues and the effects of drugs and alcohol. I believe when young people get opportunities to learn and express themselves, it gives peace a chance in the community."
The Projects for Peace program invites undergraduates to design grassroots projects that they will implement during the summer. The objective is to encourage and support motivated youth to create and try out their own ideas for building peace.
The Projects for Peace grant is possible thanks to funding from the late Kathryn Wasserman Davis, who chose to celebrate her 100th birthday by committing $1 million for Projects for Peace. She was the mother of alumna Diana Davis Spencer '60 and received an honorary degree from Wheaton in 2008.
Norbu will start his project in July.
"The members of the Scholar Development Committee at Wheaton were so impressed by the thoughtfulness and preparation that went into Chogyal's project proposal, and we are excited that he will have the opportunity to carry out the project," said Hilary Magruder Gaudet, associate professor of chemistry and biochemistry, and faculty liaison for fellowship and scholarship programs. "We are excited that he will represent Wheaton as a changemaker."
Norbu's father is a soldier in Bhutan and the junior grew up in the Lungtenphu army camp in Thimphu, where he said there are nearly 5,000 families.
"As a youth, I always found reading books as a peaceful method to educate myself and improve my language skills. But it is not very common to see young people reading books in my community," he said. "So, with this project, I really hope to help these students build a habit of visiting the community center and doing some productive activities. I believe that education has the power to bring positive change in the community and help young people to succeed in their lives."
Norbu has spent years developing leadership skills that will support him this summer, including as a member of Young Volunteers in Action and the Initiative For Peace while in high school.
At Wheaton he is treasurer of the Soccer Club, in his second year as a resident advisor and a peer advisor in the Center for Global Education—all of which have provided him valuable experience in organizing and developing programs, and supporting the success of others.
"With all these experiences and immense support from my teachers and friends, I am very confident that this project will be a success," he said. "I believe that this project will serve as an inspiration to many people in my community to take their own initiatives and give wings to their ideas and dreams."