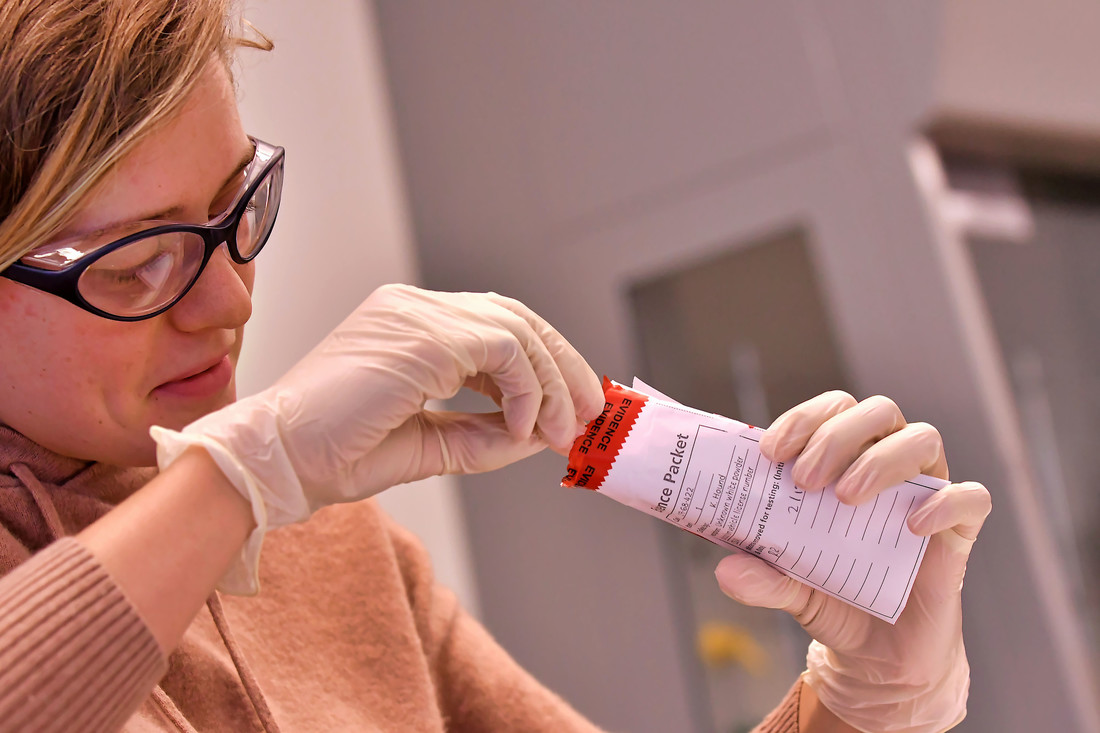 New 'Forensic Chemistry' course meets growing interest in criminology
This spring, students are learning chemistry lab basics with an interesting twist: by evaluating gunshot residue, unknown substances and latent fingerprints from theoretical crime scenes.
"Forensic Chemistry and Crime Scene Analysis," taught for the first time this semester by Assistant Professor of Chemistry Hilary Gaudet (and offered again in the upcoming Summer Session), is providing a new way in to the science, drawing on the popular subject of true crime and students' growing interest in majors that focus on criminology, forensics and law.
"Forensic science has always fascinated me. I listen to true crime podcasts and read news articles about crime, and I've always watched 'Forensic Files,'" Gaudet said. "I think it's really cool to see how we apply what we use in chemistry and organic chemistry to forensics."
Faculty often create interdisciplinary 100-level courses for students outside the chemistry major—previous examples have included "Art, Color and Chemistry" and "Edible Chemicals"—Gaudet said. She is teaching both 100- and 200-level students in the course, building in additional assignments and lessons for the more experienced students.
Courtney Foley '20 is one of those more experienced students. She's working on a triple major in psychology, early childhood education and an independent major in criminology, for which she is taking courses in psychology, sociology, law and—this semester—chemistry.
"I chose to major in psychology and criminology because I am interested in crime, specifically violent crime, and I want to understand the behaviors and motives behind them," Foley said. "I'm currently working toward being a teacher and/or psychologist with the prison systems. I would love to be able to work with the mentally ill populations in the prison system."
"Forensic Chemistry" was a great fit for the junior, who landed an internship this summer with the Federal Bureau of Investigation in Boston.
"I have learned a lot about what goes into an investigation and how to properly analyze a crime scene. This course has made me realize how much science is behind determining the facts and evidence of cases," Foley said.
Emma Lenskold '22 also is creating an independent major in forensic science, and said the course is helping her develop an area of study that meets her goals and interests.
"I chose this major because I have always been fascinated by crime shows, and I thought it would be really cool to be able to analyze evidence every day as a job," Lenskold said. "I wanted to take 'Forensic Chemistry' because it would really help with my major and give me background as to what I would be studying."
In addition to introducing students to the basics, such as keeping a lab notebook, "Forensic Chemistry" is teaching them how to conduct a variety of tests common in the field, such as thin-layer chromatography, which is used for quick identification of unknown substances.
The class also is looking at real-life case studies, such as the case of Alexander Litvinenko, a Russian spy who was poisoned with polonium in 2006, and a murder case in Ireland in which experts used isotopic abundance to pinpoint where an unknown body came from, and ultimately identify the person.
Each student is choosing a crime case to write about, focusing on the forensic evidence, and they are watching episodes of "Forensic Files" (one of Gaudet's favorites) in class to discuss the techniques used in the show.
"They're using critical thinking and observation, which are important skills in forensic science, as well as using lab notebooks and documenting everything they do when conducting lab experiments. We talk about the importance of these skills in terms of case studies where procedures weren't properly documented when analyzing evidence and guilty verdicts were overturned, for example," Gaudet said.
She also is having her students record podcasts, modeled after popular true crime shows, that focus on explaining one area of forensic science, such as toxicology.
"Scientific communication is a big topic these days, and being able to get proper information out to the general public is something that scientists are working on, and need to work on," Gaudet said, of why she included the podcast assignment.
Gaudet said she definitely hopes to continue teaching the course, and ideally to offer a separate course for her advanced students.
"I had many people reaching out to me about the course," Gaudet said. "There's a lot of interest in that field, and it would be great to look at adding more courses in the future."