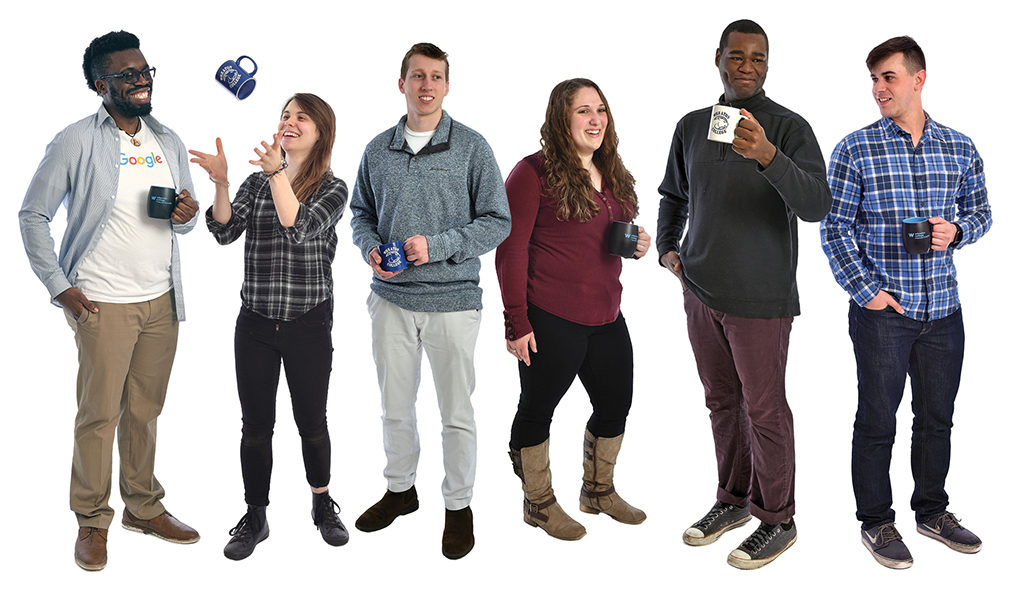 Many graduating seniors secured full-time jobs long before walking across the Commencement stage in May. Here are just a few:
Arianna Alfiero '19
Hometown: Charlestown, R.I.
Majors: Bioinformatics and computer science
Job: Software engineer for the Integrated Defense Systems' Software Engineering Directorate, Raytheon, Tewksbury, Mass.
Looking forward to most: "I'm really looking forward to using what I learned in the classroom and applying it in a real-life setting that could aid me in impacting the lives of others by keeping people safe. My main goal while looking for a job was to find something that would help people; I believe I was able to find a job that utilizes my degree and does this. So, I am looking forward to the future. I am also very excited for the problem-solving aspect of being a software engineer because I love solving puzzles."
Discovering my passion: "I started off as a bioinformatics major and I was required to take computer science courses. I am so glad that I did because I found that I loved computer science so much I wanted to pursue it as a career, which is why I decided to double major."
What I will miss most about Wheaton: "The people for sure. I'm going to miss all the friendly faces, the close-knit community, all of the friends I have made and especially all of the professors and staff I have gotten to know here."
Alexandra Amaral '19
Hometown: Seekonk, Mass.
Major: Music
Job: Production, EarthQuaker Devices, Akron, Ohio
Finding the joy: "One class specifically that helped prepare me for this job was 'Electronic Circuits,' taught by Professor [of Physics Xuesheng] Chen. I learned how all of the electronic components work and got experience in how to construct a circuit. I had the previous knowledge in what the typical components were and how to solder, but taking this class showed what part does what and how they work together to form a circuit that performs a specific function. Also, through Wheaton's study abroad program, I was able to take a more advanced electronic engineering course at the University of Auckland in New Zealand. There I continued doing more labs on circuit building and had in-depth discussions. Also, one of the main questions they take into consideration when hiring people for this job is whether or not they are a musician. Having an understanding of what someone buying a pedal as a consumer wants gives an advantage. My training as a musician at Wheaton contributed to my interest in general for this company's product before I even applied for the job. Now as an employee I can take that knowledge and put it toward suggesting solutions of problems I personally experienced as someone who purchases these pedals."
Will miss most: "I will miss the consistent opportunities I have received from Wheaton to study abroad and pursue out-of-state internships, and the connections I have made with friends and faculty. Wheaton's curriculum allowed me to pursue both of my interests and find the best path of combining the two. Being here has been a great experience that put me on a positive path."
Andru Anderson '19
Hometown: The Bronx, N.Y.
Majors: Anthropology and business and management
Job: Staffing channels specialist, Google, Mountain View, Calif.
Looking forward: "Putting all of the effort I've invested in my education to work is the most exciting aspect for me. I earned the opportunity to work at one of the most influential companies in the world and I'm going to do everything in my power to make a difference. There are so many innovative, ground-breaking, spontaneous and meaningful things happening each and every single day at Google. That's the exact type of environment I thrive in the most. As cliche as it sounds, I will be doing work that is going to change lives and that's an incredible process to be a part of."
Finding joy: "There are many routes and avenues that people can take during their time at Wheaton, and that's something that I have used to my advantage. I didn't have a definitive answer about what I wanted to do for the rest of my life at age 18 and, honestly, I still don't. I appreciate that Wheaton is a place where you can cultivate and develop your passions. My courses, in addition to my several internships, have made this all possible."
Will miss most: "The food—and the select friends, faculty and staff who have truly left a lasting impact and impression on me. Support systems are near and dear to my heart and it has been an honor to forge what I hope are lifelong relationships with these incredible people."
Roger Freeman '19
Hometown: The Bronx, N.Y.
Major: Studio art
Job: Associate teacher, Success Academy Charter Schools, Brooklyn, N.Y.
Jonathan LaMourie '19
Hometown: Yarmouth, Maine
Majors: Economics and business and management
Job: Supply chain analyst, Milton's Distributing Co., Inc., Mansfield, Mass.
How I got the opportunity: "I got the opportunity to work for this exciting company through the summer stipend program at Wheaton. With the help of Lisa Gavigan in the Filene Center, I reached out to the company and was able to secure an internship. Using the stipend, I was able to move down for the summer. Without Lisa's help, I would not have known about the company or gotten the chance to get experience there."
What I look forward to: "I am looking forward to becoming a critical part of such an impressive company. I look forward to expanding my knowledge of logistics while contributing to their success."
What I will miss: "I will miss the sense of community that I have come to love at Wheaton. With its small campus, it really turns the other students into your family."
Liam Pearson '19
Hometown: Bethlehem Township, N.J.
Majors: Economics and business and management
Job: Personal insurance underwriter, Chubb Associate Program,
Whitehouse Station, N.J.
How I got the position: "I always knew about Chubb because I grew up 25 minutes from where the office is located. I learned more about the company and searched on their career page and found this position. I felt like the position was a great opportunity and matched my skill set. The classes I took at Wheaton put me in a great position to be prepared to pursue this job. Also, I was lucky enough to have the Filene Center to help me land a great internship in New York City with a Wheaton alumnus working for SABR Capital Management, which was a great experience and allowed me to apply what I learned in the classroom in a job setting."
What I look forward to: "I'm looking forward to being a part of the Chubb Associate Program, where I will experience the key elements of the profession, acquire new skills and capabilities to help me better serve customers and succeed. I am excited to work with a great group of people, while also being close to home, my family and friends.
Discovering my passion: "I've always had a passion for business and after taking a few economics courses in high school, I knew I wanted to major in both subjects. I also wanted to challenge myself by taking math classes because I knew they would be useful down the road. I really enjoyed all the course I took and the connections I could make between the economics, business and math classes. They made me want to learn more and try to connect what I am learning to what is going on in the markets or the business world."
What I will most about Wheaton: "I think what I will miss most about Wheaton is the sense of community. Being a student-athlete I see firsthand how tight-knit the community is by seeing the amount of people who come support our lacrosse games. Everyone is so friendly on campus and willing to help you. I will also miss the friendships I developed on campus. Every relationship I have made at Wheaton has impacted me and I am grateful."
Amanda Swanson '19
Hometown: Glastonbury, Conn.
Major: Biochemistry
Job: Research assistant, Human Neuron Core, Boston Children's Hospital
(Not pictured)
Duties: "One great thing about this position is that the duties can change and grow based on your interests. The lab itself works on disease modeling with neurons differentiated from human-induced pluripotent stem cells. As a research assistant, a primary potion of my duties would be to conduct research associated with various portions of these projects."
Getting the opportunity: "I first heard about a recruitment night at Boston Children's Hospital through Ben Chalot in the Filene Center, and I subsequently submitted my resume and was invited to attend. It was at this event that I first met Dr. Chen and became interested in working in her lab. After the event I emailed her to thank her for taking the time to speak with me, then she asked for an interview, and now the rest is history. I think that my resume helped me stand out to her as a qualified applicant due to the range of experiences Wheaton has allowed me to pursue, including research with Professor [Christopher] Kalberg, and a summer conducting research in New Zealand through funding from the Filene Center."
Looking forward to most: "First, I am really looking forward to working with the team members at the Human Neuron Core. I met them during the interview process and they all seem very nice, driven and intelligent, and an all-around great group of people. I am also really looking forward to working with induced pluripotent stem cells because the work going on in this field is fascinating and I look forward to contributing to it."
Discover my passion: "Perhaps my favorite thing about Wheaton is the community of students, staff and faculty. It was this community that helped create an environment that allowed me to grow, learn and pursue my passions. I have always loved the sciences, chemistry and biology in particular, but it was the professors here who really helped me foster this passion. I have no doubt that it is, in large part, thanks to their support that I have accomplished what I have today. The students, staff and faculty have all been so caring and supportive, which really helped me to step outside of my comfort zone and pursue my passion for science."