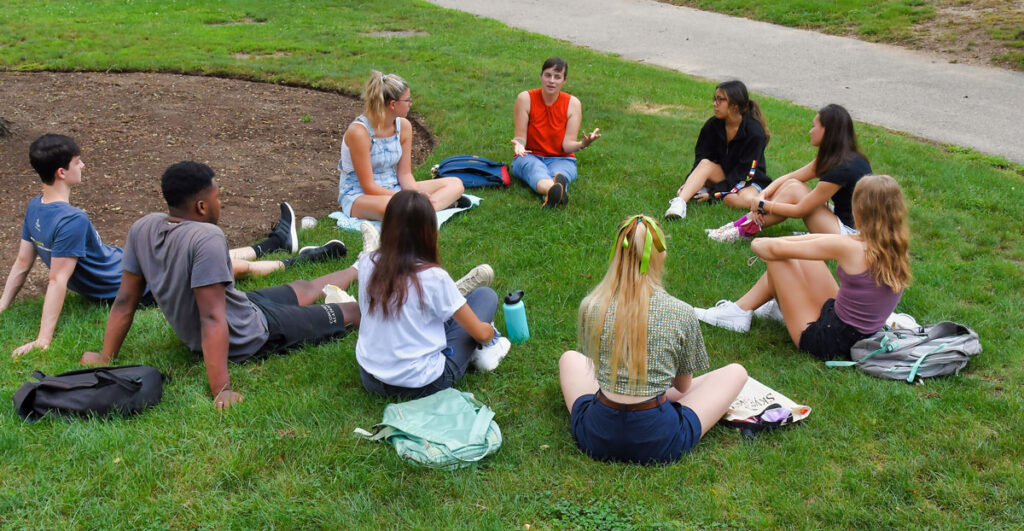 MAP Day on October 14 is a time to reflect
In late August, first-year students congregated in small groups on the Dimple to meet with professors, who serve as their Mentored Academic Pathway (MAP) Advisors—a fundamental part of Wheaton's Compass curriculum. These meetings kicked off conversations that will help students design their own educational paths, integrate their curricular and co-curricular experiences, and connect academics to career interests.
To continue to facilitate student growth, each semester Wheaton organizes MAP Day, which this fall will take place on Thursday, October 14, from 9 a.m. to 2 p.m. On MAP Day, classes are canceled so students can meet with their MAP Advisors, reflect on their individual journeys, build a strong, more inclusive community and make thoughtful plans for the future.
This year, the morning of MAP Day will focus on advising. Afterward, students can participate in a number of workshops, opportunities and fun activities, including eating cider donuts in the Dimple; listening to a book talk; gathering information on study abroad for juniors and seniors; participating in community conversations on anti-racism and inclusion; and learning about Compass curriculum offerings, including honors and scholars programs and LEAPS (Liberal Arts and Professional Success).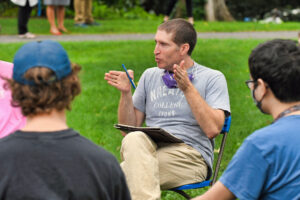 "MAP Day is a time set aside as a college to make sure students have a time to reflect as individuals and as a community. I want to make sure students understand all of the options that are available to them. We hope this day allows us to build a culture of reflection and sharing that can make students all the more successful," said Professor of Sociology Karen McCormack, who serves as Compass curriculum coordinator.
One part of helping students understand their options will be the wide availability across campus of information on the many components of the Compass curriculum, according to McCormack, who also is associate provost for academic administration and faculty affairs.
For example, students will learn more about optional distinctive educational paths, including Global Honors, Eliza Wheaton Scholars and Latin Honors, and Taylor and Lane Scholars.
Information also will be disseminated on LEAPS—interdisciplinary academic pathways that help students identify and develop the knowledge and skills needed for professional success, with assistance from alumni mentors. McCormack said students will have the opportunity to attend information sessions on approved LEAPS, which currently include content marketing; criminal justice and criminal justice reform; design and fabrication; galleries, libraries, archives and museums; global fashion; social research; and teaching second languages.
For students further along in their Wheaton education—and those who have been impacted by travel restrictions due to the pandemic—the Center for Global Education will be offering an overview of 2022 spring and summer study abroad programs. The center also will host a session for first- and second-year students on studying abroad within the framework of the Compass curriculum and how the pandemic has impacted these opportunities.
Special programming
Students will have the opportunity to participate in a number of special events across campus that encourage an inclusive community.
The event "Progress Towards Equity: A Community Conversation" will take place at 1 p.m. in the Holman Room in Mary Lyon Hall. The event is being co-sponsored by Diversity, Equity and Access Leadership (DEAL) and the Student Government Association.
The session, which is open to all on campus, will feature an interactive discussion on the progress and challenges in Wheaton's journey toward inclusion, according to Raquel Ramos, dean of the Marshall Center for Intercultural Learning. To that end, it will include an update from DEAL co-chairs, Professor of Economics Brenda Wyss and Associate Vice President for Institutional Equity and Belonging Shaya Gregory Poku; a presentation about the upcoming campus climate survey; and a talk from Title IX Coordinator and Bias Incident Response Officer Caraline Moholland and LGBTQ+ Engagement Coordinator Mike Pratt on campus training and progress in Safe Zone and queer education.
A 12:30 p.m. event in the chapel will be geared toward students interested in creative writing and literature. Author, columnist and public speaker Deesha Philyaw will do a reading of her new debut short story collection, The Secret Lives of Church Ladies. The collection won the 2021 PEN/Faulkner Award for Fiction, the 2020/2021 Story Prize and the 2020 Los Angeles Times Book Prize: The Art Seidenbaum Award for First Fiction and was a finalist for the 2020 National Book Award for Fiction. A Q&A session will follow.
"This event will allow students to gain a deeper appreciation of the diversity of contemporary American fiction," said Professor of English Deyonne Bryant, an organizer of the event, which is sponsored by the Evelyn Danzig Haas '39 Visiting Artists Program.