'Challenge the idea and not the person'
Alyssa Armstrong '21
Political science major
Marshall Center intergroup dialogue facilitator
Tell us about your role as a facilitator.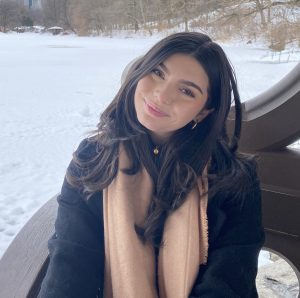 "As a dialogue facilitator, it is our responsibility to ensure that our conversations are just as educational and fruitful as they are fun. We work in pairs and collaborate to propose activities and discussion questions that highlight important topics. It is our job to research the topics we are discussing and provide a comfortable environment for everyone."
Why did you want to be a facilitator?
"I participated in intergroup dialogue as a first-year student and I truly enjoyed the experience. Being a part of a diverse group of people with different life experiences and opinions allowed me to reflect on my own beliefs and deepen my appreciation for those who saw the world differently. I wanted to be a part of something that allowed a space for anyone to feel comfortable, heard and understood."
What led you to choose your major?
"I'm majoring in political science and minoring in religion. I chose to study fields that often seem opposite to one another to gain a better understanding of how people's beliefs can impact their participation in society."
Have you had any difficult conversations that didn't go well but were good learning experiences?
"Luckily, most of our conversations in intergroup dialogue tend to go well. In my experience, students who participate in dialogue are there because they want to find common understanding and learn more about each other and the issues we are facing in our modern day. I have had at least one difficult conversation with people who had very different opinions and it became difficult to progress. From this conversation, I learned that it is important to do as much, if not more, listening as discussing. As a facilitator, I do a lot more listening than I do actually sharing my opinion. I think it allows for a more productive conversation when people are listening to understand and not respond."
What advice do you have regarding successfully navigating tough talks?
"I think the most important strategy would be to consider point of view. Most people want to be compassionate and understanding and I think that's an important thing to keep in mind when discussing difficult topics. Not everyone has had experience in discussing difficult topics adequately and not everyone comes from the same background. We should never excuse any form of offensive language or behavior ever. To ensure everyone's feelings and opinions are being respected, one thing we always try to uphold in intergroup dialogue is to challenge the idea and not the person. That rule is necessary if any progress is going to be made."
How will the experience as a facilitator help you in the future?
"Being an intergroup dialogue facilitator has definitely allowed me to grow as a person. Being able to participate in difficult discussions on a regular basis has deepened my understanding of interdisciplinary subjects and has equipped me with the skills to discuss a variety of topics moving forward. Not to mention, it has allowed me to make connections with some amazing people."
How does this role connect to your educational experience at Wheaton?
"Being an intergroup dialogue facilitator has intersected quite nicely with my educational experience at Wheaton. Being able to participate in dialogue has given me the confidence to engage more often in my class discussions. It has also given me a more open-minded point of view, which is essential in the field of political science."
Armstrong was vice president of her class her first year at Wheaton and now is interning with a city council campaign in New York City this semester.
Read about other Marshall Center intergroup dialogue facilitators.