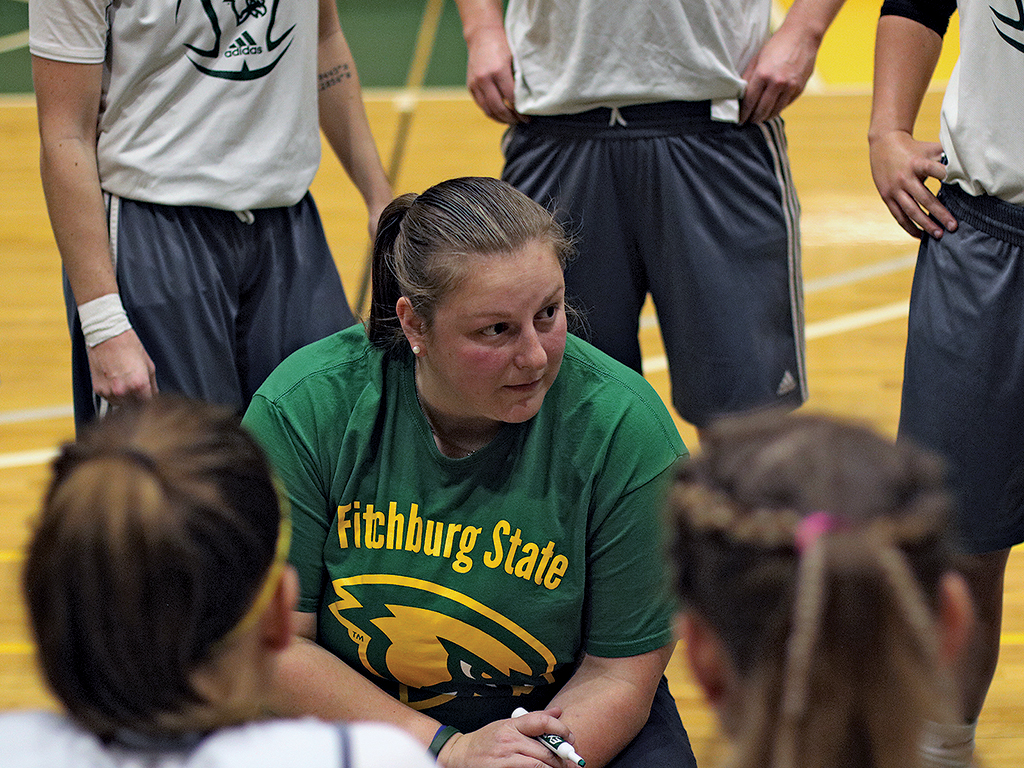 Laura Pierce '15 hired as women's basketball coach at Fitchburg State
Laura Pierce's years playing basketball at Wheaton and then serving as an assistant coach were some of the best times of her life, the Class of 2015 graduate said in a recent interview.
"[Former] Coach [Melissa] Hodgdon challenged me every day to become the best basketball player I could be and reach my potential on the court," Pierce said. "Her biggest impact, though, was that she genuinely cares about each and every one of her players, long after graduation."
Pierce hopes to do the same with the women's basketball team at Fitchburg State University (FSU) in Massachusetts. This fall she was hired as the institution's first full-time head coach of the women's basketball program. Along with coaching duties she will handle recreational programming within the university.
"Ultimately, the life lessons that Coach Hodgdon taught me both on and off the court, as a player and assistant coach—especially about being a part of something bigger than yourself—are lessons I hope to pass along to my program here at Fitchburg State," she said.
Pierce played guard on the Wheaton basketball team and began gaining some leadership experience on the court by assisting with coaching her sophomore year, after an injury sidelined her for the season.
After graduation, she was an assistant coach at Wesleyan University for two seasons, from 2015–17. She then returned to Wheaton as assistant coach from 2017–19, primarily working with the team's guards to foster individual, group and team chemistry. Her other responsibilities at Wheaton included planning practices and developing recruiting schedules for the coaching staff.
"We are thrilled to have Coach Pierce joining our Falcon family," FSU Director of Athletics Matthew Burke said, in announcing her appointment. "Laura understands the importance of mentoring young people and is a great fit for Fitchburg State University. Her enthusiasm and knowledge of the game bring a great deal of optimism about the future of our women's basketball program."
A three-year captain for Wheaton, Pierce finished her college career with 622 points, 253 rebounds, 424 assists and 68 steals in 100 games played (87 starts). She currently ranks third all-time in program history in assists and fifth all-time in three-point field goals made with 121 total.
She majored in history and minored in religion at Wheaton and earned a master's degree in liberal studies with a focus in social sciences from Wesleyan University in 2017.
She noted, "I never set out with the intention of minoring in religion at Wheaton, but taking my first class with Professor Barbara Darling changed that trajectory. Her enthusiasm and positivity that she brings to each and every thing she does is contagious."
Professor of Biology Betsey Dyer also was a big influence. "Betsey Dyer is one of the biggest supporters, if not the biggest, of the Wheaton women's basketball program. In my time as a player and assistant, she very rarely missed a game and even when she did she would always watch the livestream. Her passion for and dedication to the game of basketball and our program is something I will always be grateful for," said Pierce, who still keeps in touch with Darling and Dyer.
Pierce is looking forward to sharing all that she has learned. "Being able to give back to the game that has given me so much as well as helping shape these young women's lives is what I love most about this job," she said.
"Coaching is about so much more than the wins and losses; it's about building relationships and mentoring these young women to become the best basketball players they can be, but more importantly become the best people they can be.
"I have had many coaches and mentors that I have played for and coached with, and they all have helped shape me into the coach and person I am today. I can only hope I have that same impact on my players."