While commemorating the legacy of Martin Luther King Jr., the Wheaton College community last week honored two women who have made significant contributions to promoting diversity and inclusion on campus.
The college's inaugural MLK Legacy Awards were presented to Raquel Ramos, associate dean for academic and campus life in the Marshall Center for Intercultural Learning, and Nataja Flood '16, a senior English major from Harlem, N.Y. The pair were chosen from more than 30 individuals nominated to receive the honor.
The awards were presented on Thursday, Feb. 25 as part of the college's first MLK Legacy Celebration, which also included an open call for students to submit creative works reflecting on the continuing struggle for equality and inclusion and a keynote address by noted educator, activist and poet Clint Smith. An armchair discussion moderated by Rhode Island's director of public engagement Gabe Amo '10 followed Smith's talk,
In opening the ceremony, President Dennis M. Hanno noted that the college has not held public events on Martin Luther King Jr. Day in the past because it occurs during winter break. He credited members of the college's Black Student Association for prompting the planning for the event, particularly former BSA president Ezeanne "Shawn" Fonge '16, who introduced Smith to the crowd gathered in Cole Memorial Chapel .
President Hanno also urged the audience to take an active role in promoting diversity and inclusion on campus and in the wider world. "Communities only become stronger when the focus on the common good replaces the rampant self-interest that is so present in the world today," he said. "We must continue to ask ourselves, if we are going to create a greater common good, 'What are you doing for others?' because it's really about ourselves."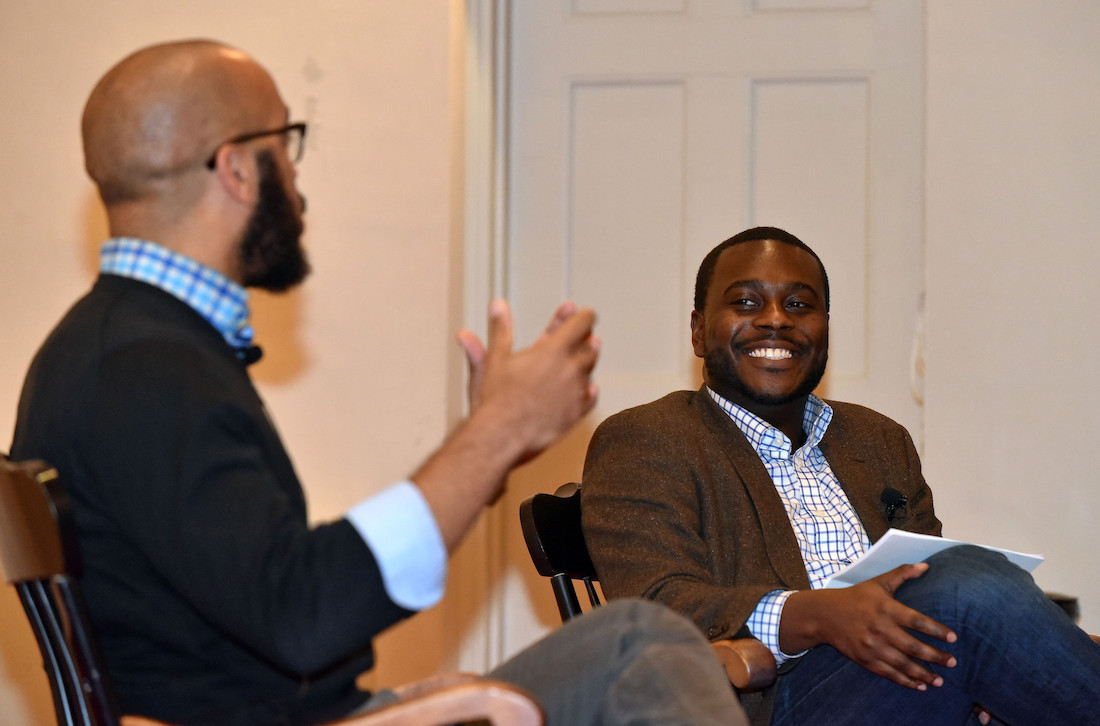 Three students whose creative expressions were chosen for honors presented their work. Julie Mikush '17 described a painting she created for the event, while spoken word poems or verse written by Destinee DuBose '19 and Ashley Tsegai '19 were read aloud.
Director of Athletics and Recreation John Sutyak '00, who serves on the college's Council on Inclusion and Diversity, introduced Ramos for the staff/faculty MLK Legacy Award. "She leads and mentors future generations of Wheaton College students from her office or wherever she happens to be on campus. She has continued to lead the charge in welcoming all students to campus and making Wheaton a better place."
Ramos took the stage to resounding applause and thanked the audience for the honor. "I love what I do and I think it's important work, even though some days it seems endless and a little exhausting and overwhelming," she said. "Working with students and seeing how far they go in their time here and then beyond makes every day worthwhile."
A member of the Wheaton staff for 20 years, Ramos has worked to promote campus inclusion and student success through one-on-one advising and campuswide programming during a period in which the college's enrollment has grown increasingly diverse. In just the past 16 years, enrollment by international and intercultural students has increased from 17 to 32 percent.
"We have come such a long way, and in other ways we still have so much to do," Ramos said after the ceremony, reflecting on the college's growth and evolution since 2000.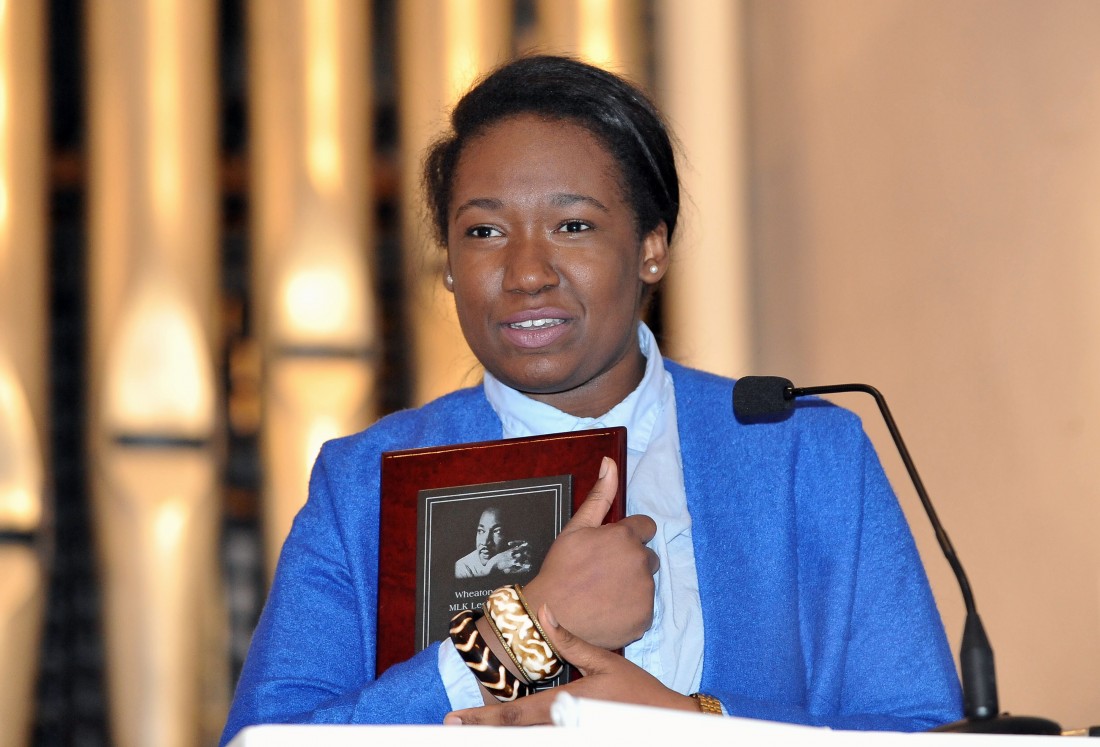 One of the many changes that have taken place in recent years has been Wheaton's partnership with the Posse Foundation, an affiliation that recruits talented students with leadership ability from public high schools in New York City to enroll at Wheaton. One of those Posse Scholars, Nataja Flood '16, who has been extremely active in campus affairs, was selected for the student MLK Legacy Award. Flood is currently the co-president of Renaissance House and president of both 2016 Class Council and iSPEAK.
Introducing Flood, Khadeedja Muheto '18 said, "Her presence is unforgettable and her words paint a beautiful picture. Sometimes she is outspoken to the point that makes others uncomfortable, but that is the only way to get people to think and react. She is always there to help and to guide others in need."
Flood accepted the award with appreciation. "Thank you to the people who nominated me, who believed in me, who thought I was worthy of such an honor," she said. "I think there is something essential in leadership, but I also think it is important to know that we don't need leaders to lead us. We can all do it by ourselves."