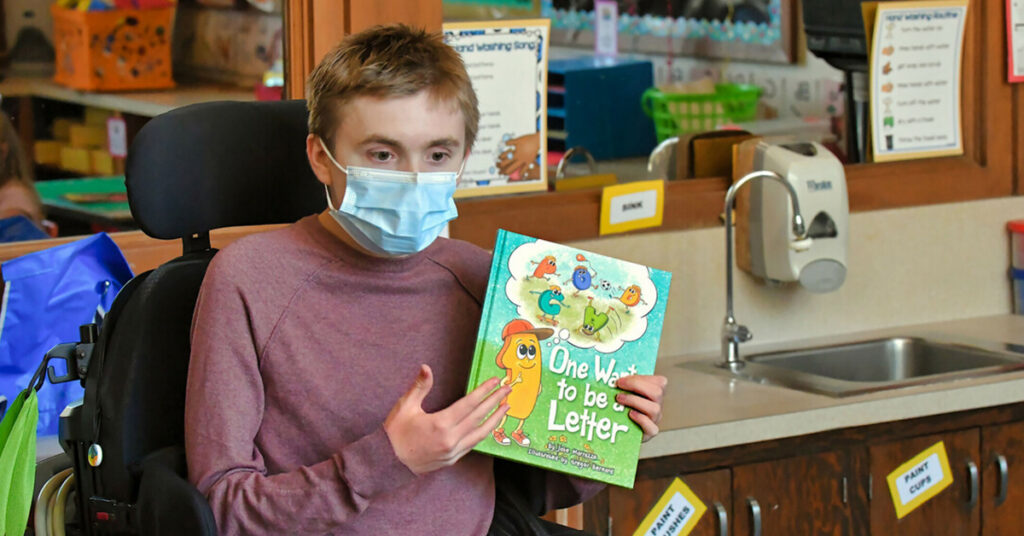 Jake Marrazzo '25 shares message of acceptance during nursery school visit
On an early Wednesday afternoon in a cozy preschool classroom at Wheaton's Elisabeth Amen Nursery School, first-year student Jake Marrazzo introduced a special character to 20 eager preschoolers during storytime: the number One.
In the children's book he published, One Wants to be a Letter, the number declares that he wants to be just like his friends—who are all letters—so he feels like he fits in. But by the end of the story, he discovers his own talents and learns how to embrace his unique self.
"It's cool to be different and celebrate how unique and awesome you are," Marrazzo told the preschoolers.
Marrazzo shared with the youngsters that he relates to the character One through his own personal story. At age 8, he was diagnosed with Duchenne Muscular Dystrophy, a rare incurable genetic disease that causes progressive muscle weakness and damage. Over time, he has learned to embrace what makes him different, he said.
The visit to the nursery school is one of many he has made to various venues—both in person and virtually—since the publication of One Wants to be a Letter in 2020 through Civin Media Relations.
"This is an opportunity for me to go to different schools, teach them about my disability, talking about differences—like being in a wheelchair. It's good to instill this message while they are younger, so they can learn to be respectful," Marrazzo said.
"Kids ask good questions, and it has been really fun talking to them. They are so adorable. The best way to write children's books is to look at things from their perspective, and put yourself in their shoes," he added.
During the question-and-answer session, the young students declared how much they liked his character, One. When Marrazzo shared that he came up with the character around the time he was their age—4 years old—the children piped up with their own story ideas.
His story has resonated with many across the country. Recently, he participated in a reading with Jeff Kinney, the author of the popular Diary of a Wimpy Kid series. He also was featured on the "Dr. Phil" show in April 2020.
"Jeff Kinney is such a great guy and it was really awesome to meet him. It also was an amazing opportunity to go on 'Dr. Phil' and raise awareness of Duchenne Muscular Dystrophy," he said.
Marrazzo, who is planning to major in film and new media studies at Wheaton, said he loves storytelling in all forms—from books and movies to theater. His favorite authors are Dr. Seuss and Sandra Boynton, and he loves how films (his favorite is "Shawshank Redemption") bring stories to life.
As for the nursery school students, director Michelle Curran-Mason said Marrazzo's visit made a real difference for the kids.
"At about 3 years old, children begin to notice the differences in others, and at about ages 4 or 5, children start to become fearful of differences. Jake brought a good message: We are the same, we are different, but as humans, we are all unique. Our uniqueness is what makes us special," Curran-Mason said.