Carrying on a legacy of service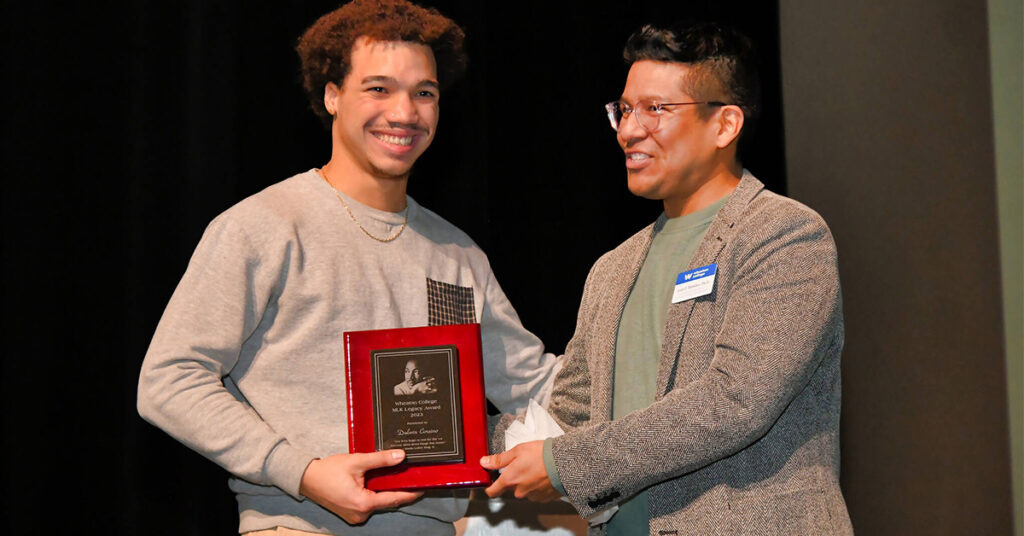 Martin Luther King Jr. Legacy Celebration recognizes individuals creating a more inclusive college community
In all that he did, civil rights leader Martin Luther King Jr. demonstrated the power of service to others.
On the evening of Wednesday, February 8, in Weber Theatre, Wheaton recognized individuals whose actions and leadership help the campus community live in a manner that is equitable, inclusive and consistent with King's values. And the college community heard from keynote speaker Loretta Ross, an award-winning, nationally recognized expert on racism and racial justice, women's rights and human rights.
In a venue packed with enthusiastic students, staff, faculty and friends, the Martin Luther King Jr. Legacy Awards were presented to Srijana Shrestha, assistant professor of psychology, and Dalwin Corcino '23, president of the Student Government Association. View photo gallery below.
Award presenter Luis Paredes—who serves as Wheaton's associate vice president for institutional equity and belonging—described the many ways Shrestha has fostered an inclusive campus.
Her many contributions include her work on the Diversity, Equity and Access Leadership Senate, where she has worked closely with faculty in developing anti-racism plans. She served as a small group dialogue facilitator as part of Wheaton's Three Freedoms Teach-in and helped organize Faculty Flash Talks to help colleagues learn more about one another's professional passions. In addition, she launched The Faculty Collective to fill the need for an advocacy group among faculty.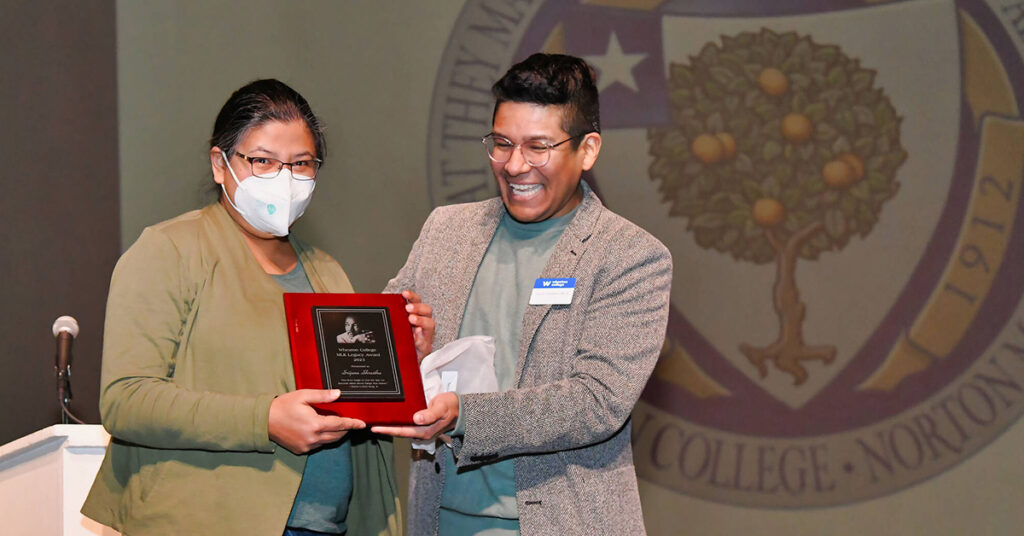 "She is a valued mentor for international and first-gen students, participates in early arrival student programs, is the First Gen theme house advisor and serves on the First-Generation Low-Income Task Force," Paredes said.
Shrestha expressed appreciation for the recognition. "Diversity and equity work is emotionally taxing but essential because everyone deserves to live, work and exist in this world with dignity. I am honored to walk alongside students, staff and faculty colleagues who have illuminated the path to make Wheaton more inclusive. The path is long and progress is not linear nor guaranteed. Yet, I am emboldened every day by students who demand the institution [and faculty] do better, for them and for our entire community."
In his presentation of the Martin Luther King Jr. Legacy Award to Corcino, Paredes applauded Corcino's work cultivating respect and strengthening the campus community.
In addition to being SGA president, Corcino completed the Marshall Center's intergroup dialogue facilitator training and helped facilitate the Public Health and Social Justice discussion series; served on the Sexuality, Gender and Inclusion Board; and founded the Community for Advancing Healthy Masculinities. He also secured an equity and inclusion grant for his Language Access Program that provided admission and financial aid materials in key languages other than English to prospective students and families.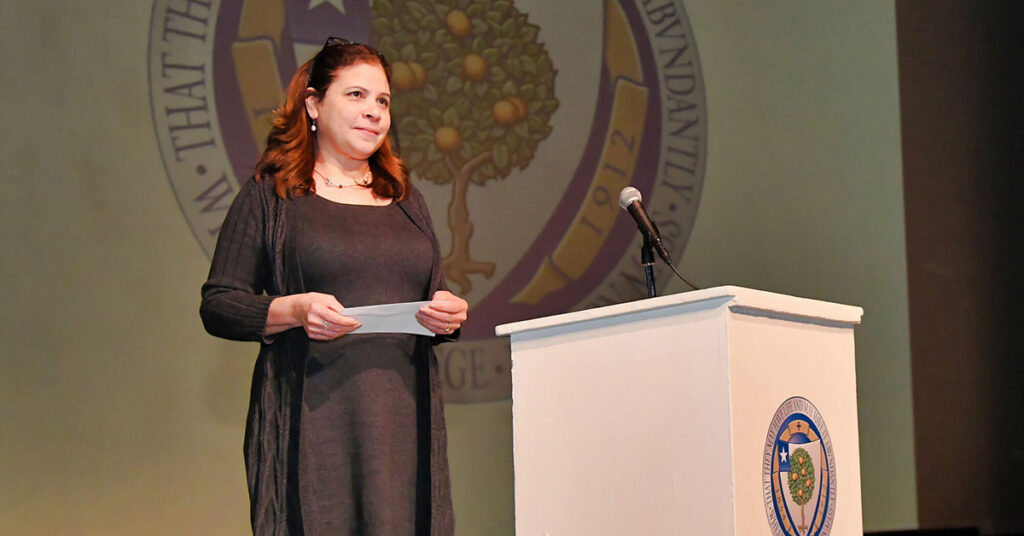 Paredes shared that one person who nominated Corcino wrote: 'When I speak to him, he shares successes in the 'we' form. He always gives credit where credit is due and focuses on how the team got there. However, his peers share how he had this idea or how he helped make something happen, or how he helped them personally. What I really admire most about him are his Martin Luther King Jr.-like characteristics of kindness, initiative and being a team player—a true leader."
In comments following the award ceremony, Corcino said he is still in shock and working on processing the recognition. "It's truly humbling to be seen as someone who's demonstrative of dedication to anti-racism, cultural sustainability and social justice at Wheaton and beyond. When I got to my room [following the event] I couldn't help reflecting on my growth from my first year to now; Wheaton has seen me grow in so many ways, but I've also seen Wheaton grow to be better and to truly want to embody an anti-racist and inclusive environment for all."
He added: "Receiving an award doesn't make me proud of my accomplishments; it's seeing the impact that I've had at Wheaton that makes me proud. With the support of many students, faculty, staff and alumni, the Wheaton community has stepped up to become an active advocate for racial justice and social change during my time here. The work that I and people like Srijana have taken on has elevated a movement that continues to inspire others to work toward a common goal; making sure everyone feels welcomed and heard at Wheaton and beyond. I hope that the initiatives I've spearheaded during my four years become catalysts for the change and justice we aspire to see."
Creative showcase winners
Three students—Jayanna D'Silva '26, Scarlet Sayers '26 and Ella Moenne-Loccoz '23—also received awards for their creative work that offers tangible reflection on King's philosophies and principles of equity, justice and/or peace.
The Creativity Showcase, which was on display during the week at Emerson Dining Hall, featured a variety of work from Wheaton students as well as preschoolers in the Elisabeth Amen Nursery School.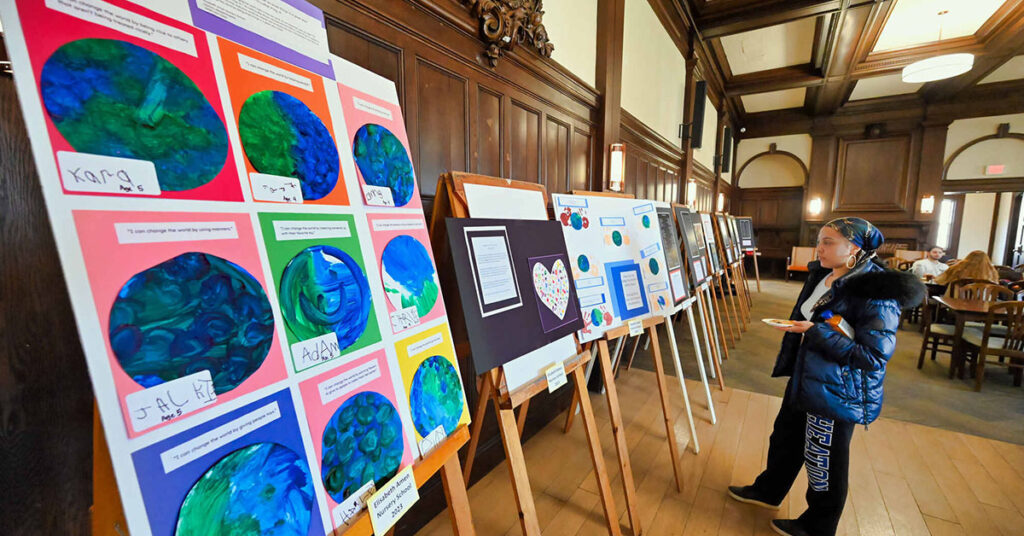 D'Silva, the first place winner, created "Here I Stand," a painted drawing depicting a woman on Wheaton's campus carrying the faces of historic leaders/activists within the shape of her dress.
The second place winner, Sayers, won for her poem "Tender, Loving Hands," inspired by her experience visiting a new memorial sculpture in Boston honoring Martin Luther King Jr. and his wife Coretta Scott King.
Moenne-Loccoz received third place for her poem "Nightmares and Dreams."
She wrote: "The submission takes inspiration from my own personal experiences as well as Martin Luther King Jr.'s legacy of peace and equality across all identities and with the dismantling of harmful systems as a focal point."
Inspiring keynote address
Loretta Ross presented the keynote address "Calling In, Not Calling Out: A Conversation for Divided Times."
Ross is a visiting associate professor at Smith College who teaches courses on white supremacy, race and culture in America. She also is a recipient of a MacArthur Fellow, Class of 2022, for her work as an advocate of reproductive justice and human rights.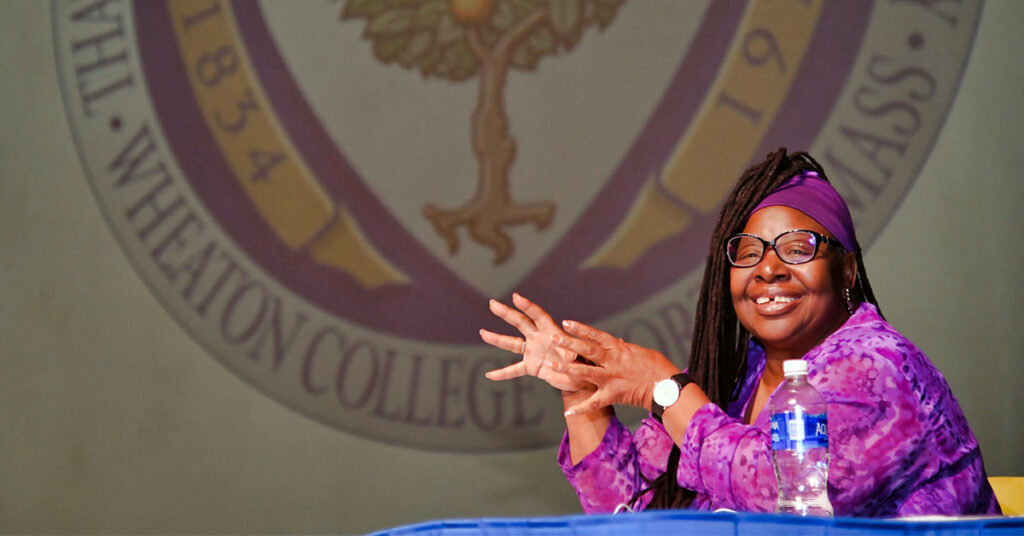 Her engaging talk touched on the negative impacts of what she refers to as the "calling out" culture (public shaming, "canceling" others)—particularly on social media. She shared how to develop the tools to engage in civil conversation, which she refers to as "calling in."
Ross believes that efforts to secure human rights for all are tilting toward victory, but that the culture of calling out may undercut the movement.
"We call ourselves fighting for social justice, but in fact can be unbelievably mean to each other. We are not modeling the world we want to build, but instead replicating the worst tendencies of the world we are enduring," Ross said.
She shared her experiences as a human rights activist, including as an executive director at the DC Rape Crisis Center four decades ago. In that capacity, she taught Black feminist theory and shared her own story of sexual violence with incarcerated rapists looking to change their behaviors.
To achieve human rights, she said individuals can foster change by "calling in," which includes giving each other the benefit of the doubt; working to acknowledge that people on the same team often will have differences of opinion; using active, loving listening practices; and expressing gratitude for shared learning opportunities.
Wheaton's Martin Luther King Jr. Legacy Celebration was sponsored by the college's Diversity, Equity and Access Leadership's education and programming committee; the Marshall Center for Intercultural Learning; the Office for Institutional Equity and Belonging and the Office of the President.